UFC welterweight champion Kamaru Usman had some appreciating words for the new welterweight prospect Khamzat Chimaev who recently extended his UFC record to 4-0. Khamzat Chimaev in his last fight faced Li Jingliang on October 30, 2021, at UFC 267. He won the bout via rear-naked choke submission in round one. The UFC welterweight champion Kamaru Usman is seemingly impressed by that performance and had some praising words for Chimaev. Kamaru Usman is set to make his fifth title defense against his arch-rival Colby Covington at UFC 268. The duo has fought before at UFC 245 where Usman got the 5th round TKO victory over Colby.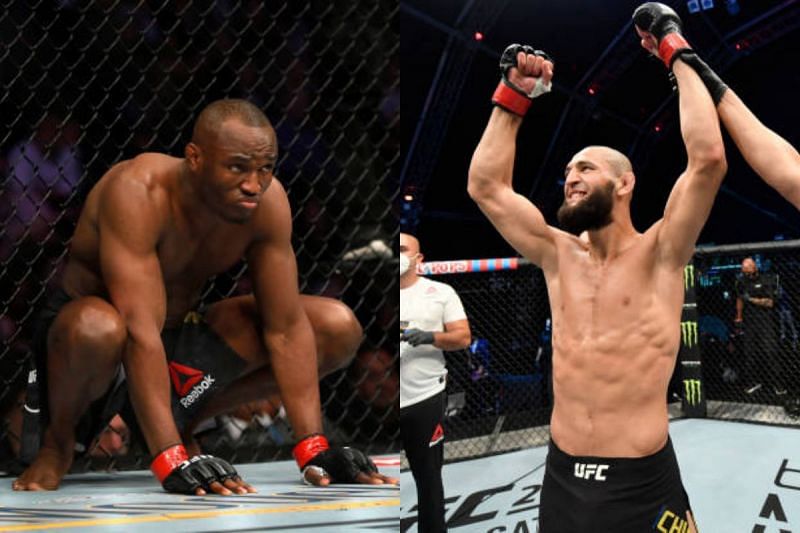 Ahead of his fight at UFC 268, Kamaru Usman praised Khamzat Chimaev for his performance at UFC 267.
"First and foremost, he's done a tremendous job with the opposition he's been presented with," Usman said about Chimaev during his session at UFC 268 media day. "No shame in that. He's doing great. I like it. I love all the hype that's been there. Let's all be honest, life is not fair. We learn that as kids. Life isn't fair, so I know some guys get a faster push, some guys don't. It is what it is. More power to him. He's doing a phenomenal job with the position that he's being put in. Hats off to him."
"As far as me [fighting him], you know I'm in a point in life to where I understand how much this takes from you. I've been nine weeks now away from my daughter, and FaceTime does help, but it doesn't do it justice, as far as being there each and every day. So obviously I don't know how much longer I'm willing to do this. They have to make sense for me now. If he's able to get there, then we'll talk about it at that point."
Kamaru Usman talks about his fighting life in the UFC
Usman stated that he is enjoying his time at the UFC and is really enjoying being at the top of the game.
"The start?" Usman said with a laugh when asked if he was beginning to run laps around his competition. "I'm running. I'm sprinting past these dudes and I'm looking back and smiling at them now. This is a fun one. I'm having fun with this now. I've said before, I've been classically trained in all of this in this sport.
"Coming up and watching guys like 'Suga' Rashad Evans and going with him to these media tours and these big, big fights. I was able to get an inside look at what this could be, to where I was able to dream and manifest what I wanted to be. Being up here and having these opportunities now, I'm blessed and it feels great. I'm having fun."
HIGHLIGHTS:
Kamaru Usman praises Khamzat Chimaev
Purchase the UFC merch here.
Click to Predict here.