UFC lightweight champion Khabib Nurmagomedov praised UFC president Dana White saying how much he respects him and how important Dana is for the game.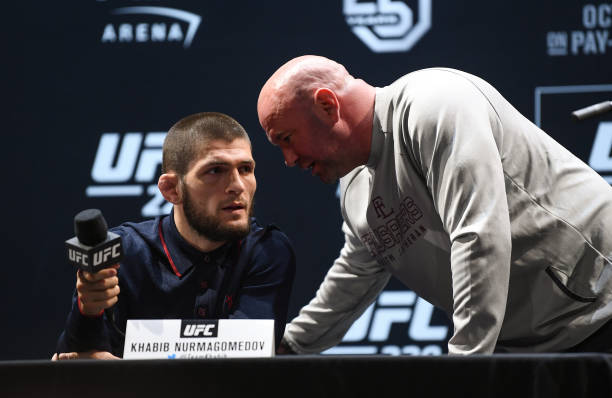 For weeks, UFC president Dana White has voiced his confidence that lightweight champion Khabib Nurmagomedov will return for his 30th pro fight. However, at the UFC 257 post-fight news conference, White changed his tune.
Following the conclusion of UFC 257, White spoke with Nurmagomedov on the phone. The undefeated Russian champion doesn't see challenges out there for him right now, which has White seemingly second-guessing if Nurmagomedov will return.
"I did talk to Khabib," White told MMA Junkie. "He said to me, 'Dana, be honest with yourself. You know, I'm so many levels above these guys. I beat these guys.' I don't know. I don't know what he's (thinking). But it doesn't sound very positive. So we'll see. What he said was, and I told you guys before, he won't hold the division up. I mean, he already retired. He's retired. I'm the one that's been trying to get him to do one more."
White's conversation with Nurmagomedov came shortly after Dustin Poirier and Michael Chandler solidified their places at the top of the UFC lightweight division with knockout victories. If Nurmagomedov vacates, White said Poirier vs. Chandler would likely be the next matchup for the UFC's 155-pound title.
Khabib told White that he wanted to watch UFC 257 and see if anyone made a statement on the card, but he has made no guarantee he will fight again. At this point, it's up in the air, but signs are pointing towards him retiring for good. Taking to his social media following UFC 257, Nurmagomedov shared a post where he praised White and encouraged fans to give him more credit.
https://www.instagram.com/p/CKayGc5MU3n/?utm_source=ig_web_copy_link
"You can like him or hate him, but you have to Respect him. This guy build this sport @ufc Thank you for everything @danawhite I have so much respect for you"
Khabib Nurmagomedov on Conor's loss
Even after McGregor (22-5 MMA, 10-3 UFC) suffered the first knockout loss of his professional MMA career to Dustin Poirier in the UFC 257 main event, Nurmagomedov (29-0 MMA, 13-0 UFC) seemingly took a shot at the Irishman on Twitter.
Khabib indicated McGregor, who wasn't outright named in the tweet, didn't stay true to himself or take things seriously enough to deserve a victory.
"This is what happened, when you change your team, leave the sparring partners, who made you a champion and sparring with little kids, far away from reality," Khabib Nurmagomedov wrote.
White and Nurmagomedov are expected to meet face-to-face once again in late January. According to White, the fighter and promoter will grab dinner in Las Vegas.
Purchase the UFC merch here.
To bet on an MMA event click here.
Also Read:
UFC 257: Dustin Poirier knocks out Conor McGregor in the second round