Former UFC Lightweight champion Khabib Nurmagoemdov has stated that he can beat Jake Paul in a couple of minutes if they fight in MMA. Khabib Nurmagomedov is considered one of the best fighters to have ever competed in the sport of MMA. Any challengers he faces have had a very difficult time against him. Now even though Khabib has retired from the sport he still regularly gets called out by serval fighters across combat sports and now the latest addition to that is the boxing sensation, Jake Paul. Jake Paul who recently turned from a professional YouTuber to a professional boxer and now is 4-0 in boxing, is looking for a fight against the greatest UFC lightweight fighter of all time.
Jake Paul in his last interview with MMA Fighting.com, talked about Khabib Nurmagomedov and his MMA training.
"There is [interest to do MMA] and not in the near future but in the medium term," Paul explained on The MMA Hour. "I would need to practice my kicks and a little more on the jiu-jitsu side for like two years, maybe two and a half years before I would do that."
"Unless the money was really right but no one's brought anything to the table that's interesting enough."
Khabib Nurmagomedov previously said that the Jake Paul team offered him a fight contract.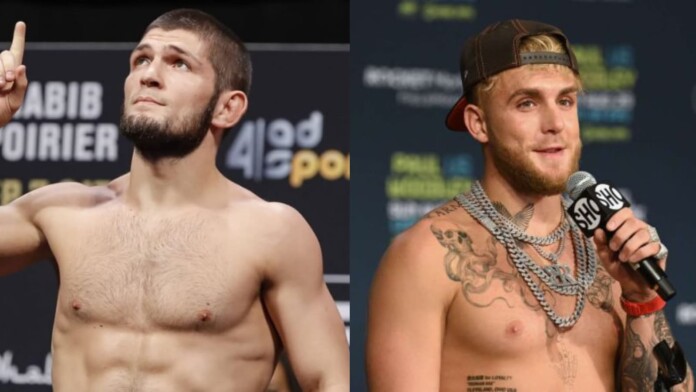 "Khabib [Nurmagomedov] said, 'We offered him a deal' – it's not true," Paul said. "They never offered me anything. Eagle FC has never even done an event. Not to hate on anything they're doing but I would need more than what I make in boxing to risk going into MMA right now.
"People would have to come $25, $35 million dollars to just start the conversation with me."
"I would fight Khabib in MMA if they wanted to make that offer," Paul said. "Cause that would be exciting. That would excite me, especially if I had more time to train.
"That would be a massive fight. Probably a million, 2 million pay-per-view buys and all I would have to do is work on my wrestling skills. Cause I could outstrike him standing up."
Khabib Nurmagomedov on Jake Paul Fight
"Come on, Jake Paul. I don't think so," Nurmagomedov said on the "FULL SEND PODCAST." In MMA, (I'll win in) like a couple of minutes."
He continued, "He's late a little bit because I'm finished. Of course we can think about this. I watched – it was sparring, or I watched some video where he's doing, like, MMA with someone. He has to learn a lot."
"In boxing, he knows how to punch," Nurmagomedov said. "He's not bad in the boxing game. Anybody can box. You can box, too, but you never can wrestle. This is completely different. If he wants, we can give him a chance. We can sign him, and we can pay him, and we'll see."
Is Khabib Nurmagomedov vs Jake Paul a fight to make?
HIGHLIGHTS:
Jake Paul plans to compete in MMA against Khabib Nurmagomedov
Khabib Nurmagomedov says he will beat Jake Paul in a couple of minutes
Purchase the UFC merch here.
Click to Predict here