UFC lightweight champion Khabib Nurmagomedov has given his prediction for the much-anticipated fight in the lightweight division between Conor McGregor and Dustin Poirier at UFC 257.
Khabib's #UFC257 prediction pic.twitter.com/wFKFn41AYZ

— Jed I. Goodman © (@jedigoodman) January 22, 2021
Former interim lightweight champion Dustin Poirier is all set to take on the former featherweight and lightweight champion Conor Mcgregor in a rematch at UFC 257 this weekend in Abu Dhabi, UAE.
The fight is a rematch from when the pair fought seven years ago at UFC 178. In that fight, Dustin Poirier was knocked out in the first round. At that time the fight took place in the featherweight division, and the Louisiana native has been on a tear ever since having gone 10-2 in the lightweight division.
Speaking on a recent episode of Dana White's Lookin' For a Fight, Nurmagomedov made his prediction for this anticipated lightweight matchup.
"Early it's Conor, but third-round, number four, I think Dustin can beat this guy," Nurmagomedov, who will be sitting cage-side for the fight, said.
While this is not a particularly bold prediction—the consensus seems to be that McGregor should be favoured early, and Poirier has better chances down the stretch—it's certainly interesting to hear what Nurmagomedov is thinking. The unbeaten Russian holds victories over both men, having defeat McGregor by fourth-round submission in 2018, and Poirier by third-round submission a little under one year later.
Dana White says Khabib Nurmagomedov vs Conor McGregor fight is important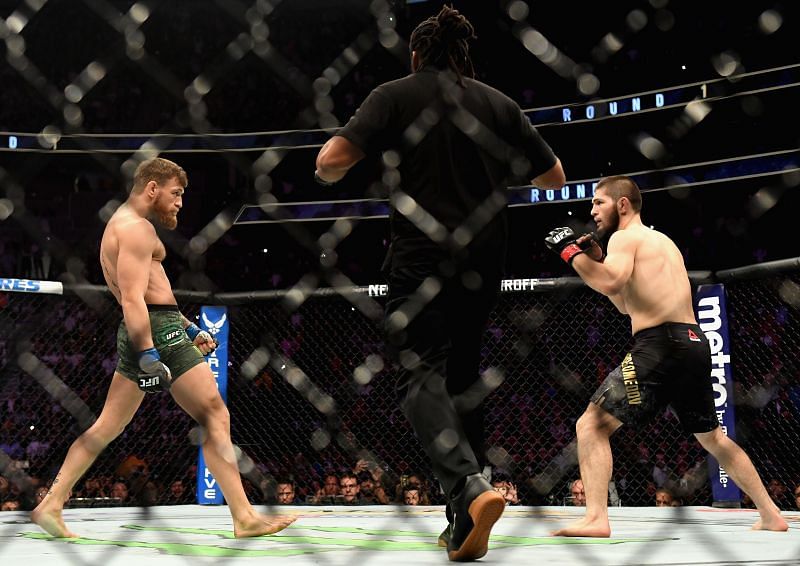 UFC President Dana White in a recent interview said that the rematch between Conor Mcgregor and UFC lightweight champion Khabib Nurmagomedov is very much important for both of their legacies.
While Nurmagomedov has previously expressed disinterest in fighting McGregor again, White believes he can convince the two men to fight a second time for several reasons.
"It's a massive money fight," White told The National in Abu Dhabi, explaining why a rematch between Nurmagomedov and McGregor should happen. "Both of these guys are going to make a lot of money. We'll call that No. 1
"No. 2, it's an important fight to make for both of their legacies," White added. "If you're Conor, you want to avenge that loss to Khabib. If you're Khabib, you want to beat him twice to prove that… you know?"
McGregor vs Nurmagomedov 2 is the fight that every fan wants to see. White is certainly dying to make that rematch happen as it will generate enormous revenue for the promotion. The two men scored a record number of pay-per-views in UFC history when they fought at UFC 229 in 2018. Nurmagomedov announced retirement after defeating Justin Gaethje at UFC 254, back in October. But White wants to lure the champion back out of retirement to fight at least 1 more time. No wonder he wants that fight to be against 'The Notorious' one, who returns to the octagon this weekend at UFC 257.
Purchase the UFC merch here.
To bet on an MMA event click here.
Also Read: