Former UFC lightweight champion Khabib Nurmagomedov says that his rival in the UFC Tony Ferguson should retire from the MMA as he is on a three-fight losing streak.
Khabib Nurmagomedov vs Tony Ferguson is the fight that the entire MMA community across the planet wanted to see but never actually got to see it. The duo might be the only one in the entire UFC who was scheduled to fight each other five times but the fight could never take place.
Nurmagomedov was expected to face Tony Ferguson on 11 December 2015 at The Ultimate Fighter 22 Finale. However, Nurmagomedov pulled out of the fight in October, due to another injury. The bout with Ferguson was rescheduled for 16 April 2016 at UFC on Fox 19. However, in April, Ferguson pulled out of the bout due to a lung issue. The match with Ferguson was scheduled for a third time at UFC 209 for the interim Lightweight Championship and this time Khabib had to pull out due to an extreme weight-cutting issue.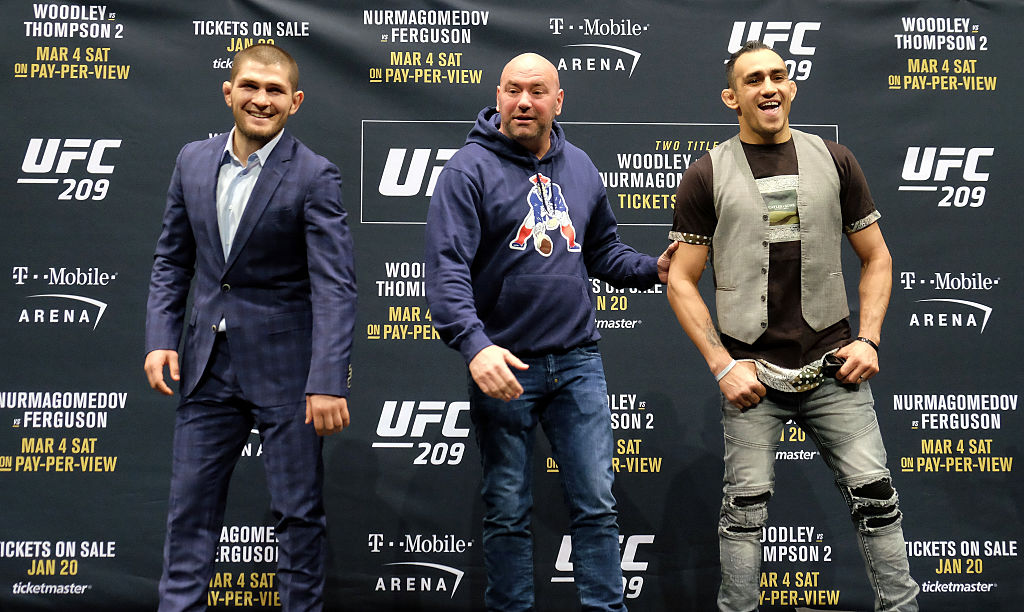 A Fight with Ferguson had been scheduled for the fourth time and was expected to take place on 7 April 2018 at UFC 223. However, on 1 April 2018, it was published that Ferguson had injured his knee and was not going to fight. Khabib was scheduled to defend his title against Tony Ferguson on 18 April 2020 at UFC 249. This was the fifth time that a fight between the pair had been scheduled, and both fighters were on 12-fight win streaks in the UFC. However, Nurmagomedov was unable to leave Russia because of restricted air travel due to the COVID-19 pandemic, and so was removed from the card.
Khabib went on to retire after facing Justin Gaethje at UFC 254, While Tony is on a 3 fight losing streak. Khabib in a recent Q/A session suggested that it's time for Tony to retire as he won't be able to run around his career at this stage.
"He is 38-years-old, tell me how he can make a comeback? He was dominated in his last three bouts," Nurmagomedov said at a press conference (h/t RT Sport). "Different styles, a striker, a grappler Dariush, Oliveira, Gaethje, they all dominated him both standing up and on the ground. When you are 38, I believe you have to pull the brakes and there have to be people around him to say, hey, you are aging. You have to stop."
Purchase the UFC merch here.
Click to Predict here.
Download the Fanatics Fantasy MMA app here.