UFC's hottest prospect Khamzat Chimaev has offered his help to the biggest UFC superstar Conor McGregor and asked him to join training alongside Darren Till. Recently former UFC welterweight title challenger Darren Till was seen training alongside the welterweight and middleweight prospect Khamzat Chimaev. Khamzat Chimaev has become one of the top rising stars in the UFC in two years. He is an undefeated MMA fighter with an overall record of 10-0 and 4-0 in the UFC. Khamzat Chimaev also holds the record for the least hit fighter in the UFC after fighting fourbouts for the promotion, he has been hit just twice in the UFC. Now he has sincerely offered his help to the biggest star in the UFC, Conor McGregor.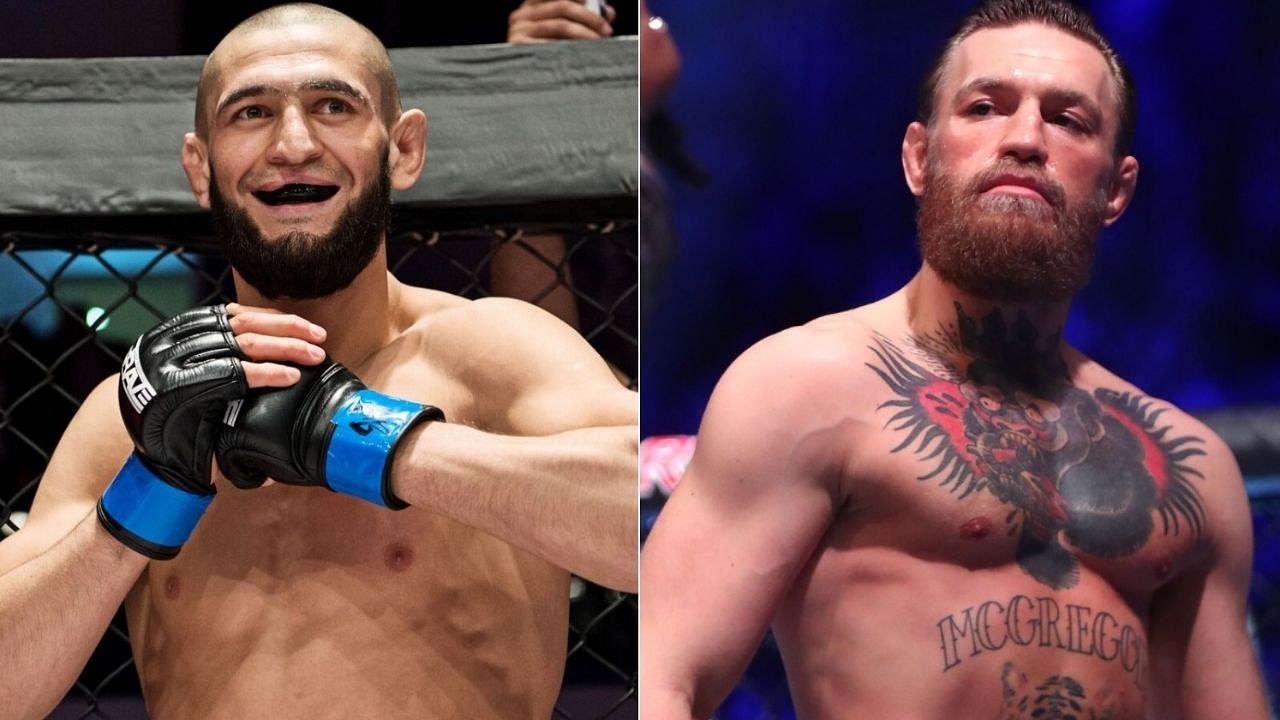 Conor McGregor in his latest interview revealed that he will be returning soon and is planning to jump right into a title shot against the welterweight champion Kamaru Usman. Conor stated that he is not in the shape to fight at featherweight and lightweight anymore and now he plans to capture the welterweight title and become the first-ever three-division champion in the UFC.
"It's about finding out which weight now," McGregor told The Mac Life. "I just don't really see myself going back to 155 again."
"I believe myself vs. Usman for the 170-pound title for my comeback fight is the one I'm eyeballing at the minute," McGregor said.
"I've gotten myself down to a lightweight frame, but I'm big now. I feel big, I feel strong, I feel healthy, I've got good energy. Coming back after a gruesome injury, I do not want to deplete myself. There's no need to deplete me. And I feel confident against Usman – a jab-happy, sloppy orthodox wrestler with no submissions whatsoever. What's he gonna do? Where's the danger here? I don't see danger with him."
"The world will talk again (about) the triple crown," McGregor said. "No one's ever obtained three knockouts in three weight divisions moving up like I have already. But no one's ever obtained three UFC world titles across three divisions like I will do also if we make this fight."
He continued, "There's history to be made. The game is to be shook up again. The triple crown has never been done. It'll never be done in my lifetime. No one will do this in my lifetime. When I knock Kamaru Usman out at 170, that'll be three UFC world titles won moving upward with three knockouts. I knocked out (Jose) Aldo, I knocked out Alvarez, and I'll knock out Kamaru Usman. Three knockouts, three world titles, three weights going up."
Kamaru Usman laughed off the challenge made by Conor McGregor in his Twitter post.
Now Khamzat Chimaev has offered his generous help to Conor McGregor and says that he is willing to train Conor for his comeback fight.
If you want to come back we will help you, we are waiting for you in our camp @TheNotoriousMMA 🥷🏼 pic.twitter.com/xwMGUe9qve

— Khamzat Chimaev (@KChimaev) March 18, 2022
HIGHLIGHTS:
Conor McGregor wants his comeback fight against Kamaru Usman
Khamzat Chimaev offered his help to Conor
Watch UFC Fight Night – Volkov vs Aspinall LIVE on SONY TEN 2 (English), SONY TEN 3 (Hindi) & SONY TEN 4 (Tamil & Telugu) channels on 20th March 2022 from 1:30 AM IST.
Purchase the UFC merch here.
Click to Predict here