UFC heavyweight Tai Tuivasa, who is 9-3 in the heavyweight division hints that he may be released by the UFC.
Tai Tuivasa, the Australian heavyweight, recently revealed on social media that he had been cut from the UFC. When he was asked by his fan whether he has been cut by the UFC to which he replied 'yeah' with a sad emoji face.
Is this the end of "Bam Bam" Tai Tuivasa?
Tai Tuivasa entered the UFC as an exciting undefeated fighter and got off to an exciting start with two knockouts in his first two fights. He also earned the biggest win of his career when he defeated former heavyweight champion, Andrei Arlovski, at UFC 225 in June 2018.
He has also got love from the fans because of his gimmick in the UFC. Fans all around the world use to go crazy when he used to drink beer from his shoe and made many other fighters join him in his tradition.
His run in UFC has been filled with lots of ups and downs. He has seen himself getting his hand raised and getting all the love from fans and also getting his undefeated streak broken. With heavy KO ability and affection for drinking beer out of people's shoes, the Australian quickly became a fan-favourite.
However, Tai Tuivasa suffered his first professional loss against Junior dos Santos via TKO in December 2018. That was followed by another loss by unanimous decision loss to Blagoy Ivanov and most recently, a submission loss to Sergey Spivak at UFC 243 last October.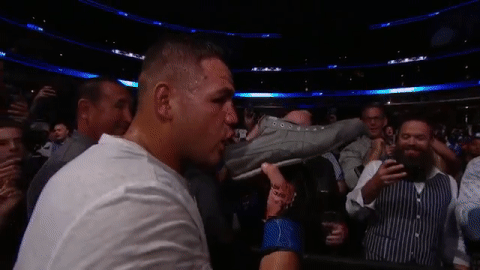 Currently, he is riding a three-fight losing streak which is seemingly enough for the UFC to cut the 27-year-old. Tuivasa leaves the UFC with a 3-3 record and now has a 9-3 overall professional record. If the news of him being released by UFC gets confirmed he will be a new addition to a list of fighters UFC as released in the past couple of weeks. It seems that UFC is looking to clear the rooster and wants to keep only the best and active fighters.
We've certainly seen lots of fighters getting cut by the UFC for having losing streaks in the past, but Tuivasa is one who looked like he had potential and could have had a big future in the division.
Looks like the Australian heavyweight could be the next guy to be released by UFC and could have to try out in some other organization who will be more than happy to give chance to such an exciting prospect.
ALSO READ: