UFC women's strawweight contender Marina Rodriguez gets a dominant victory over Michelle Waterson in the main event of UFC Vegas 26.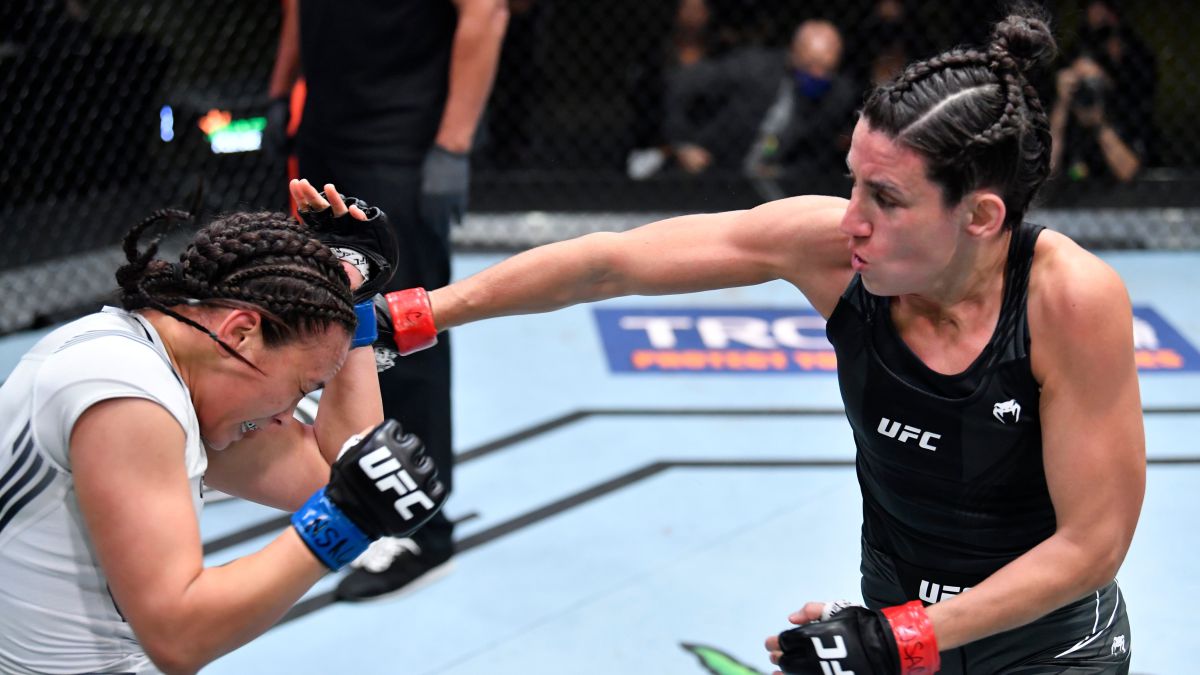 Rodriguez (14-1-2 MMA, 4-1-2 UFC) outpointed Waterson (18-9 MMA, 6-5 UFC) in a unanimous decision victory, with the scorecard of 48-47, 49-46, and another 49-46. She has just one loss in her professional career that came against former UFC strawweight champion Carla Esparza.
The first round of the fight was pretty even as both of them were finding their distance and trying to land some clean shots. In the second round, Rodriguez landed some good punches and ate heavy leg kicks from Waterson.
It was the third round of the fight that changed the momentum of the entire match as Rodriguez went all guns blazing on Waterson and put a beating on her. Waterson attempted to keep Rodriguez at bay with kicks and backward movement, but couldn't do much with it. Waterson was battered and bloodied at the end of the third.
In the fourth round, Waterson used her grappling and took her opponent down and ride on top for the rest of the fight but wasn't able to switch many positions or implement significant damage on Marina. The fifth and final round was again taken over by Marina by marching forward and landing some heavy shots. By the end, it looked like a close fight but everyone knew Rodriguez had done enough to win the fight.
Marnia Rodriguez reacts to her victory
Taking to her social media following the fight, Rodriguez talked about her victory and also thanked Waterson for taking the fight and putting on a brilliant show for the fans.
https://www.instagram.com/p/COpCF4RpM39/?utm_source=ig_embed
First of all, thank you @ufc  thank you @danawhite, thank you @mickmaynard2 for the amazing opportunity! Thank you @karatehottiemma for sharing the octagon with me and for battling me for 5 tough rounds!
After the fight, she also suggested few fighters she would like to face next.
"I would like to fight a couple more times this year, hopefully, a top-three opponent next time around," Rodriguez told reporters after her dominant win over Michelle Waterson in a flyweight headliner at UFC Vegas 26. "Yan is fighting [Carla] Esparza now. If she wins, that could be a very good fight if she's available. Esparza is someone I've fought already, and quite recently, so it's not a fight I'm not all that excited to do. Maybe one of us gets a belt and we can fight for the belt.
"Jedrzejczyk is a fight that I've always been looking forward to, and I think the fans are, too. If she's back and considering fighting again, I'd be more than willing to fight her."
"A lot of girls out there say they want to fight for the belt, but I'm here," Rodriguez said. "I'm going to rest a week, get back to training, and my focus on training has always been to fight whoever the champion. If they need someone to fight for it, nobody's willing, or whoever they want, I'm here. I'll raise my hand. Give it to me. I know that I'm going to put out a five-round war with whoever has the belt. I'm going to be in their face and make it a war."
Purchase the UFC merch here.
Click to Predict here.