One of the most famous Senegalese wrestlers, Serigne Ousmane, is going to make his return to MMA against the World Strongest Man Mariusz Pudzianowski.
After teasing the return of Mariusz Pudzianowski for weeks, KSW officials have finally revealed his opponent for next month's KSW 59. And it's massive Senegalese wrestler Serigne Ousmane, otherwise known as "Bombardier." The super heavyweight, who clocks in somewhere around 330lbs, will be making his debut for the Polish promotion.
These two monsters are actually going to fight on March 20th at #KSW59

The World's Strongest Man vs. The King of Arenas!!!

Pudzianowski vs. Bombardier!!! pic.twitter.com/UHWJud9zpe

— Alan Murphy 🌐 (@AlanMurphyMMA) February 15, 2021
ONE Championship recently made a splash with the signing of giant Senegalese wrestling champion Reug Reug, who put a hurting on Alain Ngalani in his January 29th debut with the promotion. Now one of Europe's largest MMA promotions is getting in on the act, with the recent announcement that KSW has signed two-time 'King of the Arena' Senegalese wrestling champion Serigne Ousmane 'Bombardier' Dia.
Also known as B52, the nearly 6' 6", 330 lbs Senegalese made his MMA debut back in 2018 with a first-round pummeling of Amadou Konz. He fought once more in February of last year, defeating Dan Podmore also via first-round GnP. Strength & Honor Championship listed his age as 34 back for his debut, but most references have him at 44-years-old.
The former strongman Pudzianowski turned into a mixed martial artist in 2009, after he won his fifth World's Strongest Man title. He fought his entire professional fighting career in the above-mentioned KSW and quickly become one of the promotion's major stars. In ten years, Pudzianowski racked up 13 victories and 7 losses.
Pudzianowski last took on bodybuilder/model Erko Jun, in November of 2019. Defeating the Bosnia-Herzegovina-born Belgian via second-round TKO. That win broke a slide of back-to-back losses for the Polish strongman.
On the other hand, Senegal's Serigne Ousmane Dia, also known as "Bombardier", has only competed twice in MMA, finishing both encounters in round 1, spending a total of 2 minutes and 11 seconds in the cage. Starting as a fisherman, the 44-year-old Senegalese behemoth became a wrestler in 1995 and has been the King of Arenas twice since, from December 2002 to March 2004, and from June 2014 to July 2018.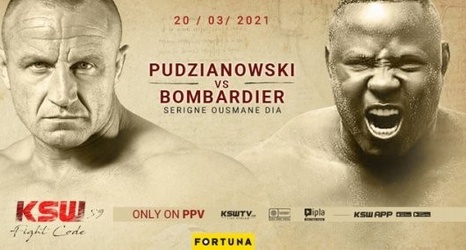 KSW 59: Fight Code takes place on March 20th. The event is expected to be headlined by the super heavyweight bout between Dia and Pudzianowski. A men's bantamweight title fight between Antun Racic and Sebastian Przybysz is currently set for the co-main event.
What do you guys think of this matchup between two giants?
Purchase the UFC merch here.
To bet on an MMA event click here.
Also Read:
ESPN issues statement after Dana White calls Ariel Helwani a 'D**che'