Former Bantamweight title challenger Marlon Moraes has responded to the callout of Marlon Chito Vera after both Vera and Moraes lost at UFC Vegas 17.
Marlon Moraes has become a new target from contender Marlon "Chito" Vera as he attempts to work his way up the Bantamweight rankings. Taking to Twitter, Chito suggested to the UFC that he should face Moraes next to which Moraes appeared to be on board with, however, he did not seem to expect this to be next for Vera.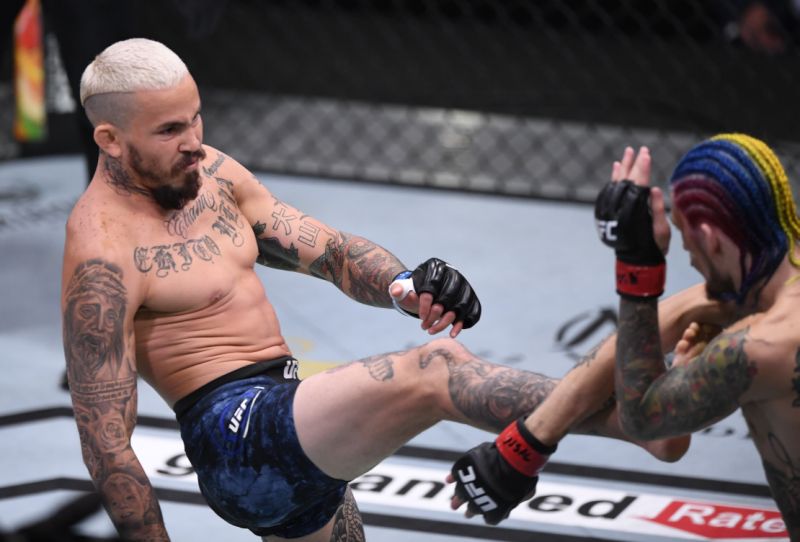 Give o'Maley his well deserved rematch. 😂 By the time I will be back n we meet 🤝

— Marlon Moraes (@MMARLONMORAES) December 31, 2020
2020 was not kind to Moraes. The former WSOF bantamweight champion ran his way into title contention shortly after signing with the UFC back in 2017, picking up strong wins over Aljamain Sterling, Jimmie Rivera, and Raphael Assuncao in the process. However following a rough loss to Henry Cejudo and a questionable win over Jose Aldo shortly afterward, Moraes now finds himself on a two-fight losing skid, having been knocked out by both Cory Sandhagen and Rob Font over the past three months.
On the flip side, Marlon Vera's recent run hasn't been nearly as disastrous as his Brazilian counterpart's, but it also hasn't come with the same glorious high points either. Following a five-fight winning streak across 2018-19, the Team Oyama fighter went 1-2 in 2020, with competitive losses to both Song Yadong and Aldo sandwiching a TKO victory over Sean O'Malley back at UFC 252.
Thus, with both Marlon's coming off defeats, it appears Vera felt this was the time to offer up a fight with the former title contender out of the American Top Team. The Ecuadorian fighter took to Twitter to call-out Moraes, but it seems 'Magic' has other plans for the immediate future than a fast return to competition.
After Vera beat O'Malley at UFC 252, many thought a rematch would be next. Yet, Vera has made it clear he doesn't think the fight makes sense.
"I don't f*****g care. The UFC calls me, they give me a name and I say yes. I don't think I've ever declined a fight, of course, if I am injured I tell them I can't fight right now," Vera said on Just Scrap Radio on BJPENN.com. "If I am okay I take the fight. I take fights without camps before, so whatever they want to do. O'Malley is like a little puppy that barks and does nothing. I'm not wasting my time with that guy."
Marlon Moraes is not interested in Vera
Regardless of Moraes's suggestion that the pair rematch, Vera did not entertain the idea simply replying to Moraes stating that he should just say no if he isn't interested in the matchup.
Currently, as it stands Vera is sitting at number 15 in the rankings with no movement from his most recent loss, while, Marlon has fallen four places from number three to number seven, one rank below the aforementioned Aldo.
As it stands the UFC has not shared any interest in a matchup between the pair publicly, however, with the Bantamweight division as stacked as it is, we could potentially see the pair face off in 2021.
Purchase the UFC merch here.
To bet on an MMA event click here.
Also Read:
Israel Adesanya to Fight Jan Blachowicz for light heavyweight championship at UFC 259