Despite coming off of two back to back defeats, UFC Flyweight Maycee Barber doesn't feel much pressure on marking a win in her next bout as she's confident that she is still bringing the hype inside the Octagon.
Back in 2018, Maycee Barber entered UFC as one of the future Flyweight superstars and after winning her Dana White's Contender Series 13 fight versus Jamie Colleen. Considered to be a future superstar in the promotion, Barber marked three wins in her first three UFC appearances.
However, things started to decline for the 23-year-old since then.
In January last year, Barber suffered her first career defeat against Roxanne Modafferi at UFC 246 and also tore her knee. After her recovery, she returned to the cage on 13th February this year at UFC 258 against Alexa Grasso, but suffered another loss.
Whatever happens, happens: Maycee Barber doesn't feel any pressure on her
Now, Barber is slated to face Miranda Maverick at UFC Vegas 32 this Saturday night. Anyone would think that on the heels of double setbacks, a win is must for Barber if she wants to remain in the UFC.
However, the number 14 ranked Flyweight doesn't consider the defeats as setbacks due to the injury. Barber feels she still has the hype surrounding her and even if she loses to Maverick, that won't make an impact on 'The Future's future in the UFC.
"I wouldn't consider my first loss a loss as I tore my knee in the first five seconds. Then, with my second loss, I was coming off that substantial injury," Barber said in a recent interview with BJPENN.com,  "I don't think I've lost the hype or my confidence."
Nonetheless, Barber acknowledges the pressure on her to secure a win this weekend at the UFC Apex facility in Las Vegas, but is less worried if the results of the fight doesn't go her way.
"As for pressure, there will always be pressure as I put pressure on myself to win and finish. At the end of the day, I'm a fighter and I will go out there and perform. The pressure is not on me as I always go out there and give it my all."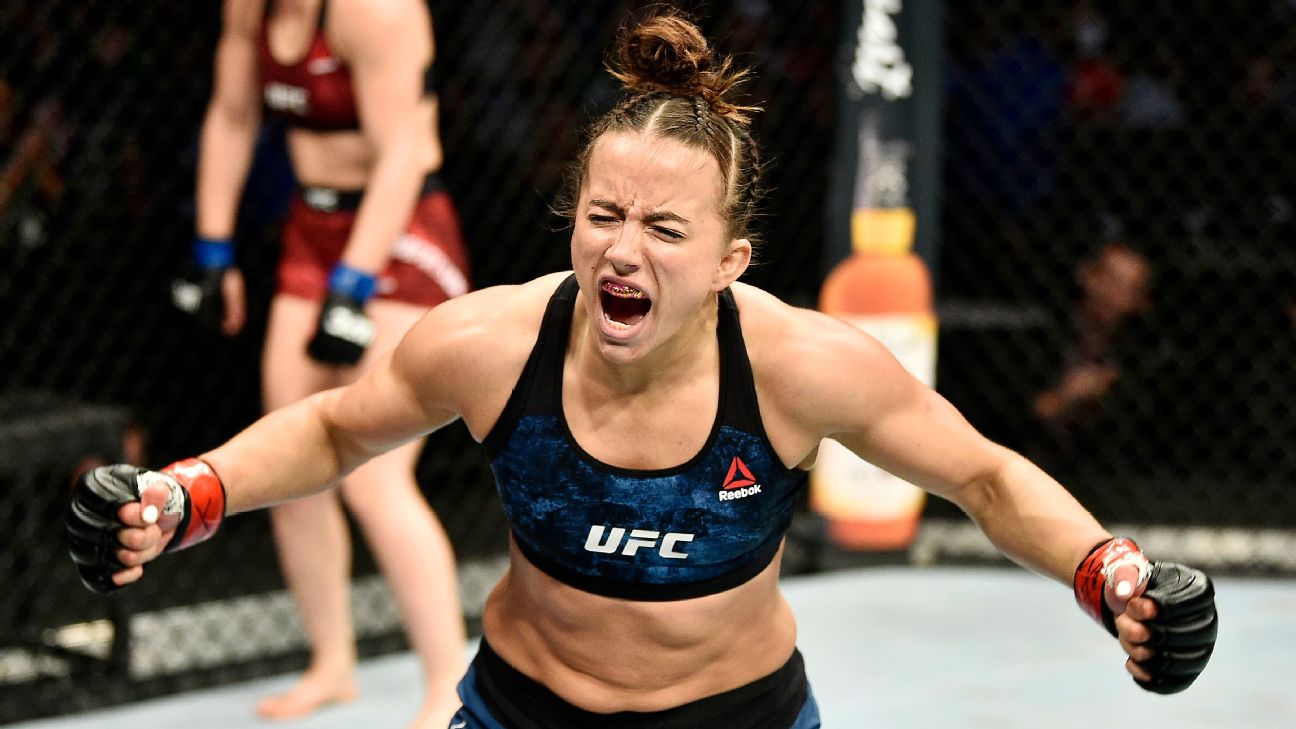 ALSO READ: Maycee Barber wants to prove doubters wrong in 2021
"Whatever happens, happens. If I have a freak injury and lose, then so be it. I don't feel like there is a lot of pressure on me," Barber added.
Do you think Maycee Barber will secure a victory at UFC Vegas 32 this Saturday? Let us know in the comments.