Even though Maycee Barber wasn't moved by the Flyweight debut of Miesha Tate, the 10th ranked fighter in the divison does express her wish to lock horns with the former Bantamweight Champion sometime in future.
I have a lot of respect for her being a former champion: Maycee Barber 
On her third fight since making comeback to the Octagon after five years, Tate made her debut in the Flyweight division against former title contender Lauren Murphy at UFC on ABC 3 on 16th July. The much awaited fight ended anticlimactic for "Cupcake" as she lost via unanimous decision.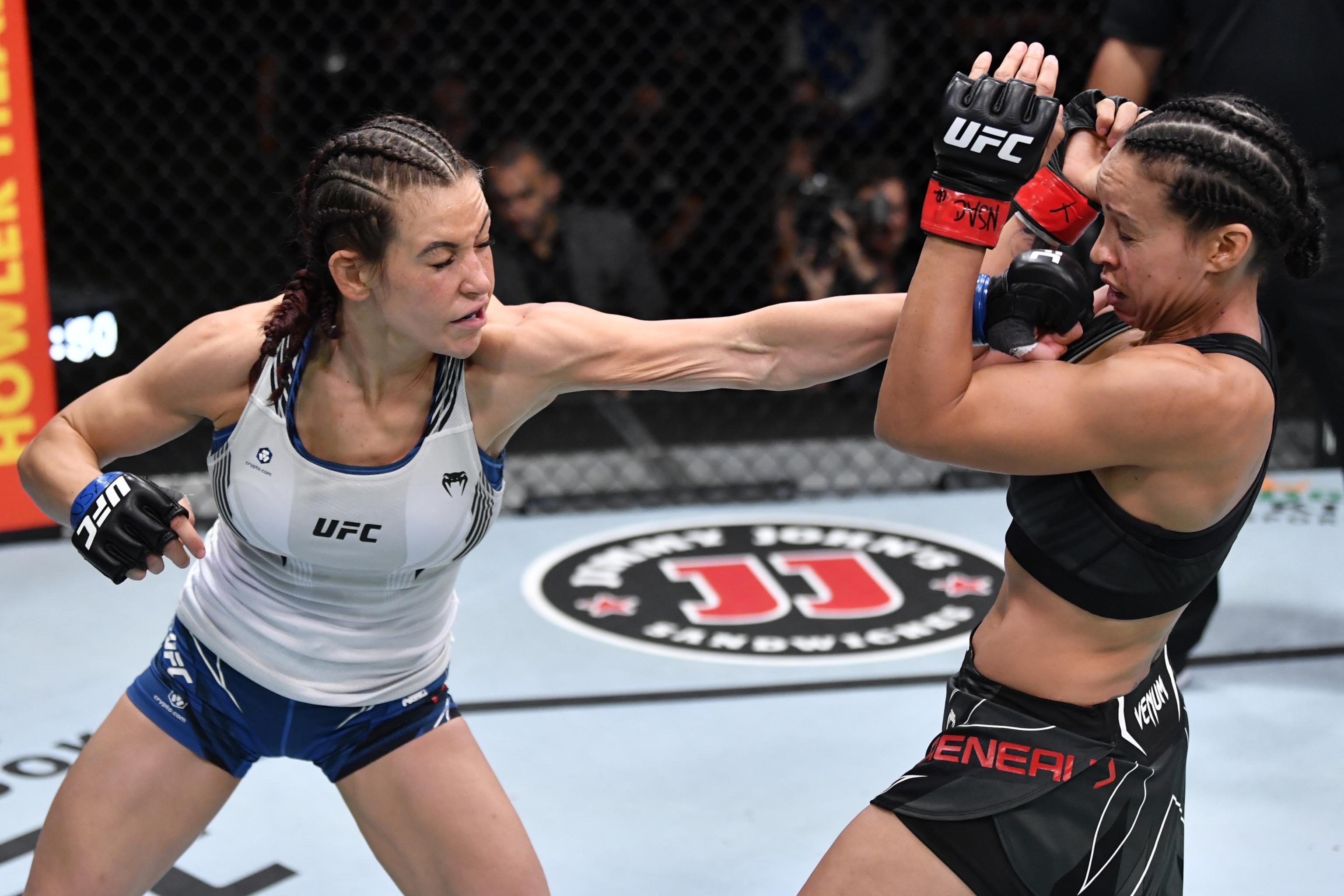 The MMA fandom have been split over Tate's future in the sport. Many of her critics have opined that the 35-year-old should hang her gloves up, but Tate herself has been steadfast about redemption.
Maycee Barber, who is on a three fight win streak and marked her latest win over Jessica Eye via UD at UFC 276 earlier this month, said that while she was not impressed by Tate's last performance, she would like to have a go with the veteran sometime in the coming days, while naming Murphy as an alternater option.
"I did (see her fight). I wouldn't mind fighting her eventually, too. I'm not shocked, I'm not impressed. It's great she moved down and I have a lot of respect for her being a former champion and being such a legend in this sport," Barber said during an appearance on the Just Scrap Radio on BJPENN.com, "But, that's a fight that she has a lot of experience and I would love to fight her. We have the older generation fighting the newer generation. Lauren Murphy also had a great performance so maybe I'll fight one of them."
All that being said, Tate has not been heavily invested in remaining at Flyweight and if she does change division again, "The Future" says her aim will be set at the 9th ranked fighter in the division Andrea "KGB" Lee, or a rematch with 5th ranked Alexa Grasso.
"Obviously I want to climb the rankings and the fight that really looks appealing to me is the fight with 'KGB'. Mainly because she is number nine and I'm number 10 and it's a great fight for me," Barber went on, "It's the next spot and I don't want to fight backward. Then someday, I want the fight back with Alexa (Grasso). I know Andrea has fought a lot of girls I've fought and she's a name that has been around a while." [H/T BJPenn.com]
Are you interested to see a fight between Maycee Barber and Miesha Tate? Let us know in the comment section below.
Watch UFC 277 – Pena vs Nunes – LIVE on SONY TEN 2 (English) channels at 7:30 am IST on 31st July 2022.
Purchase the UFC merch here.
Click to Predict here.