The recently concluded exhibition boxing match between Floyd Mayweather Jr and Logan Paul at the Hard Rock Stadium did not see any knockouts from either fighter, but one thing that the fight has knocked out is the PPV sales.
As reported by BoxingScene as well as The Athletic, Mayweather vs Paul which was also billed as "Bragging Rights" and was on Showtime PPV, has reportedly generated at least a million pay per view sales.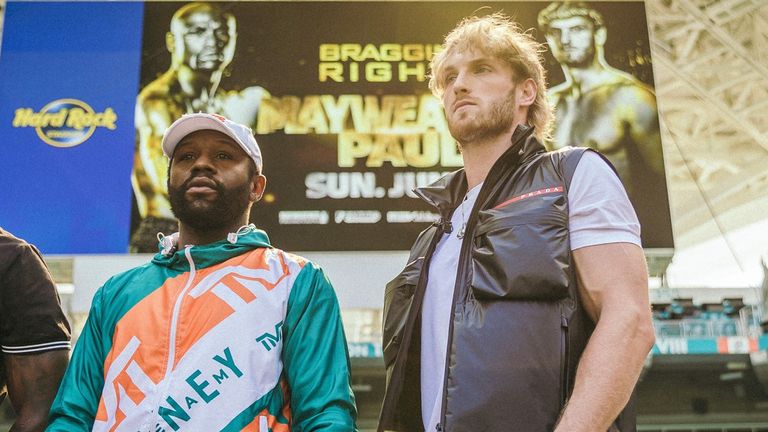 According to multiple sources, Showtime is estimating north of 1m PPV buys- across cable, satellite, and streaming and its also the biggest one day subscription sign up since the launch of their streaming service in 2015.
It is understandable that why Mayweather vs Paul scored such astronomically high on PPV sales. Despite it being as uneven as a match up it gets from a boxer's perspective, the two are one of the biggest stars in their own niche.
Mayweather vs Paul gets 1M PPV buys: Did it live up to the hype?
A fifteen times world champion who retired from boxing with an unblemished 50-0 record, Floyd Mayweather is one of the greatest in the sport. On the other hand, Logan has become one of the biggest stars in YouTube and across other social media platforms, and seeing the two in the same squared circle was bound to tickle the tastebuds of millions of fans from either side.
Despite the pre-fight hype and the astounding PPV buys it generated, the actual match did not live up to the expectations of many. While the contest was an uneven as it could get, with everyone expecting the 44-year-old boxing virtuoso to seal the deal with a KO, the match went the distance without one.
ALSO READ: Henry Cejudo takes a shot at Floyd Mayweather for his performance against Logan Paul
Early in the fight, Paul did deliver a couple of good shots on Mayweather, but the 26-year-old started losing his rhythm as the fight went on with "Money" taking control. However, Mayweather failed to land a finishing strike on Paul, possibly due to him being much larger in size.
Can't hurt what you can't hit 🌪 #MayweatherPaul pic.twitter.com/YUVWXRGSSv

— SHOWTIME Boxing (@ShowtimeBoxing) June 7, 2021
The fight may not have lived up to the hype it generated, but its the first time in Mayweather's career as a boxer (including his professional and exhibition career) that a fight went the distance without a determined winner. Paul himself also said after the fight that it was an honor to share the ring with Mayweather.
What do you think about Floyd Mayweather Jr vs Logan Paul selling at least a million PPVs? Let us know in the comments.
Purchase the UFC merch here.
Click to Predict here.
Download the Fanatics Fantasy MMA app here.