Former UFC middleweight champion Michael Bisping has asked Conor Mcgregor to part ways from his long-time coach John Kavanagh after he analyzed UFC 264.
UFC 264 was one of the most important fights in Conor Mcgregor's career against one of his arch-rivals, Dustin Poirier. The series of fighting between these two elite lightweights was 1-1 going into their third fight at UFC 264. Conor started the fight well but then got caught in some shots and was taken down following that. He took heavy punches and elbows from Poirier. In the last exchange of the first round, Conor broke his ankle and fell on the mat. The doctor came in after the round and called off the fight. Dustin was declared the winner by TKO(doctor stoppage).
According to Mcgregor's Coach John Kavanagh, the incident happens due to an injury Mcgregor suffered during their training camp.
"A little bit of that ankle injury had been aggravated during camp," Kavanagh said. "We got a scan on it. Did that have a small part to play in weakening it? I don't know. We were (with a doctor) a couple weeks ago to get a scan on the ankle. … There might've been something in there. It would seem unusual that a young, healthy, fit man could wrap his foot around an elbow and (break it) without there being something (wrong) there before. You can play those guessing games all day long."
John Kavanagh then went on to say that he felt Conor was doing good in the fight and could have turned it on in the second round. He also said that he felt that Conor could have finished the fight in the later rounds of the fight.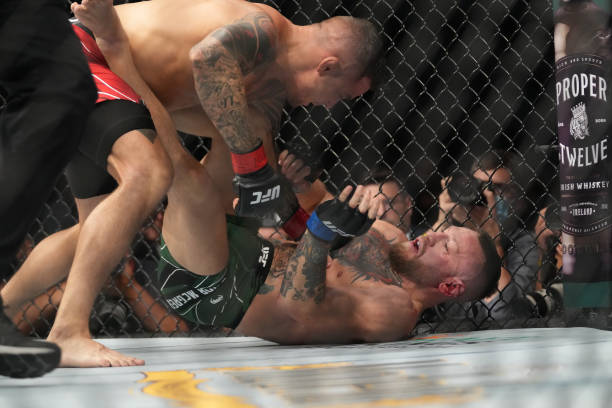 "It was going fantastic," Kavanagh said. "I thought he looked really, really good in there. … I wasn't concerned at all. I was actually really, really happy. … At the 4:30 mark or even the 4:45 mark (of Round 1), everything is gravy. I thought energy looked good, technique looked good. A few adjustments in between rounds, and I thought Round 2 we were well on track to getting a finish there, or keep the rhythm going for the rest of the fight.
According to Michael Bisping, John Kavanagh's point of view of the fight was totally wrong and Bisping has told Mcgregor to fire his coach.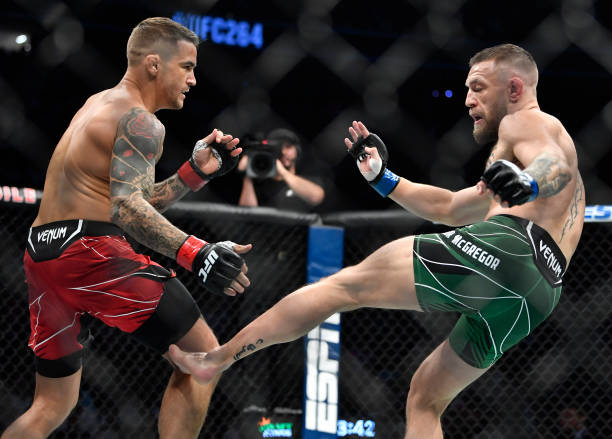 "Just like his coach John Kavanagh said, he said 'oh, I saw nothing that concerned me. I knew that in the second round we were getting the knockout. Nothing else in there concerned me at all.' If that's true, John Kavanagh, Conor should fire you immediately," Bisping said on BT Sport's UFC 264 post-fight show. "That was very concerning, you were on your back and you were getting dominated. It was a 10-8 round, which's concerning. You don't want to get your ass kicked, simple as that and that was what was happening.
Purchase the UFC merch here.
Click to Predict here.
Download the Fanatics Fantasy MMA app here.