Nathan Diaz is as real as it gets in the UFC. He's known to never shy away from things, and says it like it is without the bullshit.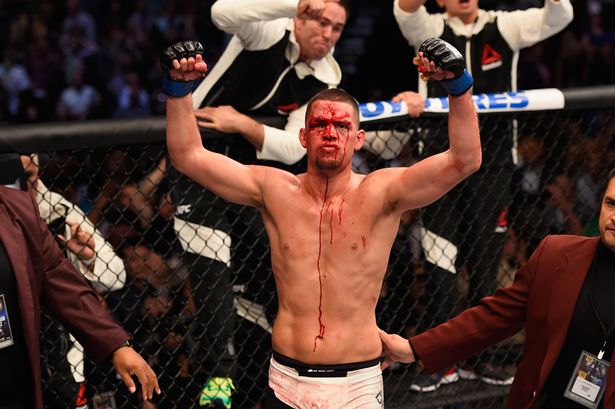 In a recent tweet, he gave a shoutout to Rose Namajunas and Max Holloway, and to all the real fighters out there. After the controversial split decision in the Co-main event of UFC 251, the MMA world stands divided. After Max dominated the first two rounds, Volkanovski picked up the pace of the fight from the end of the third round. The dispute lies in the third round, where most fighters believe Max won.
Shoutout to Rose and Max they robbed max tho but 💯 to the real fighters out there 💯👊🏼

— Nathan Diaz (@NateDiaz209) July 12, 2020
After Gilbert Burns tested positive for Covid-19, the UFC had 7 days to sign a replacement, and they went ahead with Jorge Masvidal. Nate Diaz also tweeted showing his support to 'real fights' after the fight was confirmed, taking a sly jab at Gilbert Burns. Knowing the history between Nate and Jorge, this was interesting to watch.
Real fights are better fights 💯

— Nathan Diaz (@NateDiaz209) July 5, 2020
'Real fights are better fights', said Nate Diaz.
Why Diaz credited Max Holloway
Flawed judging has spoilt the game of MMA for a long time, robbing insanely talented fighters off their victory. Dana White has admitted to this and said something needs to be done. While the MMA world stands divided with Max's loss, Max takes the loss like a good sport and is grateful for what he has. In a recent series of tweets, Holloway expressed his dismissal of the divide and asked the people who support him to stay calm. He acknowledged his blessings and said the Blessed Era continues.
It is what it was. Nothing changed for me as a fighter. We proved our point. I still have my five belts at home. I'm 28 and healthy. Blessed era continues. Bless yourself 🤙🏻

— Max Holloway (@BlessedMMA) July 13, 2020
Taking into account the hours of work that Holloway has put in for this fight, and how important it was for him to win it, it is great to see such sportsmanship from Max. However, it is important to discuss the remedies the UFC must take to avoid incompetent judges from robbing fighters off their victories. Joe Rogan suggested the addition of 7 more judges to mitigate the effect of a single judges' bias.
READ ALSO:
Twitter trolls Kamaru Usman after he foot-stomped his way to win over Jorge Masvidal