UFC superstar Nate Diaz has stated that his fight with Leon Edwards at UFC 263 is nothing less than a title fight and he is very excited about it.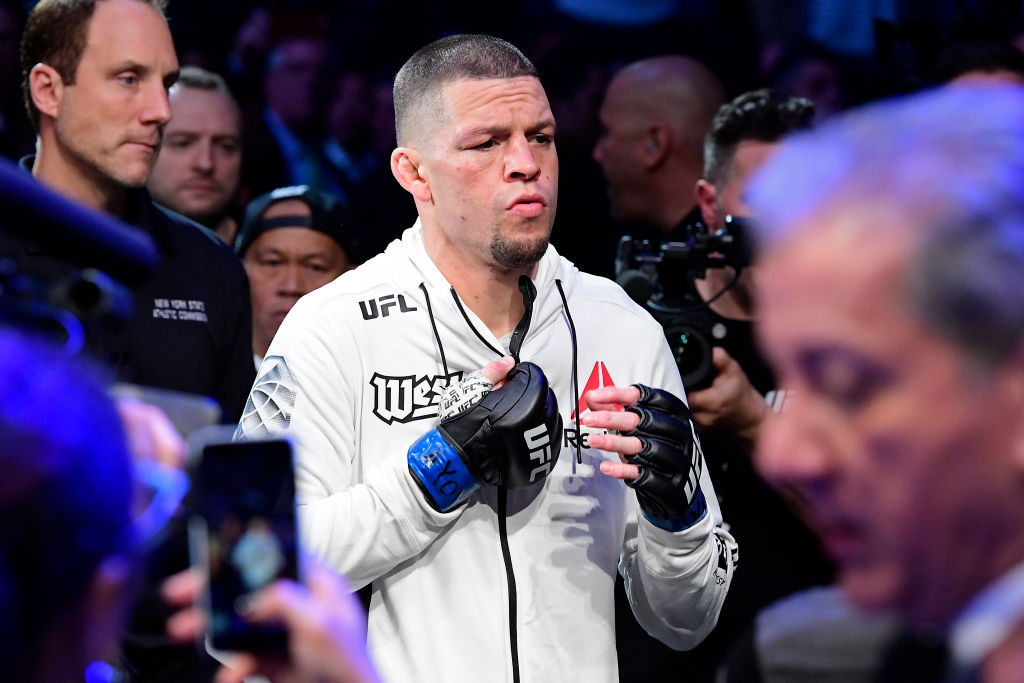 According to UFC President Dana White, the winner of Nate Diaz vs Leon Edwards's fight at UFC 263 will be getting the next title shot after Colby Covington. Nate Diaz will be back in action fighting the No.3 ranked Leon Edwards. Nate has been granted this huge opportunity to fight a top guy like Leon and if he wins he will straight away get a ticket to the top spot of the division. He is a huge underdog coming into this fight but this is was keeps him going and he has never failed to surprise fans. This fight will be the first fight in the history of the UFC which is a non-title and non-main event five-rounder fight.
During the press conference of UFC 263, Nate seemed to be pretty excited about this opportunity and will be trying to make the most of this chance.
"It makes me happy to be back and be on a great card," Diaz told at the presser.
The fans absolutely love Diaz brothers all over the world and the support these guys get is really amazing and Nate definitely knows how to steal the show.
"There's love everywhere I go," Diaz said. "I love the support, and I love the whole sh*t man. This is great. This is great that these guys are getting it, doing their thing, too. Real fight, so that's cool."
He also talked about his opponent Leon and even compared him to the welterweight great GSP.
"I believe that just how GSP was doing his thing back in the day, I believe (Edwards) is doing the same thing, and he's not getting no love for it, so I'm pumped to fight a worthy opponent, and that's what I'm here for," Diaz said. "I'm coming to win."
Nate Diaz says he has got title fight at UFC 263
Although Dana White has already announced that the winner between Diaz and Edwards will be next in line for the title hot after Colby Covington gets his rematch done with the champion Kamaru Usma, Nate still feels that instead, this fight with Leon is the real title fight.
"He's quiet and not a person that a lot of people know," Diaz said to the UFC. "If I'm not gonna fight the biggest fight I could possibly find, I'm gonna fight the best fighter that I could find. I'm out there to show people that I'm the best of the best and not just to fight on TV for fun.
"I always want to compete like I always have, and I always want to stay busy, but it's hard for me to just fight with unnamed opponents and people who haven't done much yet," Diaz continued. "Not that they can't and won't, but they just haven't yet, and that's why I've been out. I like challenges and tough opponents and big stuff to happen."
"I feel like this is the title," Diaz said. "There's not much that you can do more in the game than fight me, as far as I'm concerned. I fought all these guys and done better and done more than everybody, so this is what you get when you get a title."
Who do you think will win this fight?
Purchase the UFC merch here.
Click to Predict here.
Download the Fanatics Fantasy MMA app here.