UFC Fight Night 210 gets an amazing women's flyweight battle added to its card as Nina Nunes will go toe-to-toe against Cynthia Calvillo. The fight will be a debut for the no.6 ranked strawweight fighter Nina Nunes who will be making her flyweight debut against a certified women's flyweight fighter Cynthia Calvillo. Cynthia Calvillo is the no.11 ranked women's flyweight fighter. UFC Fight Night 210 also known as UFC on ESPN+ 68 will take place on July 9, 2022, at a TBD location. Also, a women's flyweight bout between Antonina Shevchenko and Cortney Casey is expected to take place at this event. The duo was previously scheduled to meet but the bout was postponed to this event due to Shevchenko injuring her knee in training.
The fight will be an important one for Nina Nunes who has struggled in her last few fights. She has always faced defeat in groups and is currently riding a two-fight blessing streak after having a good four-fight winning streak in the UFC.
Nunes made her debut in the Ultimate Fighting Championship against Juliana Lima on November 8, 2014, at UFC Fight Night 56. Nunes lost the fight via unanimous decision. Nunes next faced Justine Kish at UFC 195 on January 2, 2016. She lost the fight by unanimous decision. She was then successful in rallying up back to wins against top UFC strawweight fighters like Jocelyn Jones-Lybarger, Angela Hill, Randa Markos, and Cláudia Gadelha.
Nina Nunes lost her winning streak when she fought the rising contender Tatiana Suarez. Nunes faced Tatiana Suarez on June 8, 2019 at UFC 238.She lost the fight via unanimous decision and was dominated by Suarez in all three rounds. Nina Nunes faced another defeat at the hands of Mackenzie Dern at UFC on ABC 2. She lost the fight via armbar in round one. Now share is eager to make her comeback and that too in a different weight class.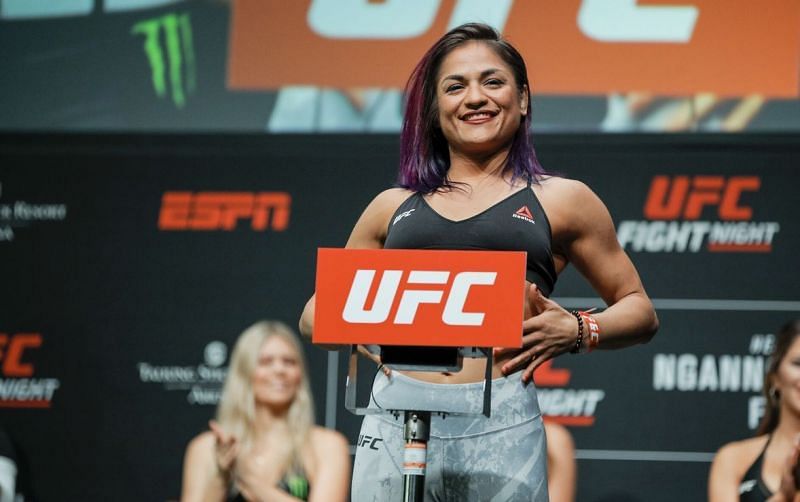 In her UFC debut, Calvillo fought Amanda Cooper at UFC 209 on March 4, 2017. She defeated Cooper by submission in the first round. But since then she has never really got a great start in the UFC as she always lost some important fights which put her back in the lower rankings. She is currently riding a three-fight losing streak and is separate to make a statement and stay active in the division. The fight against Nunes will be a great chance for her to get back to the win column.
Watch UFC Fight Night – Luque vs. Muhammad LIVE on SONY TEN 2 (English), SONY TEN 3 (Hindi) & SONY TEN 4 (Tamil & Telugu) channels on 17th April 2022 from 6:00 AM IST.
HIGHLIGHTS:
Nina Nunes is set to make her flyweight debut against Cynthia Calvillo at UFC FIGHT NIGHT 201
Purchase the UFC merch here.
Click to Predict here