Olympics Gold Medalist in 125kg freestyle wrestling Gable Steveson has hinted at potential contract signing with the UFC.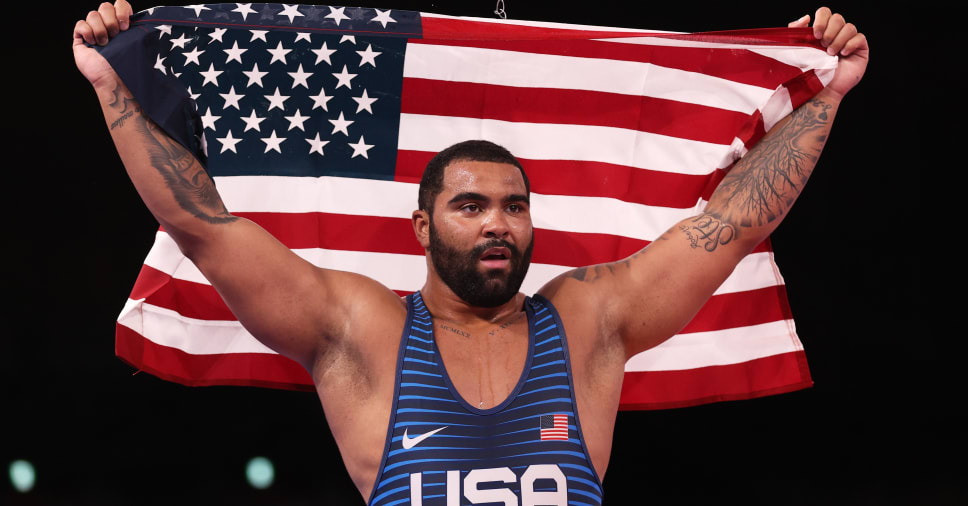 Gable Dan Steveson is an American freestyle wrestler who competes at heavyweight. In freestyle, Steveson claimed the 2020 Summer Olympic Games gold medal after defeating three-time and reigning World Champion Geno Petriashvili in the final and defeating defending Olympic champion Taha Akgul earlier in the tournament. He is also the reigning Pan American Continental champion and was a three-time age-group World Champion. As a collegiate wrestler, Steveson is a Dan Hodge Trophy winner, the reigning NCAA Division.
WHAT JUST HAPPENED! 🥇@GableSteveson grabs the GOLD as time expires. #TokyoOlympics pic.twitter.com/yqMc3wbXsu

— NBC Olympics (@NBCOlympics) August 6, 2021
Recently there has been a lot of buzz regarding Gable signing with WWE or UFC. According to the reports both the organizations are fighting over Gable to join their roster.
"I was thinking WWE, Vince McMahon is drooling right now," Angle said. "I think that this kid, I think he's going to continue to wrestle amateur for another four years, probably win another gold medal. 
"Then I think he'll eventually end up in the pro wrestling business or UFC or Bellator MMA. So, the kid has an incredible future."
Steveson often performs backflips after he wins big wrestling matches and he did the same with his victory at the Olympics in China.
"You know, I put on a good show," he said. "People are going to remember the name Gable Steveson."
Now Gable Steveson has hinted that he might turn his attention to MMA and has an interest in joining the UFC.
👋🏽 @danawhite

— Gable Steveson (@GableSteveson) August 10, 2021
In the latest tweet, he tagged UFC president Dana White and has added a waving emoji to his tweet. It's pretty hard at the moment to guess what he was trying to tell through his tweet but with just a slight hint the MMA world is already going crazy with the thought of Gable Steveson fighting in the UFC heavyweight division. Just like him UFC already has many Olympians who competed in the octagon with the likes of Daniel Cormier, Henry Cejudo, Yoel Romero, Ronda Rousey, and Ben Askren.
Ben Askren recently tweeted that with a little bit of MMA training Gable will be an unstoppable force in the octagon.
Give @GableSteveson 18 months training MMA and tell me who on earth is beating him? Freaking NO ONE

— Funky (@Benaskren) August 6, 2021
"18 months training MMA and tell me who on earth is beating him? Freaking NO ONE"
Henry Cejudo also shared his thoughts on Steveson.
"Welcome to Olympic Champion Mountain. Since the first time I saw you wrestle at the trials I knew you were special. The impossible is nothing for what ever you decide to do after wrestling. Whether it's Wrestling, NFL, WWE, or UFC. @GableSteveson"
Purchase the UFC merch here.
Click to Predict here.
Download the Fanatics Fantasy MMA app here.