Tecia Torres (born August 16, 1989) is an American mixed martial artist who is currently competing in the strawweightdivision of the Ultimate Fighting Championship (UFC). As of July 26, 2018, she is #5 in the official UFC strawweight rankings.
Torres has been involved in martial arts since age 3. She began in taekwondo as a child, and received her black belt after twelve years practicing the sport. She also has an amateur muay thai record of sixteen victories and four losses.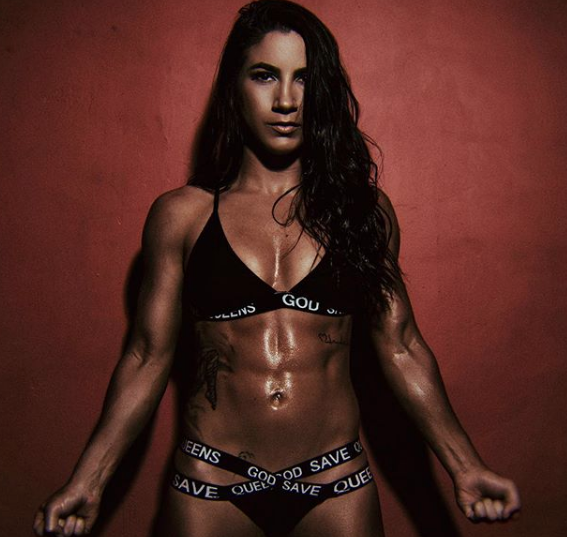 Torres graduated at 20 years old in 2010 with a Bachelor of Arts, double majoring in Criminal Justice and Sociology from Florida Atlantic University. She earned her masters degree in Criminology from the same college in 2017.
Torres started her amateur mixed martial arts career in 2011. She won each of her seven bouts, obtaining 115-pound titles in MMA Solutions, US Freedom Fighter Championship and American Battle Championships.
In 2012, Torres moved to professional mixed martial arts and signed with Invicta Fighting Championships.
Torres made her professional and promotional debut against Kaiyana Rain on October 6, 2012 at Invicta FC 3: Penne vs. Sugiyama. She won via unanimous decision.
Torres faced Paige VanZant on January 5, 2013 at Invicta FC 4: Esparza vs. Hyatt, winning on all judges' score cards. She then won a unanimous decision over Rose Namajunas on July 13, 2013 at Invicta FC 6: Coenen vs. Cyborg.
Her final bout of 2013 was against Felice Herrig on December 7, 2013 at Invicta FC 7: Honchak vs. Smith. She won via unanimous decision.
Torres made her UFC debut against fellow Ultimate Fighter competitor Angela Magaña at The Ultimate Fighter: A Champion Will Be Crowned Finale on December 12, 2014.
She won the fight via dominant unanimous decision, outstriking Magaña two-to-one over the course of three rounds.
Torres employs constant lateral movement while combining elements of taekwondo and karate.  She frequently utilizes kicking techniques, occasionally following a high or low kick with a fast side kick.
When punching, she will often press forward with a flurry of high strikes. Torres does not often utilize submission techniques, but has demonstrated submission defense.
Torres is of Puerto Rican descent. She is openly lesbian and engaged to UFC Women Bantamweight Raquel Pennington.