At Cage Fury Fighting Championships (CFFC) 94, Russian-Canadian fighter Khetag Pliev underwent a horrific yet crazy situation, losing his left ring finger during a 175-bout catchweight fight against Devin Goodale.
Within 24 hours of garnering the attention of the global MMA fandom, the wrestler-turned-boxer-turned-mixed martial artist has gone ahead and did something even crazier, saying that he is ready to lose one more finger if that gets him a contract with the UFC.
There are numerous mixed martial arts promotions across the globe, but over the years, the UFC has become the dream destination for many fighters and is revered as the pinnacle platform for the sport. Just like many other non-UFC fighters who aspire to fight inside the famed Octagon one day, Pliev himself expresses the same desire.
I am willing to lose a finger for the UFC contract: Pliev sends a message to Dana White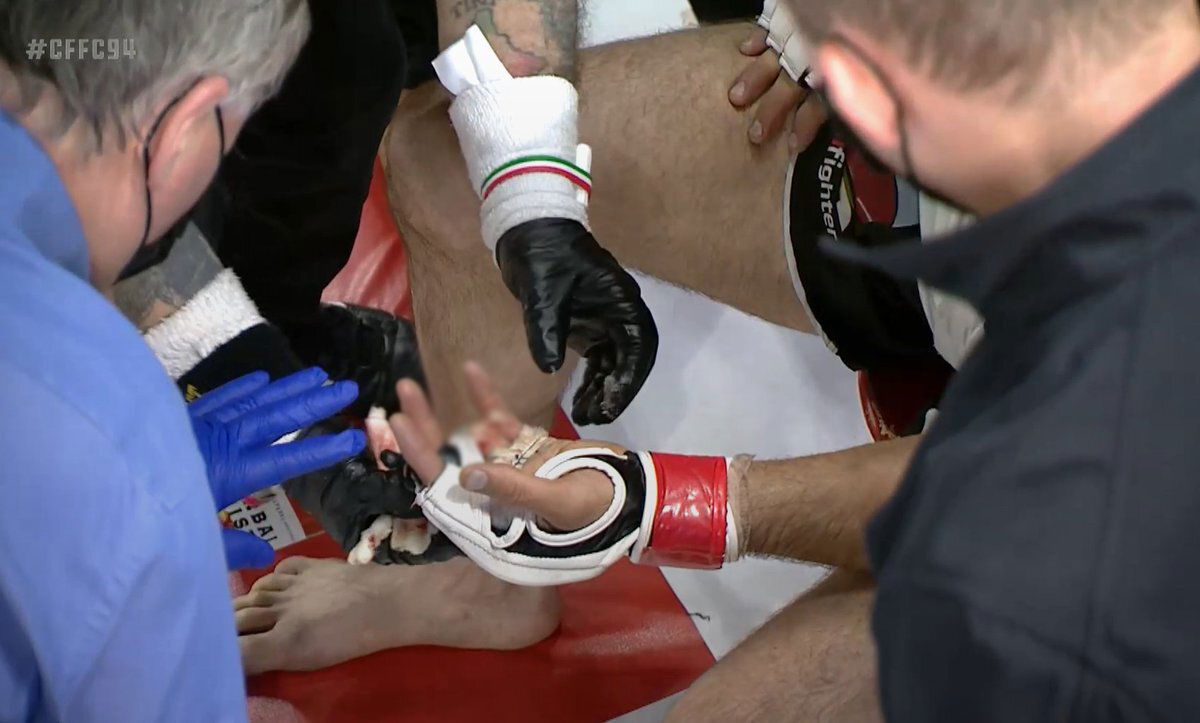 Following his gruesome injury in his loss against Goodale on 1st April, TMZ Sports had reached out to Pliev soon after his medical treatment, and the fighter stated that he is aiming for a full recovery and pave his way to the UFC in the future.
When asked to say some words to UFC and its president Dana White, Pliev revealed that they both had crossed paths at a UFC event in Sao Paulo, Brazil in the past, and there were conversations about the fighter's future UFC stint.
However as Pliev waits for a further response from White, he goes one step ahead and indicates he's ready to do anything to land a contract in the UFC, even lose another finger, if need be.
"Well, Dana White… I met (him) in Brazil Sao Paulo at one of the UFC (events) and we met, we talked a little bit… See you soon in the UFC," Pliev told TMZ Sports.
"It's been… Some years went by and a lot of up and down but what's the message? I am willing to lose a finger for the UFC contract," the 37-year-old added.
While he is ready to lose another one in future for UFC, Khetag Pliev's severed finger at CFFC 94 was re-attached after he was rushed to the Thomas Jefferson University Hospital soon after the Goodale fight. Soon after the treatment, he took to Instagram to share a photo from the hospital.
"From the debts of my heart, you and God are my soul motivation! And to me you are all one and the same!!! To the hundreds of you I apologize I'm unable to respond individually but I want to let you know that I am ok. Finger is back in place. Love you all! God bless you all, and this fight is not over yet. Dr. Maggie Wilson did a job," Pliev's Instagram post read.
https://www.instagram.com/p/CNKk-4rFaXY/?utm_source=ig_web_copy_link
Purchase the UFC merch here.
To bet on an MMA event click here.