Former UFC lightweight champion Rafael dos Anjos has issued a challenge to the former UFC two-division champion Conor McGregor. Rafael and Conor have a long history between them as the pair were scheduled to fight each other in 2015 at UFC 196. Conor McGregor was then featherweight champion and Rafael dos Anjos was the UFC lightweight champion. Conor wanted to fight Rafael and win the lightweight championship to become the first simultaneous two-division champion. But just two weeks before the fight Dos Anjos pulled out due to foot injury and was replaced by Nate Diaz who took the fight on 11 days notice and defeated Conor McGregor via submission.
Now after 6 years from their first scheduled fight, Rafael dos Anjos and Conor McGregor are fighting in the same division and are just a few ranks away from each other. Rafael in his previous interview stated that he is interested in fighting Conor and he feels that McGregor will be back soon and then the duo can settle their 6 years long beef.
"I think he comes back. A lesion that is bone, it was nothing to articulate. The 'Sledgehammer' (Thiago Santos) blew the ligaments in his knee and went back to fighting. It's just like when I broke my jaw. It's bone to bone, glued, it's gone. It was a bad injury, but it will be stronger than it was. I believe he'll come back, do some fights and I'm a guy who should be on his radar. He's a guy who picks his fights and decides who he's going to fight. There was a disagreement at the weigh-in with me, he came walking behind me to slap me on the head, or do something, but I saw it out of the corner of my eye and stood up, there was stress," dos Anjos said.
Now Rafael dos Anjos has called out Conor McGregor on Twitter.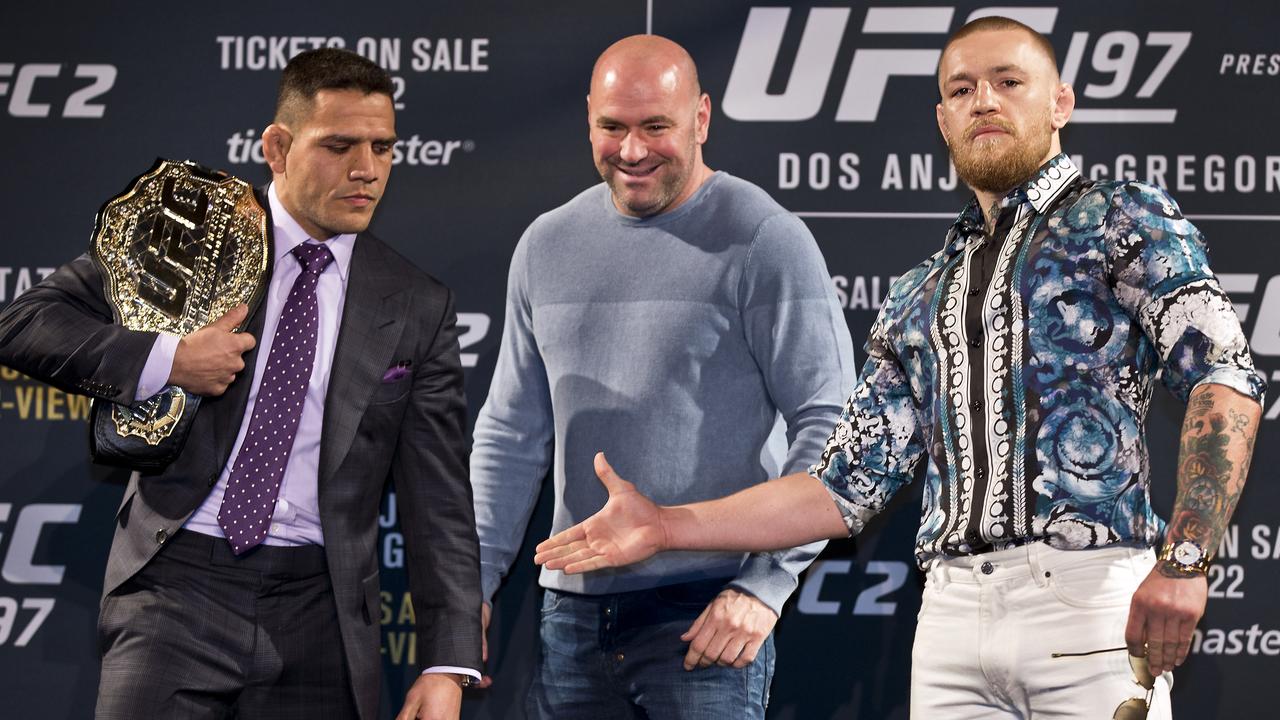 Lets meet without security to break up the fight. See you in 2022. pic.twitter.com/LByn8sg2SX

— Rafael dos Anjos (@RdosAnjosMMA) November 17, 2021
"Lets meet without security to break up the fight. See you in 2022."
Conor Mcgregor on the other hand has been very active recently on Twitter and has been lining up opponents for his comeback fight. In his last fight, he faced his arch-rival, Dustin Poirier, in their trilogy fight at UFC 264. The fight wasn't going well for Conor but by the end of the first round things got worse as he broke his foot and the fight was called off declaring Dustin the winner by TKO. Now Conor is recovering from the Injury and is planning to make his comeback by mid-2022.
Would you guys like to see Conor McGregor face Rafael Dos Anjos?
HIGHLIGHTS:
Rafael Dos Anjos wants to fight Conor McGregor
Purchase the UFC merch here.
Click to Predict here