Former UFC flyweight title challenger Ray Borg who retired from the sport in September of 2020 has announced his return to MMA and will be fighting in the UAE Warriors promotions on June 19.
Borg was released by the UFC recently after he withdrew from his UFC Fight Night 173 bout with Nathan Maness on the day of weigh-ins for undisclosed reasons. Following that he also had announced his retirement from the sport. He was 13-5 in MMA and 7-5 in UFC. Just one week after his UFC release and announcing his retirement in September, Borg said he was going through a lot in his personal life and that's the reason he stepped back from fighting but was willing to come back. After that, there was no news of him of his comeback. But looks like Borg has finally got his new home to fight.
Ray Borg will be taking on MMA veteran Jesse Arnett at UAE Warriors on June 19. MMAjunkie.com was the first to report the fight, after confirming with Ray Borg's manager Ali Abdelaziz.
Ray Borg is Back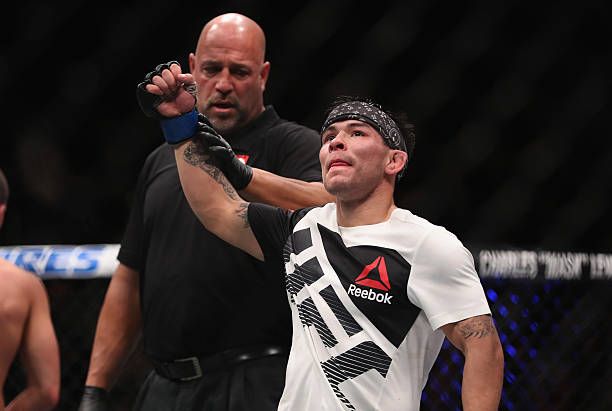 Ray in the UFC was known as one of the best flyweights in his division. Borg is perhaps best known for his 12–fight run in the UFC. He even fought the great Demetrious Johnson for the flyweight title but lost via armbar. Borg last fought in May and suffered a split decision loss to Ricky Simon in his return to the bantamweight division.
Throughout his career, Borg has had issues regarding making weight and has missed weight four times in the UFC. He also pulled out of a serious amount of fights during his UFC run, not only for injuries, as he often had some personal reasons or no reason at all for his withdrawals.
Even with all the ups and downs in his career and dealing with lots of personal issues Ray Borg always stepped up to fight. Though he has pulled out of several fights, whenever he did fight he gave his absolute best in the ring. He is now ready for his next fighting journey and he's looking forward to getting back in the fight game.
"I'm extremely excited to get an opportunity to fight for UAE Warriors and prove to myself that I'm one of the best bantamweights in the world," Borg said in a statement. "I'm grateful for the opportunity they've given me."
Ray will be facing a fighting veteran in Arnett who is 18-6 in his Pro MMA career. A dominant win over him could impress the UFC authorities and Ray may get another chance to perform at the highest stage of them all in the UFC.
Watch UFC Fight Night – Font vs. Garbrandt on May 23, 2021, LIVE on Sony Ten 2 and Sony Ten 3 channels from 4:30 AM IST
Purchase the UFC merch here.
Click to Predict here.
Download the Fanatics Fantasy MMA app here.