Former UFC middleweight champion Robert Whittaker (22-5) says he has a couple of things "up his sleeve" saved for his middleweight title rematch with Israel Adesanya that he hopes will take place after he defeats Kelvin Gastelum.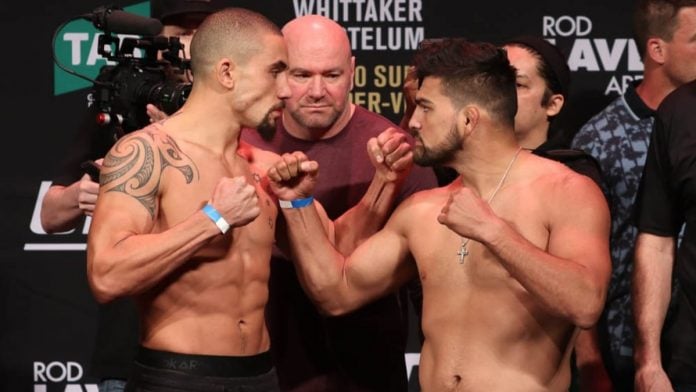 Kelvin Gastelum will step in as a replacement in the main event of UFC's April 17 Fight Night card Robert Whittaker following Paulo Costa's withdrawal. The card is expected to take place at Las Vegas' UFC APEX.
Costa withdrew from the five-round main event on Monday amid an ongoing fight with the severe flu weeks after testing positive for COVID-19.
Whittaker and Gastelum were paired up against each other for the UFC championship in 2019, but "The Reaper," a middleweight king at the time, was pulled from UFC 234 due to health issues. Gastelum fought Israel Adesanya for an interim belt two months later and lost a hard-fought battle.
Gastelum (17-6, 1 no-contest) most recently won a decision over Ian Heinisch in February and said he would stay ready in case anything happened to either Whittaker or Costa. The Ultimate Fighter Season 17 winner was on a three-fight losing skid against Adesanya, Darren Till, and Jack Hermansson before the victory.
Whittaker (22-5) is also climbing his way back to the top of the 185-pound class since losing his belt to Adesanya in October 2019, scoring decision victories over Till and Jared Cannonier in 2020.
Robert Whittaker says he wants to rematch Israel Adesanya in future
Whittaker is now set to return on April 17 against Kelvin Gastelum. Although if he wins, it would be his third in a row, he still isn't sure if that would be enough to earn a title shot. If it doesn't, Whittaker says he will just keep on fighting.
"It's hard to say, the UFC and Izzy have all the power," Whittaker said to ESPN of a second crack at Adesanya. "So I'm just looking at this as it's how I make a living, this is my job and I love my job, I enjoy making a living providing for my family like this. So I'm just going to do my thing, I'm going to work hard, earn my money, and then I'm going to enjoy time with my family and the lifestyle that it provides me."
As for whether Blachowicz exposed any weaknesses in the previously impervious Adesanya repertoire, Robert Whittaker hinted he might have seen something.
"Perhaps, perhaps, it's very hard to adapt the plans without [Blachowicz's] power," Robert told ESPN. "But we've got to wait and see how Izzy comes back down to middleweight; I've got a couple of things up my sleeve I'm looking to try next time we cross paths, so we'll wait and see."
To watch Vijender Singh's next fight, purchase the PPV on BookMyShow.
Book your tickets for the Vijender Singh vs Artysh Lopsan here.