Former UFC middleweight champion Robert Whittaker has revealed that he is not going down to the welterweight division instead he might be planning to step up to the light-heavyweight division. Recently former champion Robert has posted a tweet that the fans might get to see a skinnier version of him soon. This tweet started a buzz around the MMA world that Whittaker might be dropping down to 170 pounds as he previously used to fight in the welterweight division. But now in his recent interview, Robert Whittaker came forward and revealed that the rumours are fake and he is planning to move up instead of moving down.
"Mate, it had unexpected attention and unintentional attention, because it just got out of control," Whittaker said with a laugh on Wednesday's episode of The MMA Hour. "I consider camp Rob — so Rob that's in camp, Rob that's very happily eating his way to sleep every night — as Skinny Rob. Do you know? That's why in a lot of my posts previously I've said things like, 'OK, Skinny Rob's on the shelf now for a while,' etc, etc. But everyone was just like, 'He's going back to 170! Looking at how skinny he is already!"
"People don't realize how heavy I walk around," the former UFC middleweight champion added. "So, I'll walk around 215 [pounds], 220 in life. That's just my living weight."
"I've considered it, because going up is definitely the option, not going down," Whittaker said. "And I've considered it. But the only thing is, I feel like I'm so good at middleweight. I've got the cut well down. My strength versus cardio versus speed is just on point.
"I feel like I'd lose some of that if I move up to 205, so it might be — I don't know, I think I'm going to try and just work my way up to a title shot here one more time and then play with the idea afterwards."
Robert Whittaker says he is going to be fighting very soon.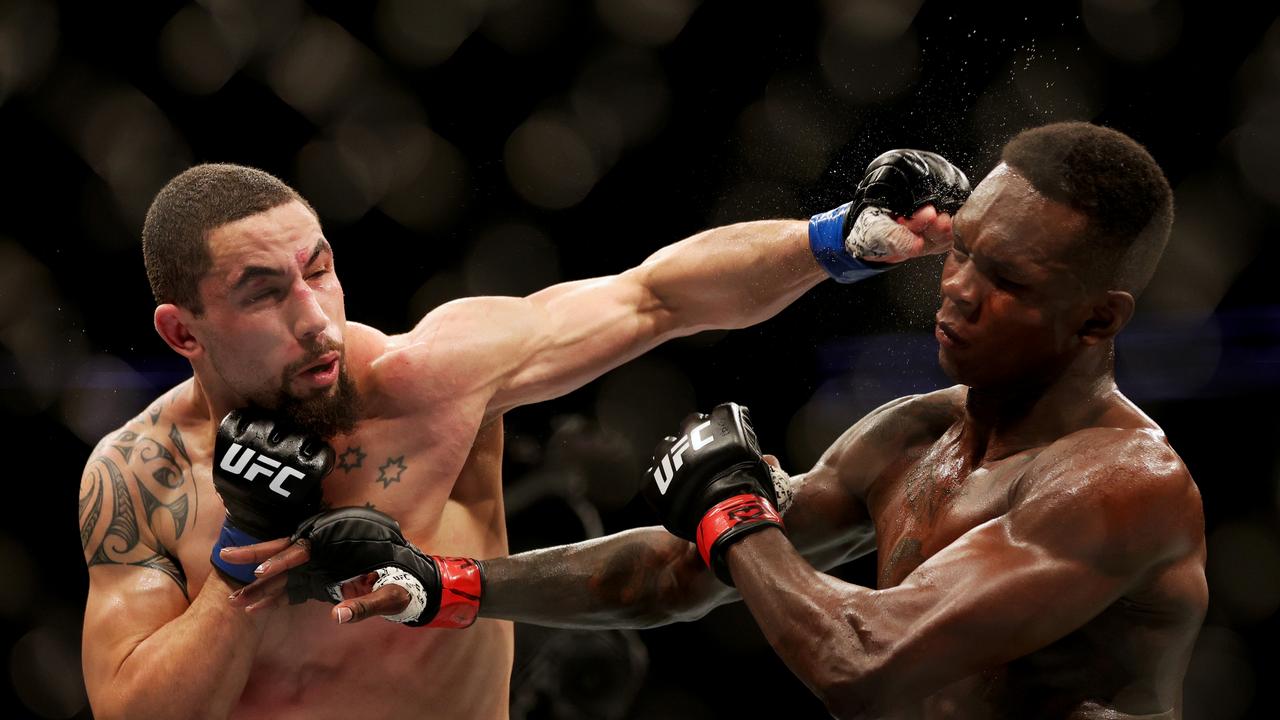 "There might be something in the works," Whittaker said with a grin. "I might have a name picked out, I might have a location picked out, and you know, I'm turning it around sooner than I normally do and just jumping straight back in there."
"It wasn't part of the plan, but I was offered an opportunity, presented with it, and honestly, I don't have any injuries from the last fight. There's a lot of things — just the date suits up, there's a lot of things that I had planned for after the date. And I wanted to get three fights in this year, so hitting a potential fight in June is a good day for me."
According to the sources surfacing, Robert Whittaker might be fighting Marvin Vettori next as Vettori has himself previously fought against the champion and is coming off a win over another fellow title challenger Paulo Costa.
"All new challenges interest me. There's never been a particular fight that I'm like, 'Man, I want that fight because that fight interests me.' I've never really been like that. It's just more of, I haven't fought him before. And because my last fight was Izzy, so it was preparing for a rematch — rematches suck, and preparing for rematches suck, especially when you lost the first one. The amount of work and the thought processes that go through the camp and everything like that, it's a bit trying. So to break away from a rematch and to fight a new face, some new blood, yeah, it's interesting" Robert Whittaker.
HIGHLIGHTS:
Robert Whittaker says he will be fighting sooner than expected
Purchase the UFC merch here.
Click to Predict here