UFC bantamweight prospect Sean O'Malley suffered a foot injury against Marlon Vera at UFC 252 but he says he didn't suffer any major damage during the fight.
O'Malley twisted his right foot right in the middle of the very first round of the UFC 252 co-main event and, despite his best attempts to stay in the fight, was finished with a barrage of ground-and-pound at the end of the round by Marlon Vera.
Many people thought that he suffered the same injury at UFC 252 as he did in his 2018 match against Andre Soukhamthath at UFC 222. O'Malley had entered the fight as a heavy favorite against Marlon Vera.
Sean O'Malley opens up about his injury
O'Malley took the loss without complaining about his injury but still thinks that he is a better fighter than Vera.
While talking on his podcast 'Sugar Show' stated "Even in the back warming up, everything was perfect. I'm in good shape, I'm in f*****g good shape. I'm breaking this motherf****r, a hundred percent in my mind," O'Malley said on his podcast. "Get back there, doing our warmup, everything's going perfect. About five minutes before they said, alright, we're gonna walk, I go, hey Brandon, do you think you can f*****g loosen up my ankle brace, it's f*****g tight. So he's sitting in the back, loosening up my ankle braces because they were so tight."I got an MRI yesterday, going to get it looked at tomorrow by a doctor. I think it is good, just rolled it about seven times," he said.
O'Malley said he was doing well before the fight but as he's a very kickboxing oriented fighter he has to deal with many injuries due to that style. Right during the fight when his able twisted and a few moments later he fell many people including his coaching staff thought it was the same injury that he had to deal with before when he fought against Andre Soukhamthath at UFC 222.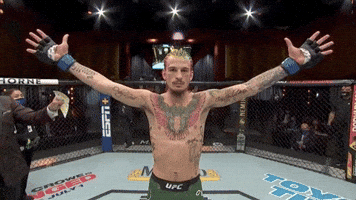 Since the match, Sean O'Malley has undergone numerous doctor supervision. He got an x-ray done on it which showed no breaking of a bone. So, he believes he dodged any major injury and instead thinks he just rolled it too many times. This is great news for him and his fans that he did not face any major damage to the fight and will be looking forward to resuming his fighting.
Right after the loss, O'Malley was removed from the top 15 UFC bantamweight rankings. So there's a long road ahead for the 25-year-old 'Sugar Show' to come back stronger and get himself back in the win column and the UFC rankings.
Who do you guys want to see Sean O'Malley fight when he comes back?
ALSO READ: