UFC welterweight Stephen Thompson has stated that it would be a really terrible idea for Youtube star turned Boxer Jake Paul to fight former UFC welterweight champion, Tyron Woodley.
Stephen Thomson is a former two-time title challenger and both times he fought the same champion which was Tyron Woodley. The first fight was at UFC 205 in MSG. The fight was one of the all-time best fights which had lots of twists in it. The back and forth battle between them resulted in the fight ending in a draw. The second fight was at UFC 209 when Woodley got the better of Thompson and won the fight via the judge's decision.
So no one knows Woodley better than his opponent Wonderboy Thompson. So when he says that it would be a bad idea for Jake Paul to box Tyron he has some facts behind it. Speaking to James Lynch, Thompson was asked what his thoughts are on a potential Paul vs. Woodley boxing match when he replied by saying it's a bad matchup for Paul.
"I think it would be a bad idea for Jake. Tyron Woodley's boxing is very good. He's not having to worry about any takedowns or any kicks to the face or anything like that, he can just focus on boxing. Tyron's got some power, boy. Tyron's got some power. If Jake goes that route — which I don't think he will — if he was smart, he would not want to box Tyron Woodley," Thompson said.
Both Jake Paul and Tyron Woodley have exchanged words on Twitter and also had an interaction during Paul's fight against Ben Askren.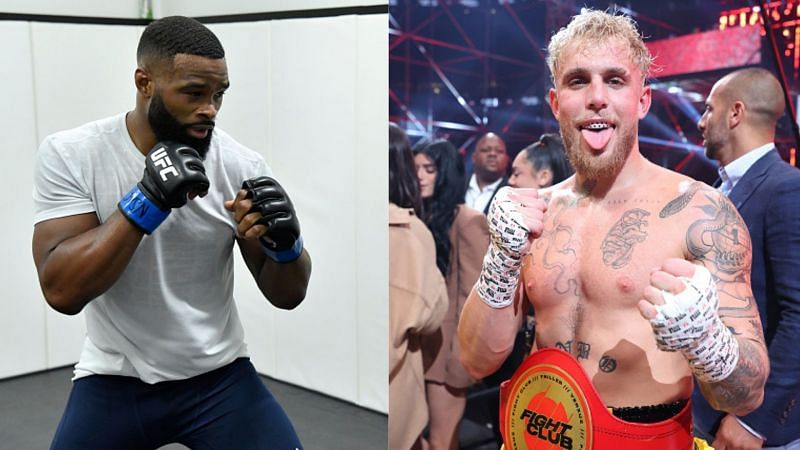 In a recent interview with ESPN, Paul responded to Woodley's challenge and seemed to agree to this fight.
"It's definitely interesting," Paul said. "He's a great striker. And he was in Ben's corner for the fight and had a lot to say in the locker room. So I think he would be a good opponent. I think Nate Diaz would be a good opponent. I think Conor McGregor would be a good opponent."
What do you guys think will this fight ever happen?
Purchase the UFC merch here.
Click to Predict here.
Download the Fanatics Fantasy MMA app here.