UFC President Dana White stated that UFC is working on a fight for the former champion TJ Dillashaw and the fight will be for the no.1 contender in the division. The Opponent for TJ is not yet finalized.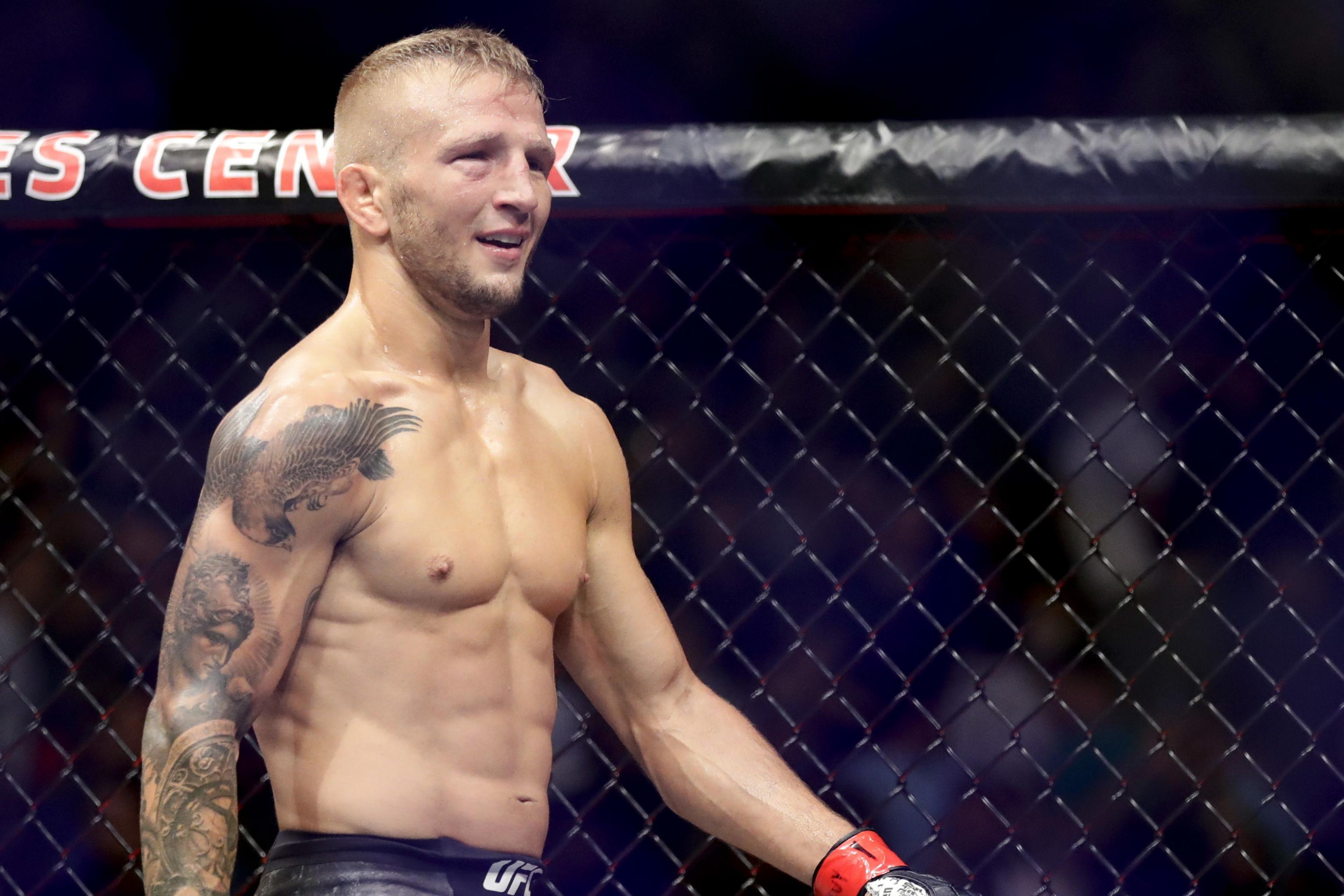 T.J. Dillashaw is now free to return to action after serving his suspension from the U.S. Anti-Doping Agency, and the former UFC bantamweight champion wants to get back to the belt as quickly as possible. Dillashaw recently said he ideally wants to fight for the title in his first fight back following his two-year ban for EPO use, but also said he'd be willing to take on top-five opposition in a bid to position himself for a swift shot at the title.
Given the packed field of contenders at 135 pounds, coupled with the circumstances surrounding his enforced hiatus, an instant title shot seems far from certain.
During a recent interview with ESPN's Brett Okamoto, UFC President Dana White shared that the organization was working on a fight for the former champion and that it would have title implications.
"We're working on something for TJ right now that would line him up, the winner of that fight would fight for the title next," White shared.
When Dillashaw was suspended in 2019 he held the Bantamweight title and had just come off a knockout loss against Henry Cejudo in his bid for the Flyweight title. Since then, Dillashaw has shared he is open to returning against any of the top guys and multiple potential opponents have raised their hands to welcome him.
Petr Yan will put his UFC Bantamweight title on the line for the first time this weekend (Sat., March 6, 2021) at UFC 259 in Las Vegas, Nevada, against Aljamain Sterling. Yan won the title at UFC 251 with a violent technical knockout win over Jose Aldo in July 2020.
During a recent interview on Fanatics View, "No Mercy" revealed his desired opponent, which will undoubtedly leave one top contender very upset.
"If I win easy over Sterling, the next fight has to be very big. Sandhagen lost to Sterling. I think maybe Dillashaw," the Bantamweight champ said. "T.J. Dillashaw is back after doping tests and I want to fight him."
Though White didn't drop any names, it seems reasonable to conclude that the UFC is looking at booking Dillashaw against Cory Sandhagen, who is coming off of back-to-back knockout wins over Frankie Edgar and Marlon Moraes. Sandhagen has said he wants to fight the winner of Yan vs. Sterling as well, but it wouldn't be surprising to see the UFC want him to take one more fight.
Purchase the UFC merch here.
To bet on an MMA event click here.