UFC 260 Fight Card
READ MORE:
Francis Ngannou will have Kamaru Usman as cornerman for Stipe Miocic title fight at UFC 260
UFC Heavyweight title challenger Francis Ngannou will have UFC welterweight champion, Kamaru Usman, in his corner for his heavyweight title fight at UFC 260 against Stipe Miocic.
The UFC heavyweight championship will be back on the line, and two familiar participants will clash for gold in the UFC 260 main event. Reigning titleholder Stipe Miocic will attempt to further solidify his status as the greatest heavyweight of all-time when he runs it back with devastating knockout specialist Francis Ngannou.
Miocic (20-3 MMA, 14-3 UFC) handed Ngannou (15-3 MMA, 10-2 UFC) a lopsided unanimous decision loss in their first meeting at UFC 220 in January 2018. Both men have endured some ups and downs since, but now they're set to cross paths again.
Miocic and Ngannou first fought at UFC 220 on Jan. 20, 2018, in Boston. The defending champion used his wrestling to snuff out the explosive offense of Ngannou and take a commanding decision to win. Ngannou lost a listless decision to Derrick Lewis in his next outing but has since rebounded with four straight first-round KOs, none of which took longer than 71 seconds.
In 2020, Miocic defended his title just once, closing out his trilogy with Daniel Cormier by winning a unanimous decision to take two out of the three fights in the series. He has successfully defended the heavyweight title four times across two reigns.
Francis Ngannou on bringing on Kamaru Usman
Ahead of the rematch, Francis had already been preparing his takedown defense but added another wrinkle to his camp. Not only has been working at Xtreme Couture but recently Kamaru Usman came out to work with him and will corner him at UFC 260.
"Yeah, so Kamaru Usman's gonna be in my corner for this fight. So it's good having him here, helping me out for the fight, by this time you need everything," Ngannou said on his Fight Camp vlog. "He is gonna be in my corner and it's good for him to train where I am and to bring his asset into the game. This is a very decisive moment leading up to the fight so it is very important to engage with him. He's gonna be in my corner helping me with my wrestling, which is great. So yeah, it's good."
There is no question getting to work with Kamaru Usman will only help Francis out. Usman is one of the best wrestlers in MMA and his advice before and during the fight will be key for him becoming the new heavyweight champion. Usman also has cornering experience so he will be a welcomed addition to Ngannou's corner.
For Miocic, this will be his first fight since completing a trilogy against Daniel Cormier that saw the Ohio native fall in their initial meeting before beating the two-time Olympian in back-to-back contests. Miocic is widely considered the greatest UFC heavyweight of all time and that fact was only strengthened when he dominated Ngannou in their first meeting back in 2018.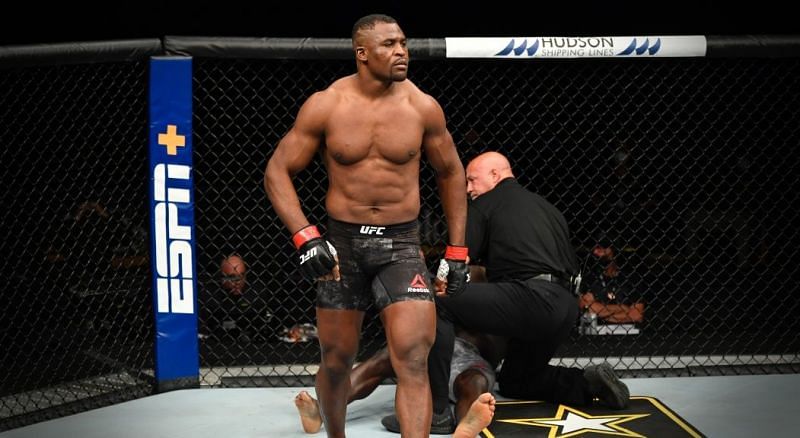 Ngannou has racked up four consecutive wins in a row without a single opponent managing to hit the 90-second mark of the opening round. During that streak, Ngannou has taken out a pair of former champions in Cain Velasquez and Junior dos Santos while also knocking out Curtis Blaydes and Jairzinho Rozenstruik.
Now Ngannou will attempt to become a champion while facing Miocic in the main event for the UFC 260 card in March.