The highly anticipated UFC 260: Miocic vs Ngannou 2, which took place on 27th March at the UFC Apex facility in Las Vegas, saw a total of $164,500 payout that the fighters pocketed, attributed to the UFC Promotional Guidelines Compliance program.
Replacing the older UFC Athlete Outfitting Policy, the new comprehensive policy pays each UFC fighter for outfitting requirements, media obligations as well as other items which come under the code of conduct.
The payout tier, which allocates the UFC's long-standing sponsorship deal with sports clothing giants Reebok, is proportional to the number of appearances a fighter makes inside the Octagon, along with Zuffa-era WEC (World Extreme Cagefighting) and Zuffa-era Strikeforce fights, counted from 2007 January and 2011 April respectively.
For example, a fighter who has made 1-3 professional appearances will receive $3,500 per fight, 4-5 bouts will earn the fighter $4,000; 6-10 bouts equal $5,000; between 11-15 bouts will pocket $10,000; the 16-20 fight window lands pocket $15,000, while anyone with 21 fights and above will get $20,000.
In case of a title fight, the defending champions earn $40,000 while title challengers get $30,000, which were the payouts of the former heavyweight champion Stipe Miocic and the new champion Francis Ngannou at UFC 260 respectively.
Check out the full breakup of the $164,500 Promotional Guidelines Compliance payout at UFC 260 per card:
Heavyweight:
Francis Ngannou (w): $30,000
Stipe Miocic: $40,000
Welterweight:
Vicente Luque (w): $15,000
Tyron Woodley: $15,000
Bantamweight:
Sean O'Malley (w): $5,000
Thomas Almeida: $5,000
Flyweight:
Miranda Maverick (w): $3,500
Gillian Robertson: $5,000
Lightweight:
Jamie Mullarkey (w): $3,500
Khama Worthy: $4,000
Catchweight (206.5 lb):
Alonzo Menifield (w): $4,000
Fabio Cherant: $3,500
Welterweight:
Abubakar Nurmagomedov (w): $3,500
Jared Gooden: $3,500
Light Heavyweight:
Michal Oleksiejczuk (w): $5,000
Modestas Bukauskas: $3,500
Featherweight:
Omar Morales (w): $4,000
Shane Young: $4,000
Middleweight:
Marc-Andre Barriault (w): $4,000
Abu Azaitar: $3,500
The main event saw Ngannou avenging his loss against Miocic in the same title fight back in UFC 220 in January 2018. The Cameroonian MMA icon knocked Miocic out cold at the 52-second mark of the second round, marking his 16th professional victory and earned Ngannou his first title.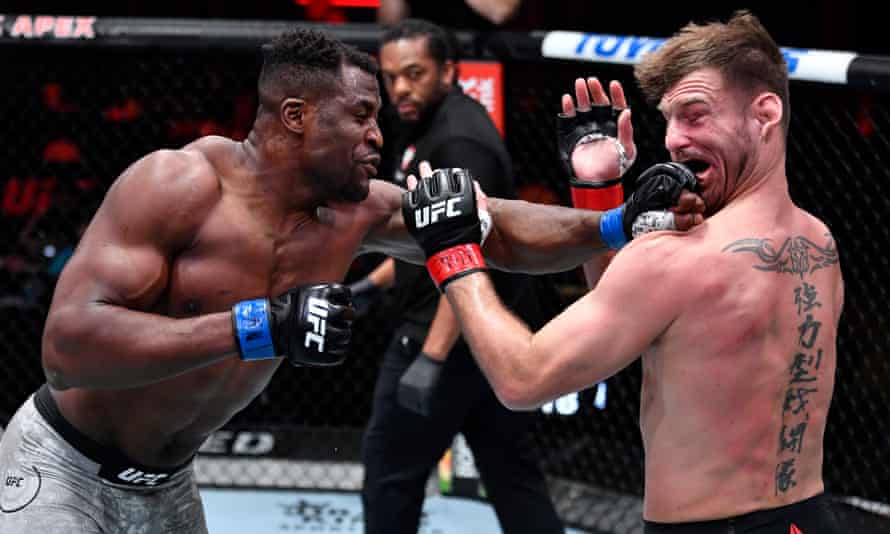 Miocic lost his heavyweight belt for the second time in his career, the first time the former champion lost the title was against Daniel Cormier at UFC 226 in July 2018, just after defending his title for the record third time in the same year against Ngannou.
Nonetheless, fresh off of his Miocic rematch with a stunning win, "The Predator" eyes to step inside the Octagon against Jon Jones.
"For my opinion, Jon Jones is the greatest of all time in mixed martial arts. Him moving up is going to be a good thing," Ngannous said after the fight, "he's a challenge I will take and it will be a very good thing on the resume. But this time he is the challenger. I am the champ. He's coming up, looking for me.
"So I'm ready any time soon. Even summer, I will be here, ready to fight in July or August. Whenever they are ready, I'm ready," Ngannou added.
Purchase the UFC merch here.