Jim Crute defeated Paul Craig via Submission in Round 3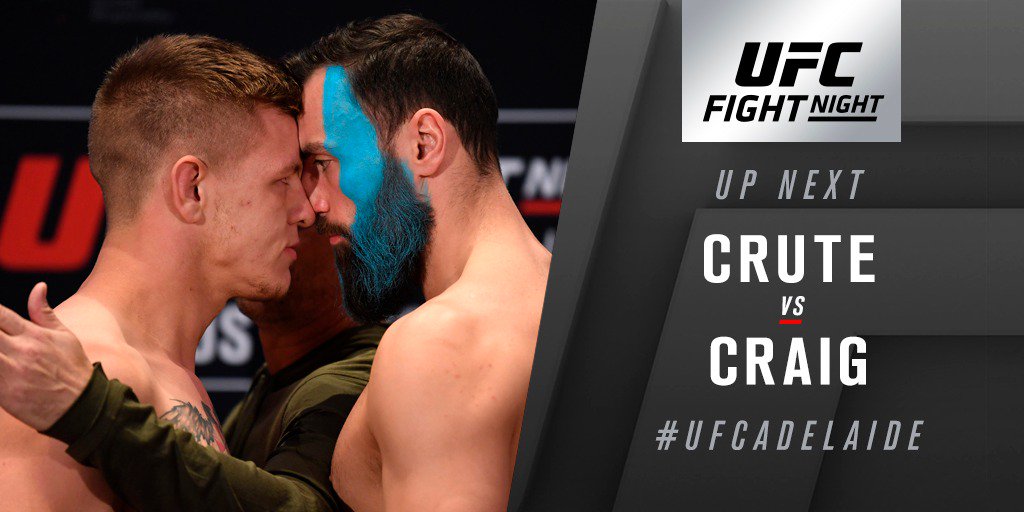 With a successful UFC debut and a performance to of a lifetime, Crute has a put forward his name in the young contenders of the light heavyweight division. With his slick striking, excellent timing and ground game, Crute was able to oust Craig who had a 4 fight experience in the UFC. The first round take down and an arm-triangle attempt put Craig into trouble. Craig had to dig deep to handle the aggressiveness of Crute and he did with his trademark spinning kick. Round 2 & 3 were closely competed with a back and forth action but Crute's ground game proved too much for Craig who was forced to tap to a kimura at 4:51 secs of the 3rd round.
Jimmy Crute!@CruteJim gets the tap in his Octagon debut! Wow! #UFCAdelaide pic.twitter.com/bFRIL45POF

— UFC (@ufc) December 2, 2018
Sodiq Yusuff defeated Suman Mokhtarian via TKO n Round 1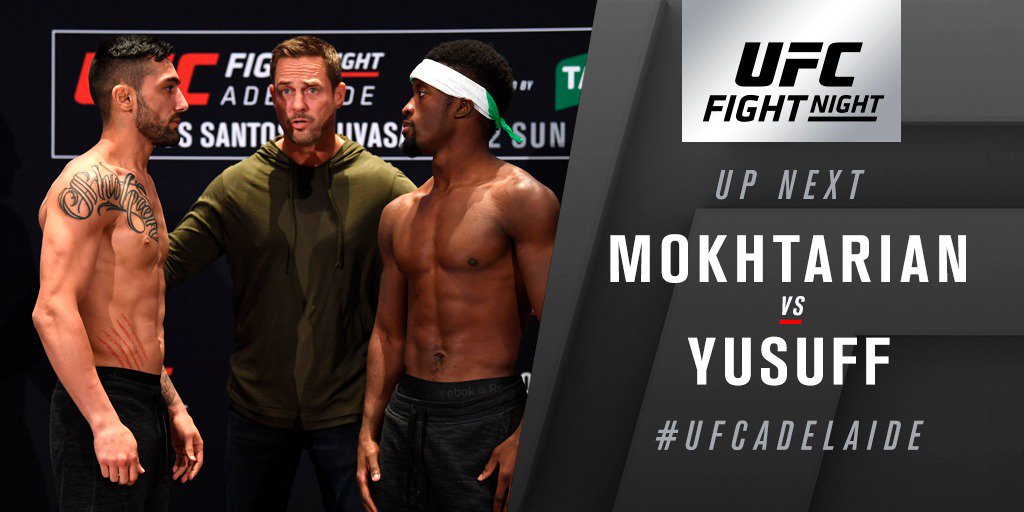 Both these featherweights were making their UFC debut – Sodiq who appeared on Dana White's TNC series while Suman competed on local circuit almost a year ago. Sodiq known for this striking and explosive punches had 5 TKO victories to his name and he did make use of those as he picked apart Suman against the cage. Heavy bombs staggered Suman who quickly began to retreat, that's when Sodiq unleashed a barrage of punches which were not intelligently defended by the Australian. The referee saw no defense and stepped in to stop the fight. Suman protested the stoppage but it was clear that he was just eating them without any movement.
Nigeria stand up! @Super_Sodiq stops Mokhtarian in round 1! Wow! #UFCAdelaide pic.twitter.com/I2nyHtqOQ5

— UFC (@ufc) December 2, 2018
"I lost my big brother last week. This was for him."@Super_Sodiq dedicated his performance tonight to his late brother. #UFCAdelaide pic.twitter.com/0m77sOWUET

— UFC (@ufc) December 2, 2018
Anthony Rocco Martin defeated Jake Matthews via Submission in Round 3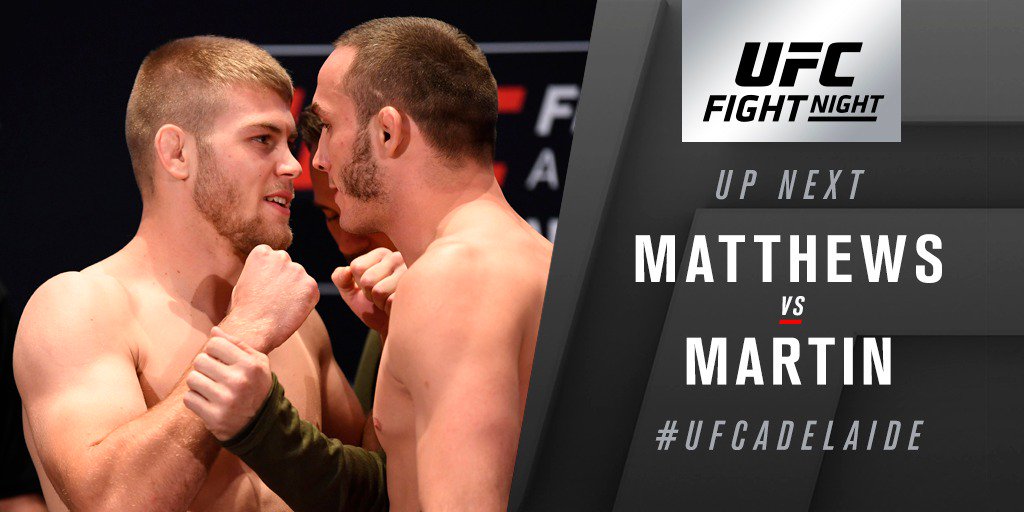 An even match up between these two welterweights up until the final round when Martin pulled off an impressive choke and made Jake pass out. Mathews took away the first round with his crisp striking as he landed calculated blows every time Martin attempted his own. Martin came back strong in the second as he got hold of his range and timing with leg kicks. It was Jake's ill advised single leg take down attempt which Martin quickly capitalized by wrapping him in an anaconda choke.
Swinging!!#UFCAdelaide pic.twitter.com/5Ug3HXoNcs

— UFC (@ufc) December 2, 2018
Well, he kept asking for more 🤷‍♂️#UFCAdelaide pic.twitter.com/6f9y9VHgfW

— 10 Sport (@10SportAU) December 2, 2018
Anthony Martin!! Wow!#UFCAdelaide @TonyRoccoMartin pic.twitter.com/7pV06LA0Xt

— UFC (@ufc) December 2, 2018
Justin Willis defeated Mark Hunt via Unanimous Decision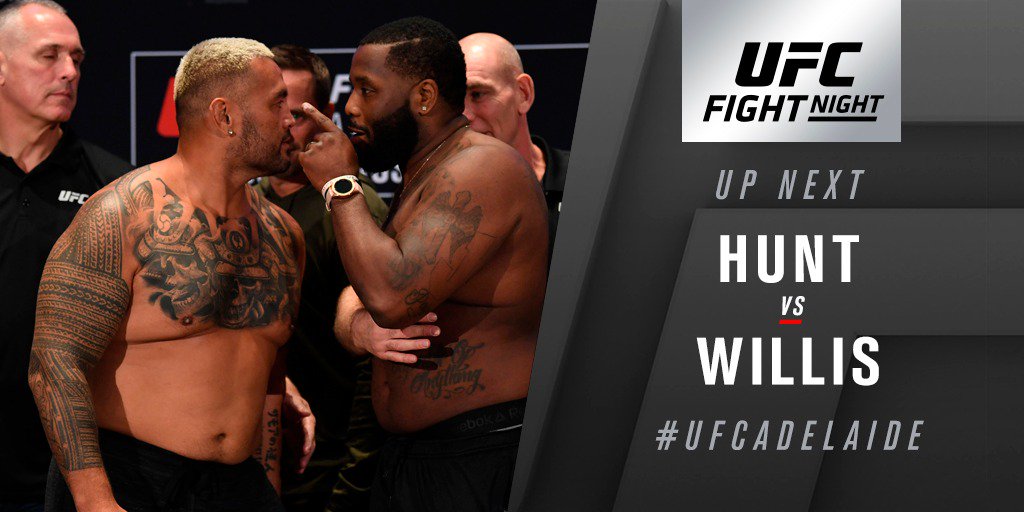 This was Big Pretty's biggest fight of his career and also the biggest win against the legend Mark Hunt who looked completely out of the place. Justin's trash talk worked very well as Hunt appeared emotionally moved in this fight despite being in the best shape. The first leg kick from Hunt landed on the inside of Justin's knee and instantly caused a cut on Hunt's feet. From there on it was all Justin who played the Samoan to his beat. Justin stays undefeated in the heavyweight division while Hunt has now lost three in a row and it is not certain whether he will continue to fight inside the octagon.
"Thank you all for the support."

Thank you, @MarkHunt1974 #UFCAdelaide pic.twitter.com/mM02gsGFA5

— UFC (@ufc) December 2, 2018
Mauricio Rua defeated Tyson Pedro via TKO n Round 3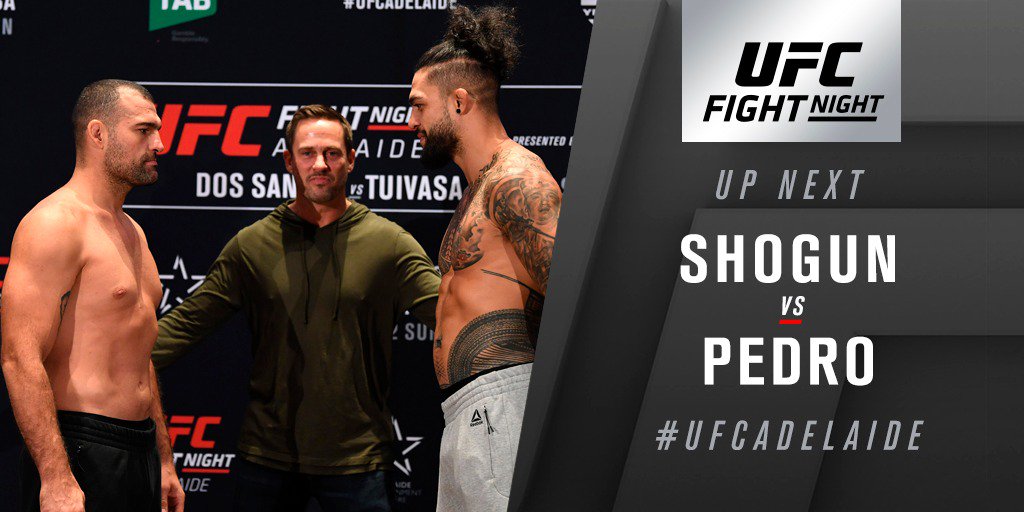 Pedro started the fight strong with his spectacular striking and put Shogun on wobbly legs as he struggled to stay in the fight.  Facing adversity early in the first round, Shogun somehow managed to stick around proving he has still got the skills to compete in this division. Pedro was unable to put away the veteran in the flurry which gave him enough time to recover and regain his momentum. Shogun displayed his elite ground game in the second round and gave Pedro no chance to retaliate. In the final round, Shogun continued his fighting spirit and pushed Pedro on his back foot. Pedro looked like he hurt his leg, which caused him to give away the strong position to Shogun. Pedro has now lost two in a row while Shogun gets back to the win column.
Pedro rocks Shogun!#UFCAdelaide pic.twitter.com/8ryCXL3Bcg

— UFC (@ufc) December 2, 2018
SHOGUN!#UFCAdelaide pic.twitter.com/edIh5002ck

— UFC (@ufc) December 2, 2018
Junior dos Santos defeated Tai Tuivasa via TKO in Round 2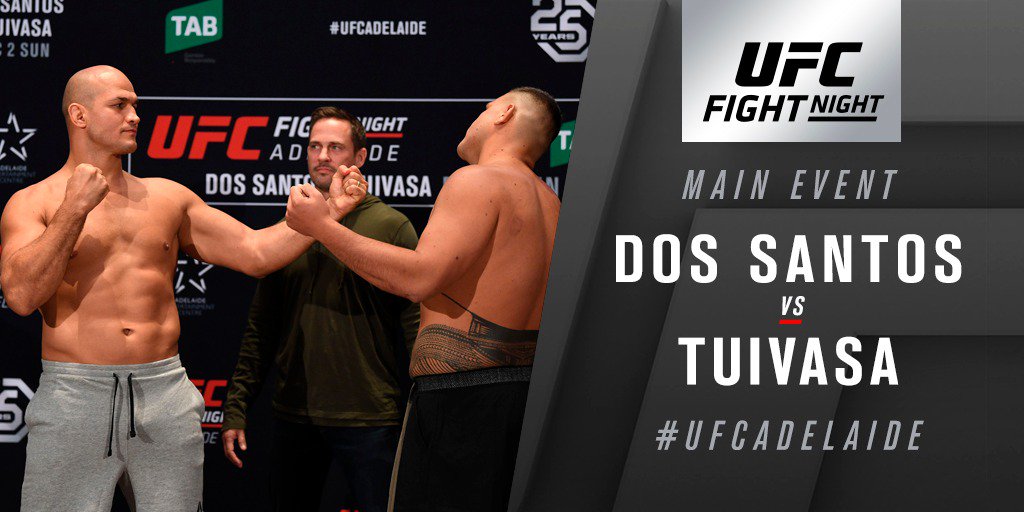 The #7 ranked heavy weight and former champion Junior Dos Santos took the #11 ranked Tai Tuivasa to school with his Octagon control and fight experience. Tai rushed to finish the fight as soon as he could, but JDS was elusive and waited for the right opportunity. Tai landed a huge leg kick which saw JDS buckle for a moment. Tai landed some shots but JDS brushed them aside and continued move around the cage. In a flurry exchange, JDS caught Tai and dropped him down from there on he controlled the top position and landed punches in bunches. Tai responded from the ground but had no impact on JDS who was relentless with his onslaught. The referee had seen enough and stepped in to stop the fight.
Let's go!#UFCAdelaide pic.twitter.com/vPeAiIFlZ7

— UFC (@ufc) December 2, 2018
Mid-exchange JDS drops Tuivasa!! #UFCAdelaide pic.twitter.com/lKJmv8eoiA

— UFC (@ufc) December 2, 2018
IT'S OVER! JDS gets it done! #UFCAdelaide pic.twitter.com/fqyvGip4Yj

— UFC (@ufc) December 2, 2018
2 in a row for @Junior_Cigano! #UFCAdelaide pic.twitter.com/AUkWsV0CjM

— UFC (@ufc) December 2, 2018