Jack Marshman defeated John Phillips via Split Decision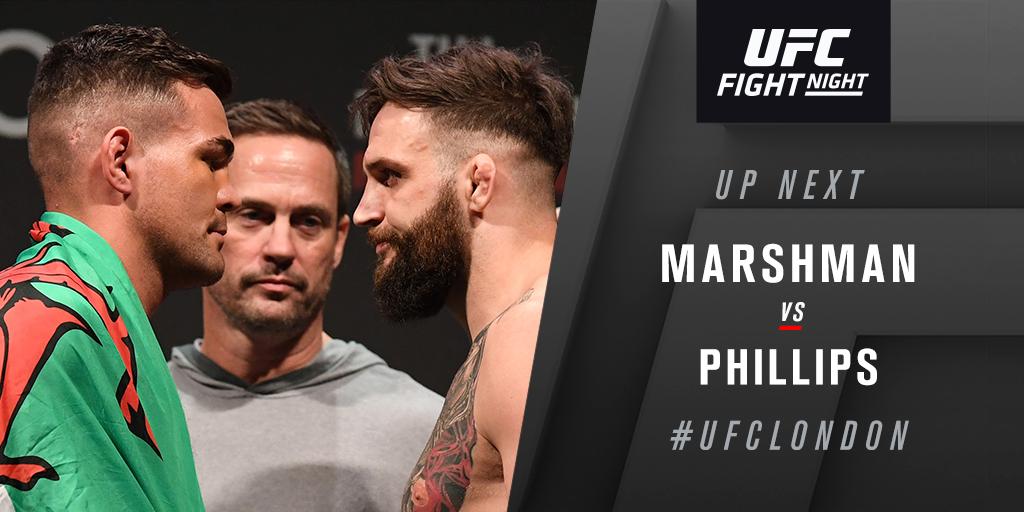 The main-card opener for UFC London saw two British fighters square off, to decide who the better middle weight was from the country. Masrshman's missed weight resulted the fight to be contested at catch weight, a slight disadvantage for John Phillips. From their recent performance perspectives, both Jack Marshman and John Phillips desperately needed a win if they wished to continue their UFC careers. In the first round, Phillips scored a knockdown with a looping left hook and put Marshman in serious trouble. Surprisingly he let Marshman stand up and continue the fight – a heavy price he had to pay for the split-decision loss. For the next two rounds they put on an entertaining scrap which was closely contested with wild exchanges. With this win, Marshman (23-8) is now 3-3 inside the octagon while Phillips (21-9, 1 NC) has now lost all three of his UFC fights.
OKAY!

They're putting on a show at #UFCLondon! pic.twitter.com/CR3P02xM6V

— UFC (@ufc) March 16, 2019
By split decision!

Do you agree? #UFCLondon pic.twitter.com/FxPQwXAOWM

— UFC (@ufc) March 16, 2019
Claudio Silva defeated Danny Roberts via Submission in Round 3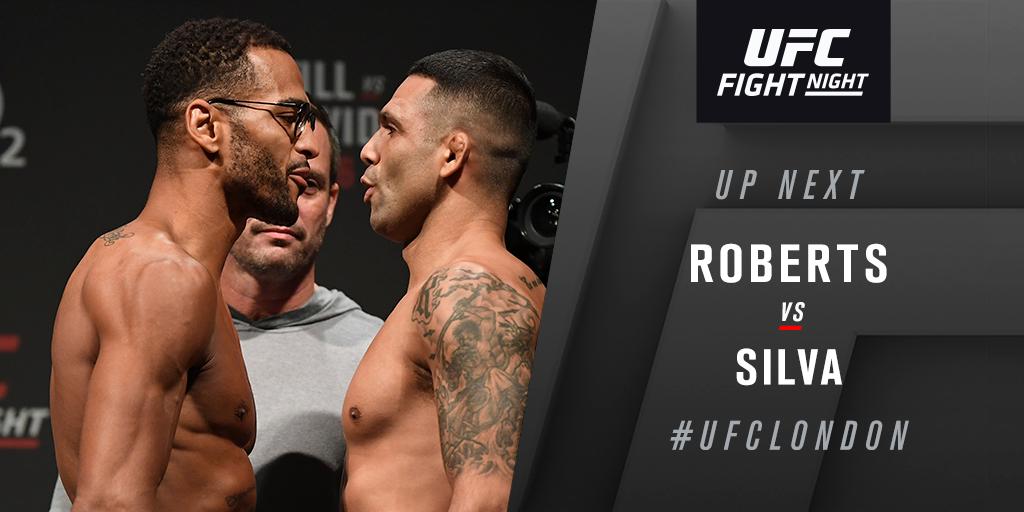 It might have looked like a verbal submission as Roberts was in an excruciating pain from the arm bar, but the British fighter said he was already out of the arm bar and the referee had stopped it at the wrong time. Roberts was having initial success on the feet against the Brazilian Silva, who was getting lit up and had to change his strategy to take Roberts to the ground. Once he got the takedown, he quickly secured the top position and continued to keep pressure. Multiple submission attempts from Silva were unsuccessful as Roberts escaped every one of them with swift response. Silva continued to execute his strategy of taking Roberts down in the remaining two rounds and looking for submissions. Eventually Roberts was caught in an armbar in the second half of the final round and the referee waved it off for a verbal submission at 3:31 secs. Roberts was clearly not happy and disputed the stoppage. Silva (13-1) picks up his fourth UFC win and his 10th career finish.
https://twitter.com/ufc/status/1107021133767806978
https://twitter.com/ufc/status/1107023175861174272
https://twitter.com/ufc/status/1107023175861174272
https://twitter.com/ufc/status/1107027428524777472
Nathaniel Wood defeated Jose Alberto Quinonez via Submission in Round 2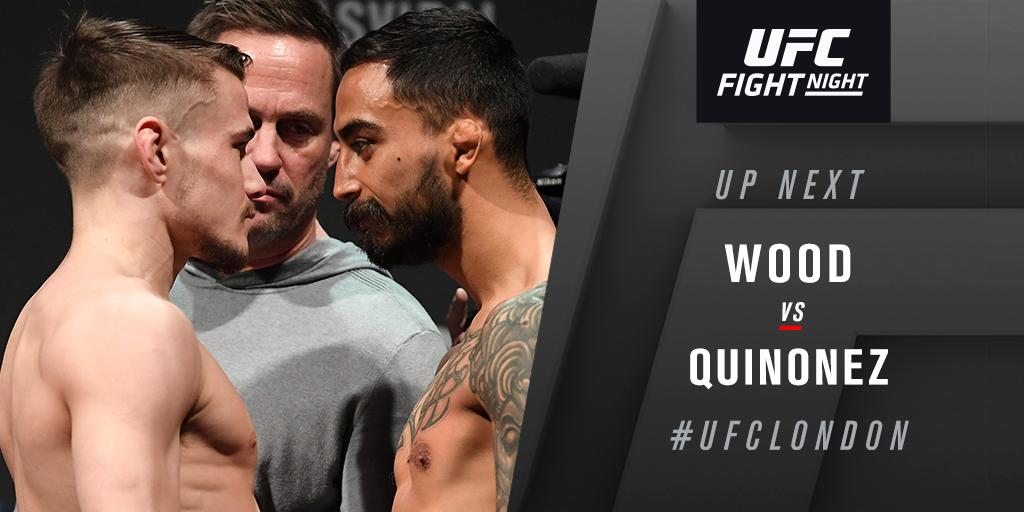 The bantamweight prospect from the UK, Nathaniel Wood picked up his third consecutive UFC win with a dominant submission win. Quinonez initiated with leg kicks but Wood was quick to counter with his punches. Quinonez realizing it would be a bad idea to stand & trade with Wood, opted for a take down but Wood swept to top and stood back up. In a short exchange, Wood landed his trademark left hand that sent Quinonez to the floor. Quinonez continued to clinch in an attempt to take Wood down but the 'Prospect' was just too much for him. Wood tripped Quinonez and in a matter of seconds, secured his back and wrapped a tight rear-naked choke fprcing him to tap at 2:46 secs of the second round. The 25 year old Wood (16-3) now has 14 career wins via finish, while Quinonez (7-2) got his four-fight win streak snapped.
https://twitter.com/ufc/status/1107030647720181760
https://twitter.com/ufc/status/1107031095877361664
Dominick Reyes defeated Volkan Oezdemir via Split Decision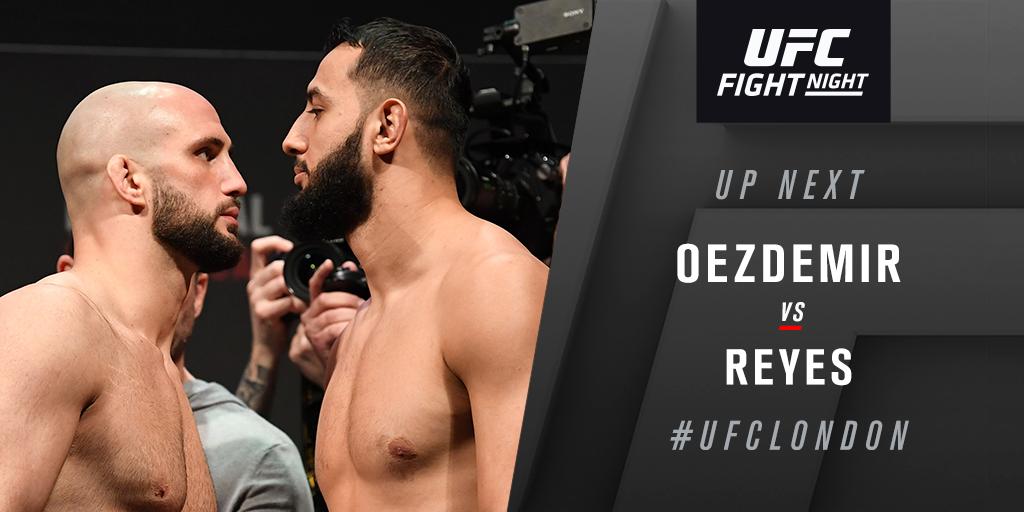 The undefeated Reyes continued his climb to the top with another win, probably the biggest of his career in a closely contested light heavyweight fight against former title challenger Oezdemir. But it was not an easy task for the American who had to withstand the early onslaught from Oezdemir who despite eating a groin strike, got the better from the first exchange. But the fight slowed down in the next two rounds as both the fighters looked hesitant to exchange. Reyes did manage to dish out some strikes in the final two minutes which got him the nod from the judges. Reyes picked up his 11th consecutive win while Oezdemir (15-4) has now dropped three in a row.
https://twitter.com/ufc/status/1107040972158824448
Leon Edwards defeated Gunnar Nelson via Split Decision
The co-main event featured two of the best welterweights who are known for their own crafty finishing skills. But Edwards surprised everyone by putting Nelson in dangerous spots and at his own game. Nelson didn't quite seem to be himself the entirety of the fight as he struggled to put on a great show. This fight truly brought out the grappling skills of Leon as he out wrestled Nelson in every aspect of the game. While trading shots in the stand up, Leon landed a vicious standing elbow which resulted in a hematoma underneath the right eye of Nelson as dropped to the ground. Leon jumped on to finish the fight but Nelson survived. Leon is now on a seven fight win streak and picked up the biggest win of his career.
https://twitter.com/ufc/status/1107046442219167744
https://twitter.com/ufc/status/1107046554509012992
https://twitter.com/ufc/status/1107048369166245888
Jorge Masvidal defeated Darren Till via KO in Round 2
Even with a wild start to the fight – a jumping push kick that landed flush on Till's groin, the main event was an electrifying bout with two of the best strikers from the welterweight division. Darren Till was too much to handle in the first round, who after taking his time from the accidental kick landed a clean left that dropped Masvidal to the ground. Till folded up Masvidal from the top but was unable to finish him. Till's excellent timing and footwork bothered Masvidal who took an entire round to get adjusted to his speed. In the second round, Masvidal began to let loose and landed some nasty shots that shook Till. With finally figuring out the range, Masvidal leaped forward with a left hook that instantly shut Till down and Masvidal followed up couple of more shots.
FLOORED!

The Gorilla stuns Masvidal in seconds! #UFCLondon pic.twitter.com/OFgKWjoVwa

— UFC (@ufc) March 16, 2019
Back in a HUGE WAY!@GamebredFighter left the division a reminder! (via @ESPNMMA) #UFCLondon pic.twitter.com/t5zvVx4hXI

— UFC (@ufc) March 16, 2019
OH MY! #UFCLondon pic.twitter.com/4IqWkJdxWT

— UFC (@ufc) March 16, 2019