Krzysztof Jotko defeated Alen Amedovski via Unanimous Decision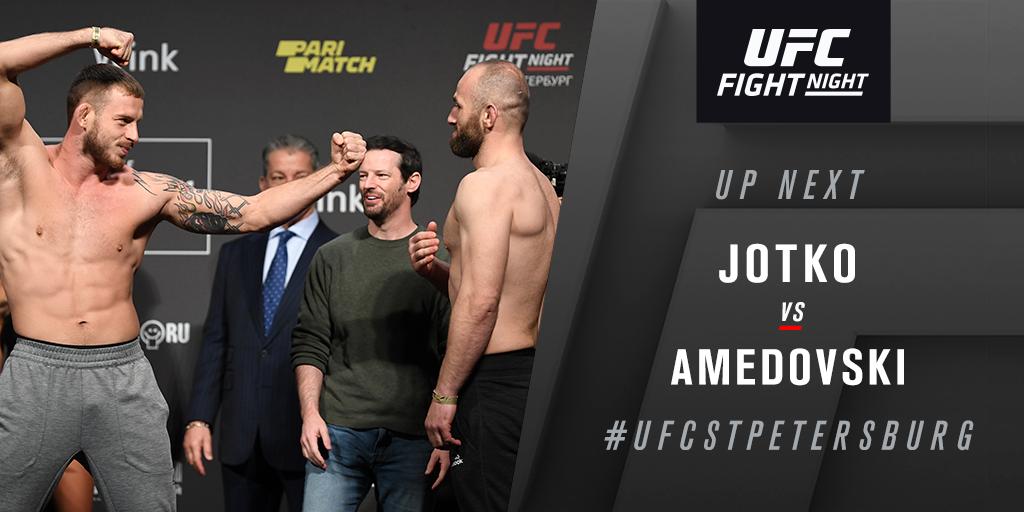 After staying undefeated for the last two years and being away from the Octagon for an year due to injuries, Jotko finally tasted a win after three straight losses. With his renewed performance, Jotko spoiled the debut of the undefeated Alen Amedovski as he took control of all the three rounds with this crisp striking and strong take down defences. As the fight progressed, Amedovski' striking ration began to drop and he looked lost when his take downs didn't succeed. Jotko relying on his striking, bloodied up Amedovski's face with his elbows in the second round and completes the third with a take down that secures him a unanimous decision win.
https://twitter.com/ufc/status/1119651690402041856
https://twitter.com/ufc/status/1119653624953499648
https://twitter.com/ufc/status/1119655943304667136
Roxanne Modafferi defeated Antonina Shevchenko via Split Decision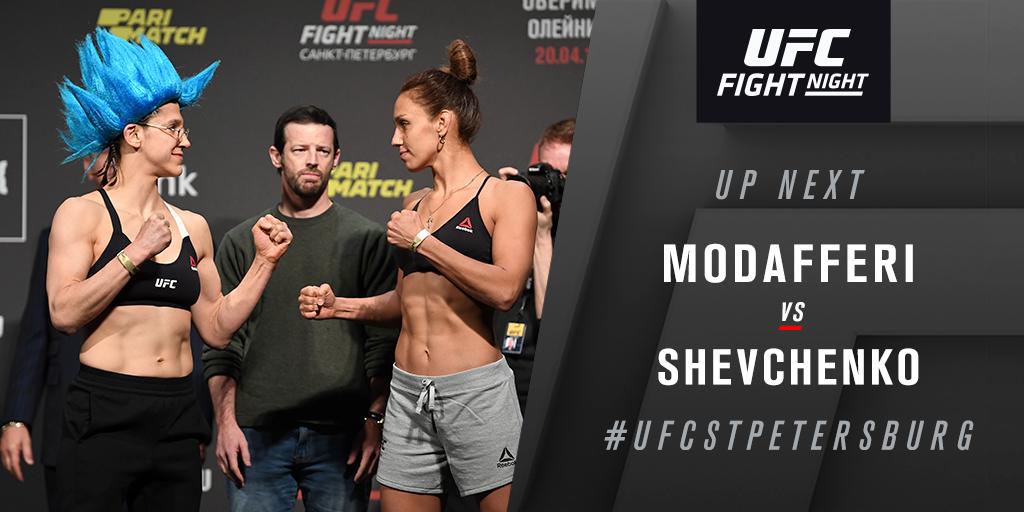 Roxanne Modafferi's vast MMA experience helped her prevail against the heavy favourite and undefeated Antonina Shevchenko to secure a split decision win. It was the biggest win of her career against an experienced Muay Thai fighter and ace striker but after the first round it was clear that Modafferi' striking was no match and she had to rely on her grappling skills to outwork Antonina. Modafferi was on the receiving end of some solid strikes from Antonina in the opening round but the veteran stayed put and weathered the storm. After scoring her first take down Modaferri put Antonina in dangerous position but unfortunately ran out of time. The second round was all Modaferri displaying her superior grappling skills as Antonina struggled to keep Modaferri off her and go back to her game plan. Antonina came back strong in the third round, but got easily taken down twice and could not keep Modaferri away with her striking.
Late mount for @Roxyfighter #UFCStPetersburg pic.twitter.com/284G3XjX1t

— UFC (@ufc) April 20, 2019
Some urgency by @AntoninaPantera!#UFCStPetersburg pic.twitter.com/THQxuKoul1

— UFC (@ufc) April 20, 2019
Sweep ➡️ mount by @RoxyFighter 👀#UFCStPetersburg pic.twitter.com/FYAo0itlDs

— UFC (@ufc) April 20, 2019
"The Happy Warrior" @RoxyFighter pulls off the SD win at #UFCStPetersburg pic.twitter.com/ePj4J2sOjl

— UFC (@ufc) April 20, 2019
Sergei Pavlovich defeated Marcelo Golm via TKO in Round 1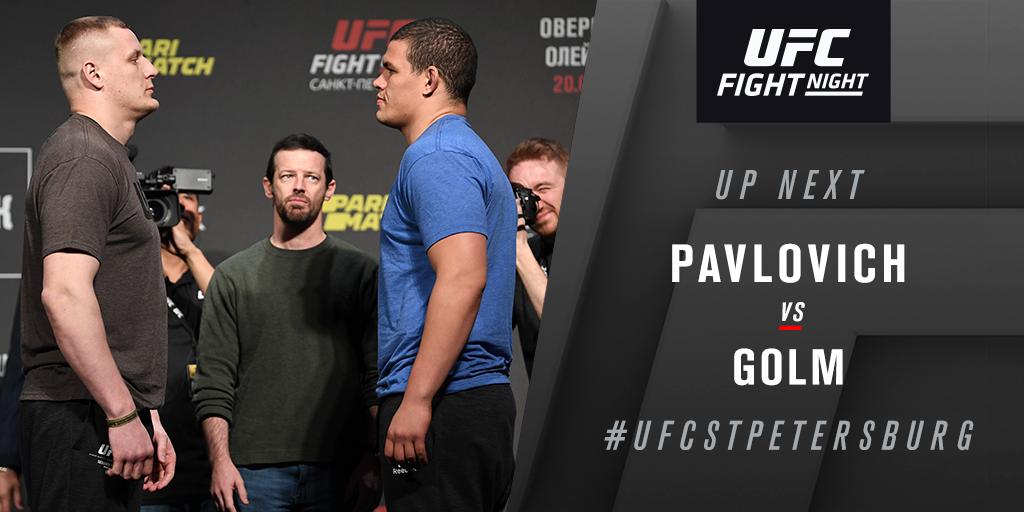 Sergei Pavlovich's UFC debut last year against Overeem might have not gone in his favour but he did make it up tonight with a first round TKO win over the Brazilian Marcelo Golm. Pavlovich clearly had the weight advantage but with his light feet and quick movement looked like he was about to explode any time. Pavlovich landed a stiff jab that set up the sequence to a brilliant knockout in the first 66 seconds of the opening round.
https://twitter.com/ufc/status/1119669264506441728
https://twitter.com/ufc/status/1119670525981155329
Islam Makhachev defeated Arman Tsarukyan via Unanimous Decision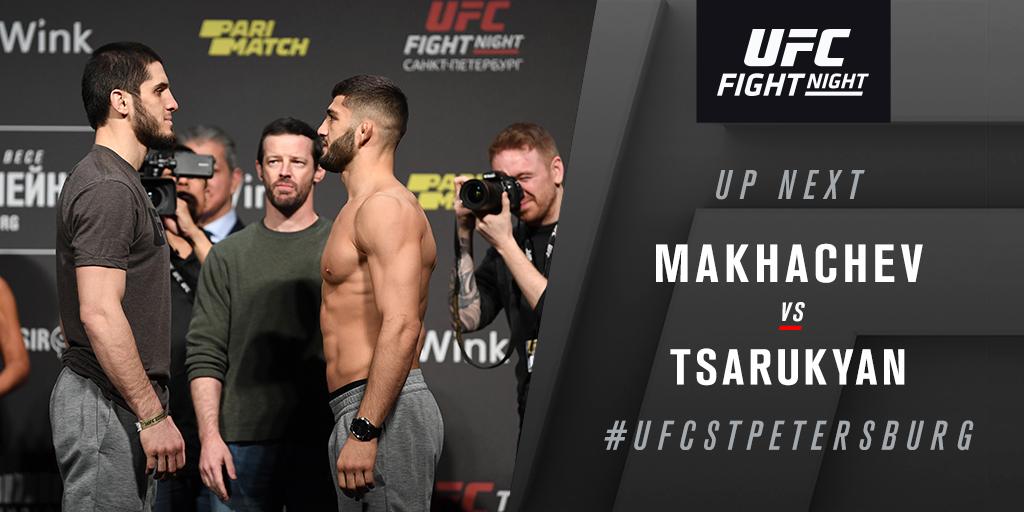 The 22 year old new comer Tsarukyan made the most of his UFC debut against the much experienced Makhachev with his relentless take down attempts and excellent scrambles. Makhachev struggled to deploy his ground game in the opening round as Tsarukyan defended it well and scrambled back to his feet. It was a back and forth contest of take down attempts and gaining ground control as both men displayed their techniques and skill set. Tsarukyan managed to secure one take down while Makhachev took him to the ground thrice and controlled it with his pressure. A hard fought win for the AKA fighter who now rides on a five fight win streak in the light weight division.
https://twitter.com/ufc/status/1119674933842366464
https://twitter.com/ufc/status/1119676774969774080
https://twitter.com/ufc/status/1119678287150600192
https://twitter.com/ufc/status/1119679484863451136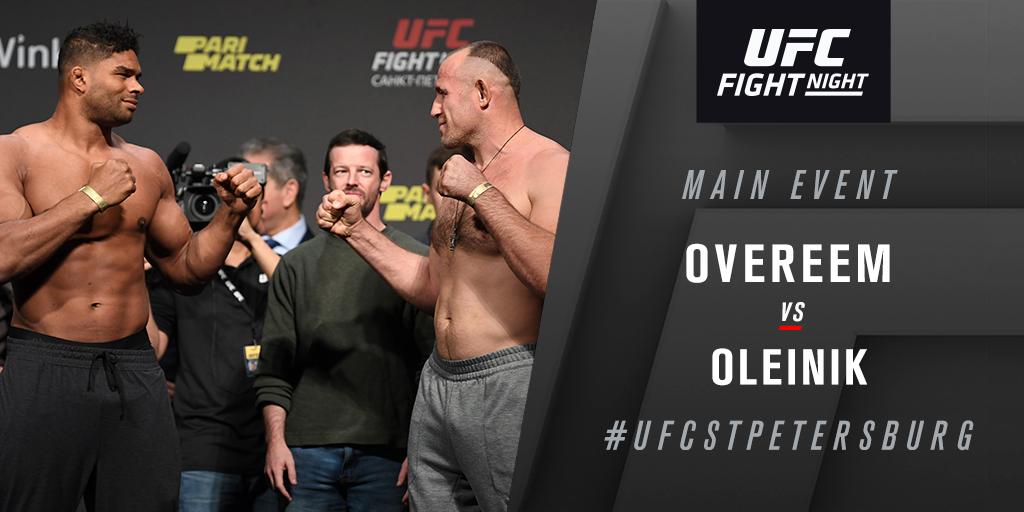 The main event between Alistair Overeem and Alexey Oleynik set a record for second highest combined fight experience between two fighters at 131 fights, but that could not match up to the combined fight experience of Jeremy Horn & Nate Marquardt at 135 fights when they fought at UFC 81. Right off the opening seconds, Alexey Oleynik pulled a guard and lured Overeem into his ground game, but the former title challenger scrambled back to his feet where Oleynik once again surprised him with this wild haymakers as Overeem covered up against the cage. After weathering the initial storm, Overeem crushed Oleynik with his knees in the clinch position. The Russian had no answer and crumbled as Overeem landed heavy blows from the top.
KNEES by @AlistairOverem! pic.twitter.com/Rj9OsIaU4X

— UFC (@ufc) April 20, 2019
#TheReem with the first round finish!@AlistairOvereem #UFCStPetersburg pic.twitter.com/T6r1f3WcoP

— UFC (@ufc) April 20, 2019