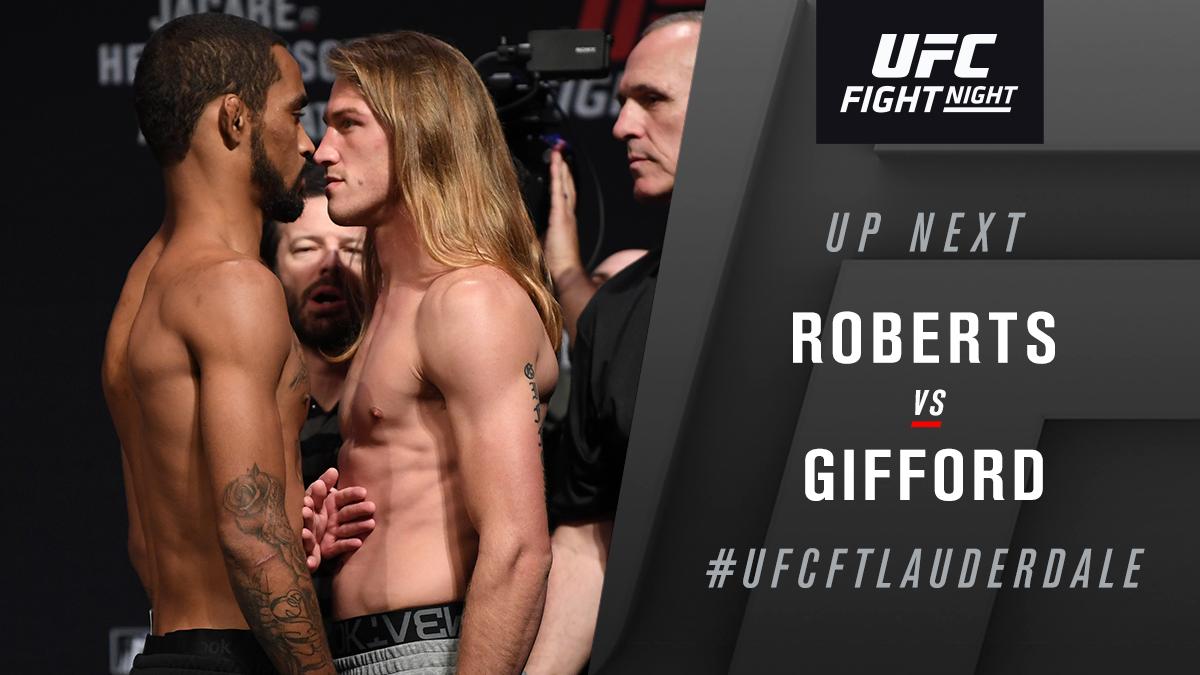 With two new debuting lightweights Roberts and Grifford opening the UFC on ESPN 8 card, the pressure of making a big splash was overwhelming. Gifford coming from a smaller league was competing after an year long absence. While Roberts was first discovered on Dana White's Tuesday Night Contender Series 2 and later competed in the TUF 28 Finale. He picked up both his wins, giving him a fair amount of Octagon experience and it was clearly evident tonight as Grifford had a tough fight to deal with. For all three rounds, Roberts had Grifford back peddling multiples times and unable to defend or counter attack as he put on a striking clinic on the Arkansas native. With this win, Roberts remains undefeated and extends his record to 8-0.
Roberts starting to land in the 2️⃣nd#UFCFtLauderdale live on ESPN+ pic.twitter.com/4l6qRn6qEH

— UFC (@ufc) April 28, 2019
Sharp Boxing by Roberts in the 2️⃣nd#UFCFtLauderdale pic.twitter.com/QHVKJKKl5A

— UFC (@ufc) April 28, 2019
8️⃣- 0️⃣
Roosevelt Roberts remains undefeated at #UFCFtLauderdale pic.twitter.com/6mMWCP7X4h

— UFC (@ufc) April 28, 2019
Cory Sandhagen defeated John Lineker via Split Decision
After three rounds of back and forth action that could have gone either way, Cory Sandhagen managed draw the judges into his favour, but the crowd was definitely not happy with the decision. There's one thing that needs to be applauded – Sandhagen's zero hesitancy to engage with a dangerous fighter like John Lineker who is known to put his opponents to sleep. Sandhagen made good use of his height and reach advantage to keep Lineker at distance and still be able to land consistently. Lineker kept coming back with his trademark hooks and body shots that slowed Sandhagen a bit. As the rounds progresses, Lineker kept landing more hooks on Sandhagen's torso but the lanky fighter intelligently made use of leg kicks and maintained his pace. Lineker's highlight moment came when he wrapped a guillotine in the final round but the bell saved Sandhagen. With this win, Sandhagen stays undefeated at 4-0 in the UFC.
👊@JohnLineker w/ the 3rd round blitz#UFCFtLauderdale pic.twitter.com/IFv6vfXvtl

— UFC (@ufc) April 28, 2019
🇧🇷's @JohnLineker threatens the finish in the 3rd#UFCFtLauderdale pic.twitter.com/jsDALwQ5bT

— UFC (@ufc) April 28, 2019
🇧🇷's @JohnLineker threatens the finish in the 3rd#UFCFtLauderdale pic.twitter.com/jsDALwQ5bT

— UFC (@ufc) April 28, 2019
4️⃣straight in the Octagon for @Cors_Life 👊#UFCFtLauderdale on ESPN+ pic.twitter.com/IOUJI97JPu

— UFC (@ufc) April 28, 2019
Glover Teixeira defeated Ion Cutelaba via Submission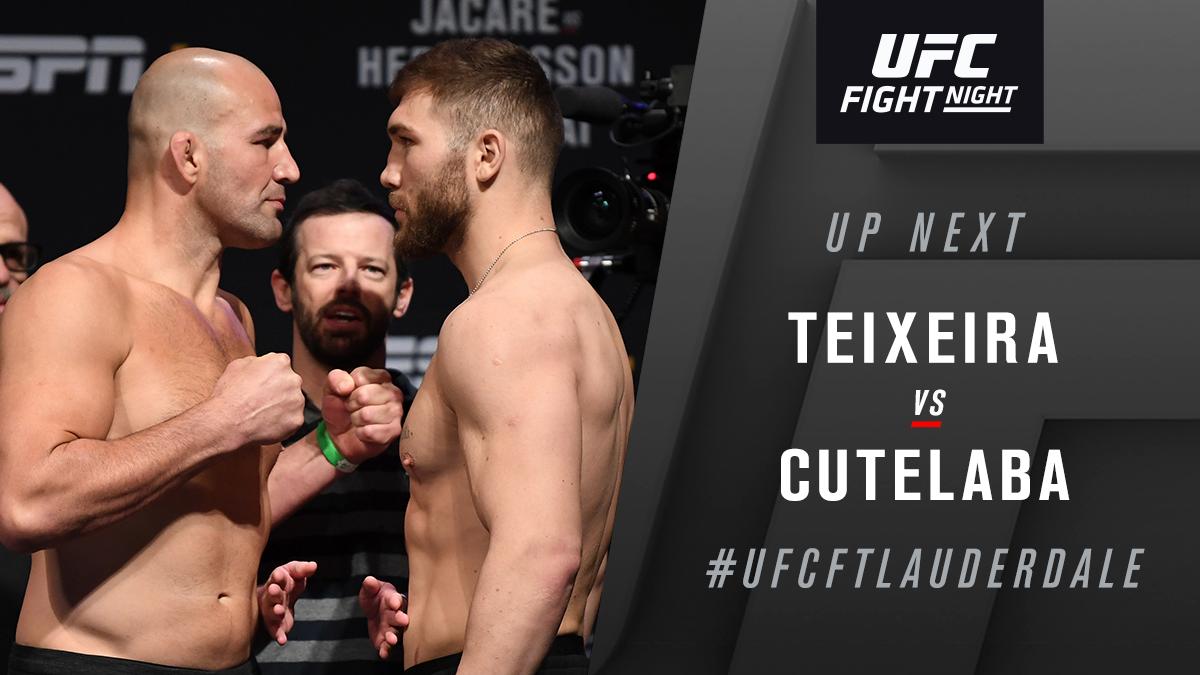 Calling out the UFC veteran and former light heavy weight title challenger Glover Teixeira for a scrap did not go well for the Ion Cutelaba. The 40 year old Brazilian had a good start in 2019 with his submission win over Karl Robertson and he used his elite ground skills to submit Ion Cuelaba in round 2. Ion had an electrifying start in the first round as he unleashed an onslaught with his striking and had Glover in serious trouble. But the Brazilian survived and had a resurgence in the second as he noticed Ion slowing down and his output decreasing. Teixeira found an opening and tripped Cutelaba and put him on his back. Teixeira landed some heavy shots and forced Cutelaba to give his back and crank a rear-naked choke. Teixeira is now behind Jones for the most number of wins in UFC's light heavy weight division.
💥@ICutelaba LANDS a Spinning back fist 🌪#UFCFtLauderdale on ESPN+ pic.twitter.com/4FnmW24Exa

— UFC (@ufc) April 28, 2019
WHAT A FINISH by @GloverTeixeira!#UFCFtLauderdale on ESPN+ pic.twitter.com/EtuZCdfc3S

— UFC (@ufc) April 28, 2019
🙌@GloverTeixeira shows off his experience and gets his 12th win inside the Octagon #UFCFtLauderdale pic.twitter.com/pUIr0UvsZs

— UFC (@ufc) April 28, 2019
Mike Perry defeated Alex Oliveira via Unanimous Decision
The old Mike Perry who was known to "stand and bang until one goes down" is back! Alex Oliveira tried to engage in a wild brawl for three rounds, but could not with stand the punching power Perry brings to the game. Alex was successful with this striking in the first round causing Perry to bleed and retract. As the rounds progressed, Perry's striking became more crisp and found their mark easily eventually knocking down Alex twice. Every time Alex landed some shots Perry curled up and ate them like nothing only to see Alex losing his gas. Alex tried using his leg kicks but missed the mark every time he threw one. Perry displayed improved fight IQ,  patience to see an opening, counter striking and also ground skills. By the end of the second round, Alex had injured his right toe which eventually affected him in the final round. Perry continuing his game plan marched forward and unleashed a flurry of punches making Alex curl up against the cage. This was a big win for Perry since his submission loss to another Cowboy.
Oliveira setting the pace in the first#UFCFtLauderdale pic.twitter.com/aog1nvMqvT

— UFC (@ufc) April 28, 2019
Platinum w/ STRONG throw#UFCFtLauderdale pic.twitter.com/jifmDMUKj0

— UFC (@ufc) April 28, 2019
Strong end of the round for @PlatinumPerry#UFCFtLauderdale on ESPN+ pic.twitter.com/Gq0o45S5cO

— UFC (@ufc) April 28, 2019
👀@PlatinumPerry w/ the barrage of punches #UFCFtLauderdale on ESPN+ pic.twitter.com/0fN2nKsyY1

— UFC (@ufc) April 28, 2019
BIG win for @PlatinumPerry!#UFCFtLauderdale pic.twitter.com/cFSYlKqMFb

— UFC (@ufc) April 28, 2019
Greg Hardy's debut attracted a lot of negative jab from the MMA community, but the former NFL Pro Bowler made amends and continued to learn the rules of mixed martial arts. He made the most of his co-main event opportunity and displayed much improved fight skills as he walked passed Dmitrii in the first round scoring his first UFC win. It just took him 2:15 secs to put away the Russian who was in no mood to engage and only looked for a take down. Hardy landed a series of uppercuts and Dimitrii quickly went into survival mode. Hardy then threw hammer fists until the referee stepped in to stop the fight.
1️⃣& done for @GregHardyJr!!#UFCFtLauderdale on ESPN+ pic.twitter.com/E8gesBMrER

— UFC (@ufc) April 28, 2019
Jack Hermansson Defeated Ronaldo Souza via Unanimous Decision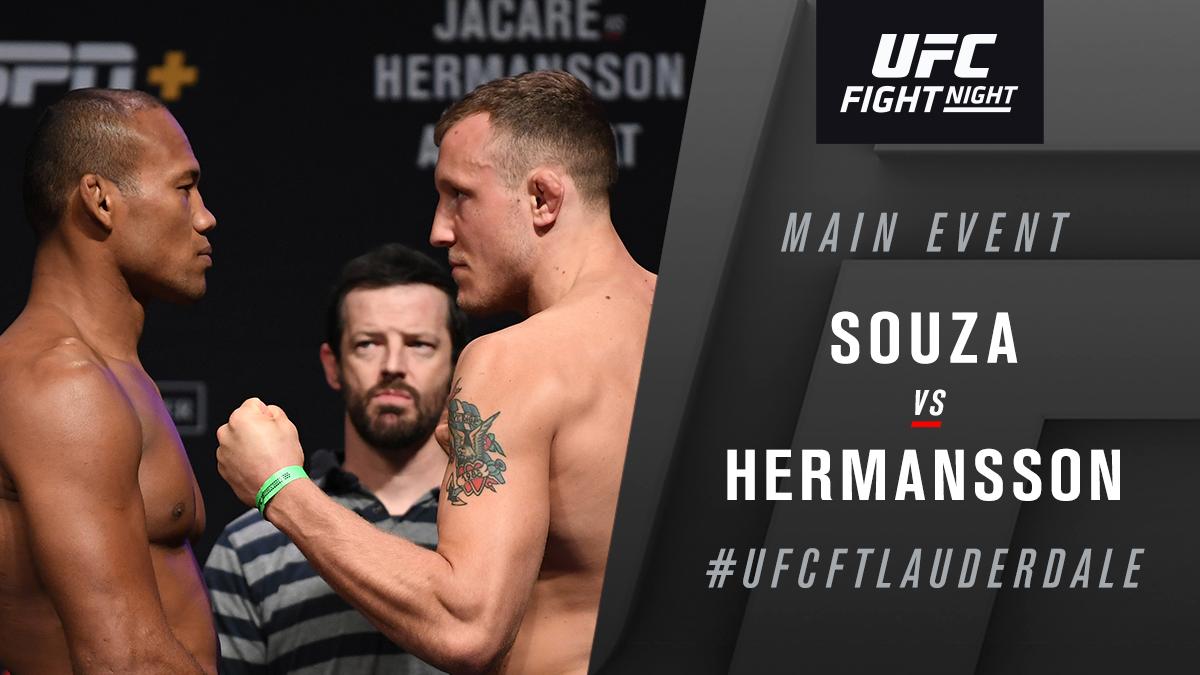 Stepping in as a replacement for Yoel Romero, Jack Hermansson surprised everyone with his striking and more so with his ground game against the former Strikeforce champion and perennial UFC title contender Ronaldo Souza. Hermansson landed more than 400 strikes and 9 take down attempts in his five round war with Jacare. Hermansson's confidence to hang in with a 6th-degree black belt in Brazilian Jiu-Jitsu on the ground comes from his pair of submission and devastating ground-and-pound wins. Jacare edged in the third round when Hermansson significantly slowed down, but the Norwegian had second wind in the next round. Jacare managed to do some damage in the fifth round, but it was not enough in the judges score card. Hermansson now extends his record to 20-4 and 7-2 record in the UFC.
👀@JackTheJokerMMA lands and goes for the submission #UFCFtLauderdale pic.twitter.com/xBOX40izZI

— UFC (@ufc) April 28, 2019
Dominant round for @JackTheJokerMMA#UFCFtLauderdale pic.twitter.com/9GnJXqSTDT

— UFC (@ufc) April 28, 2019
Body work paying dividends for @JacareMMA#UFCFtLauderdale pic.twitter.com/iBYCkuyMmd

— UFC (@ufc) April 28, 2019
Relentless pace by @JackTheJokerMMA#UFCFtLauderdale pic.twitter.com/OBIDwEDtnR

— UFC (@ufc) April 28, 2019
WHAT A FIGHT!#UFCFtLauderdale pic.twitter.com/imTUpihtSj

— UFC (@ufc) April 28, 2019
Impressive performance by @JackTheJokerMMA#UFCFtLauderdale pic.twitter.com/MiV99IukoQ

— UFC (@ufc) April 28, 2019