Andrew Sanchez defeat Marc-Andre Barriault via Unanimous Decision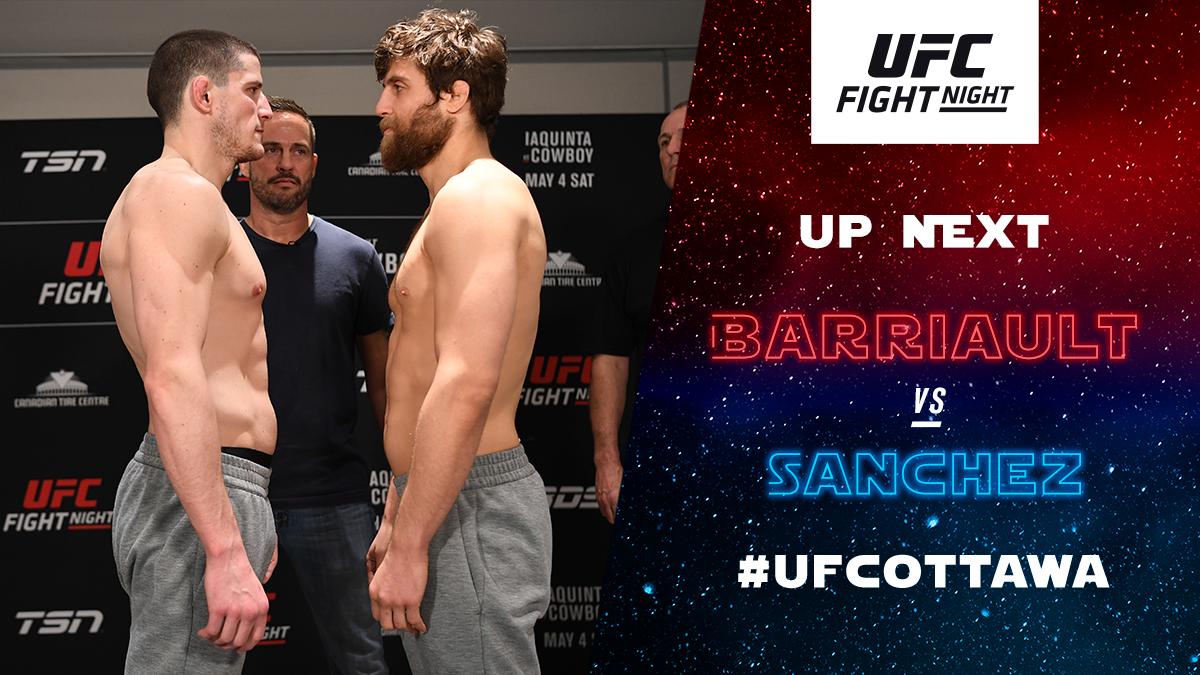 The opening fight of the main card kicked off with the middle weight TUF 23 winner Andrew Sanchez facing the local favourite Marc-Andre Barriault. Andrew Sanchez has his wrestling skills and 5 UFC fights experience to rely on. While Marc-Andre Barriault, the former TKO champion fights in his home town, this was his biggest test till date in the form of an experienced wrestler. Sanchez made it clear in the first round that he wants to take the fight to the ground and keep it there. Barriault is unable to defend the single leg take down but manages to get back up. Barriault tries everything to keep the fight on the feet and does well in the second round. Sanchez seals the deal with another take down in the final round to score big in the judges book. With this win, Sanchez is now 4-2 in the UFC while Barriault has his UFC debut spoilt.
Walt Harris defeated Sergey Spivak via TKO in Round 1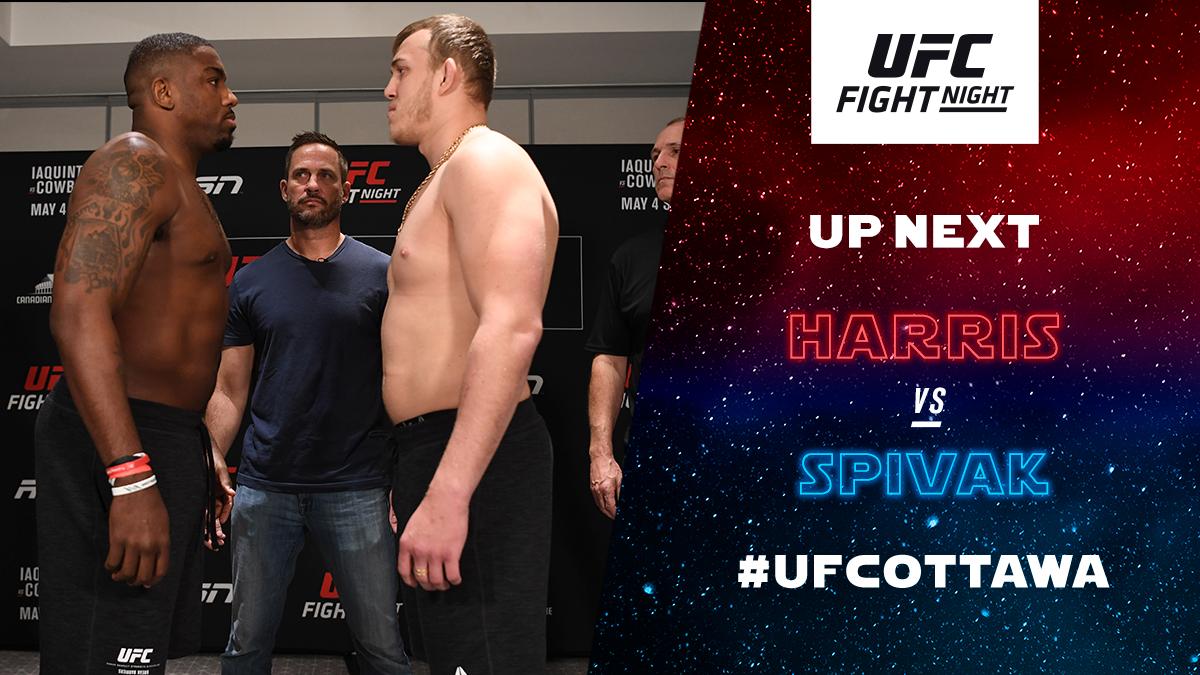 The MMA fighting record of heavyweight Walt Harris has some interesting stats and tonight he adds another one to his record with a spectacular first round TKO of Sergey Spivak. Harris won his first 5 fights in the first round all by TKO/KO and this win takes the total first round wins to 10. Harris has only competed in all the three rounds once against his fight with Andrei Arlovski. It took Harris just 50 seconds (the third fastest win of his career) to flatten out Spivak with a barrage of punches as Spivak turtled up on the ground.
https://twitter.com/ufc/status/1124837537422368768
https://twitter.com/ufc/status/1124837996979580928
Merab Dvalishvili defeated Brad Katona via Unanimous Decision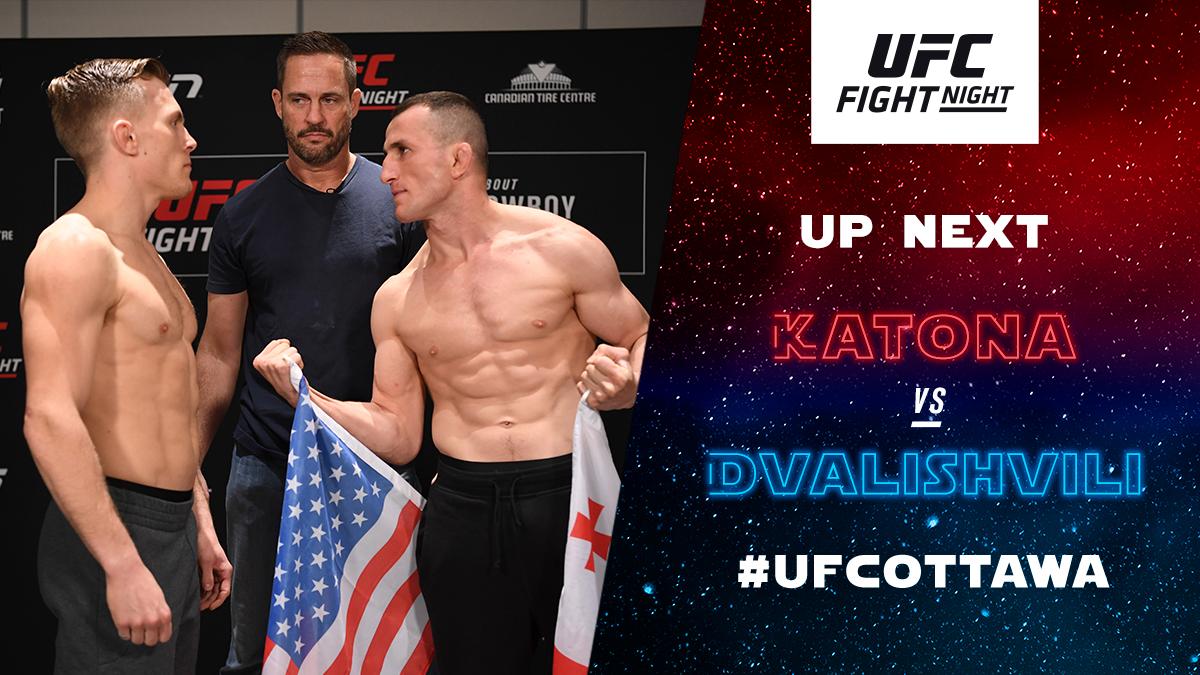 After suffering his first two UFC losses, Dvalishvili reinvented himself and looked unstoppable in his win against Terrion Ware. With the same fighting spirit, Dvalishvili gave Katona a tough time for the entire three rounds and kept the local favourite guessing his next move. Katona's striking was just not at the same level and missed it's mark multiple times. While Dvalishvili employed spinning attacks and knees that kept Katona from landing. Dvalishvili completely dominated Katona on the ground and kept him there until the referee had to break them up. Katona had only one option, to knockout Dvalishvili, but the Georgian fighter was too elusive.
Another takedown for Merab!#UFCOttawa pic.twitter.com/spmN7SPgDl

— UFC (@ufc) May 5, 2019
Shane Burgos defeated Cub Swanson via Split Decision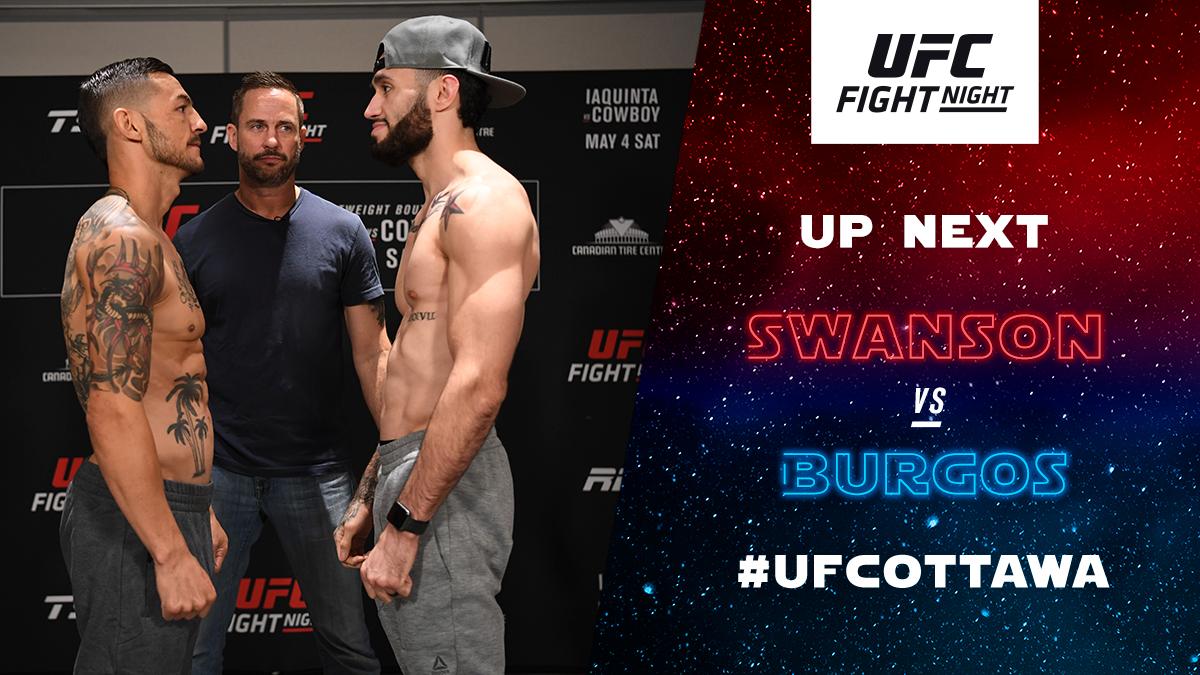 Shane Burgos has been competing in the featherweight division for quite sometime, but not having fought some big names he's been low on everyone's radar. Not anymore. With tonight's win against the veteran Swanson, Shane can now expect fans to remember his name. For the first two rounds, both featherweights engaged in a back and forth action. Shane was able to outshine Swanson with his flurry of punches in the late second round. Shane continued his aggressive game plan going in the third round and didn't let Swanson land any major shots. With the win, Shane now has won two straight wins inside the Octagon, while Swanson has now lost four fights in a row.
Massive respect between these two!

How did you score @CubSwanson vs @HurricaneShaneB? #UFCOttawa pic.twitter.com/UMR2SVBTyM

— UFC (@ufc) May 5, 2019
Wow!@HurricaneShaneB gets the biggest win of his career at #UFCOttawa! pic.twitter.com/hy0OW68LJN

— UFC (@ufc) May 5, 2019
Derek Brunson defeated Elias Theodorou via Unanimous Decision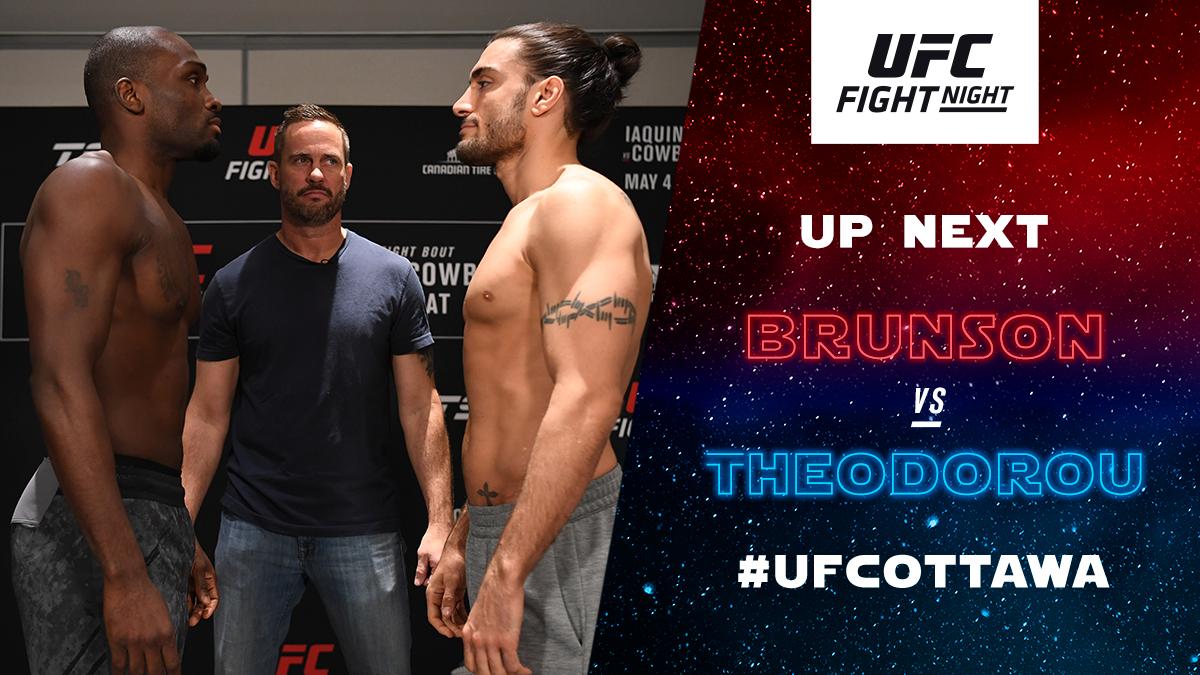 The middleweight bout was the co-main event and lived up to the expectations of a back and forth struggle for dominance. Brunson executed a well structured game plan of waiting for an opening and cracking Theodorou on the feet. When he saw an opportunity, Brunson took Theodorou to the mat and tried too submit, but the unorthodox fighter managed to escape. Theodorou at times looked lost and confused not making any attempts when Brunson was tired and circled off to reset. Brunson amped up his attacks in the final round and managed to slam his opponent. Theodorou attempted some kicks which gave him some points, but Brunson played smart and kept his cool under the pressure. Brunson gets another big name in his resume and bounces back to the win column.
Brunson in full mount early!#UFCOttawa pic.twitter.com/TAKVzJrhQ9

— UFC (@ufc) May 5, 2019
Going 🆙

Coming ⬇️ #UFCOttawa pic.twitter.com/xyqz59s9ZM

— UFC (@ufc) May 5, 2019
DB back in the win column! @DerekBrunson #UFCOttawa pic.twitter.com/wrpokCGlZ8

— UFC (@ufc) May 5, 2019
Donald Cerrone defeated Al Iaquinta via Unanimous Decision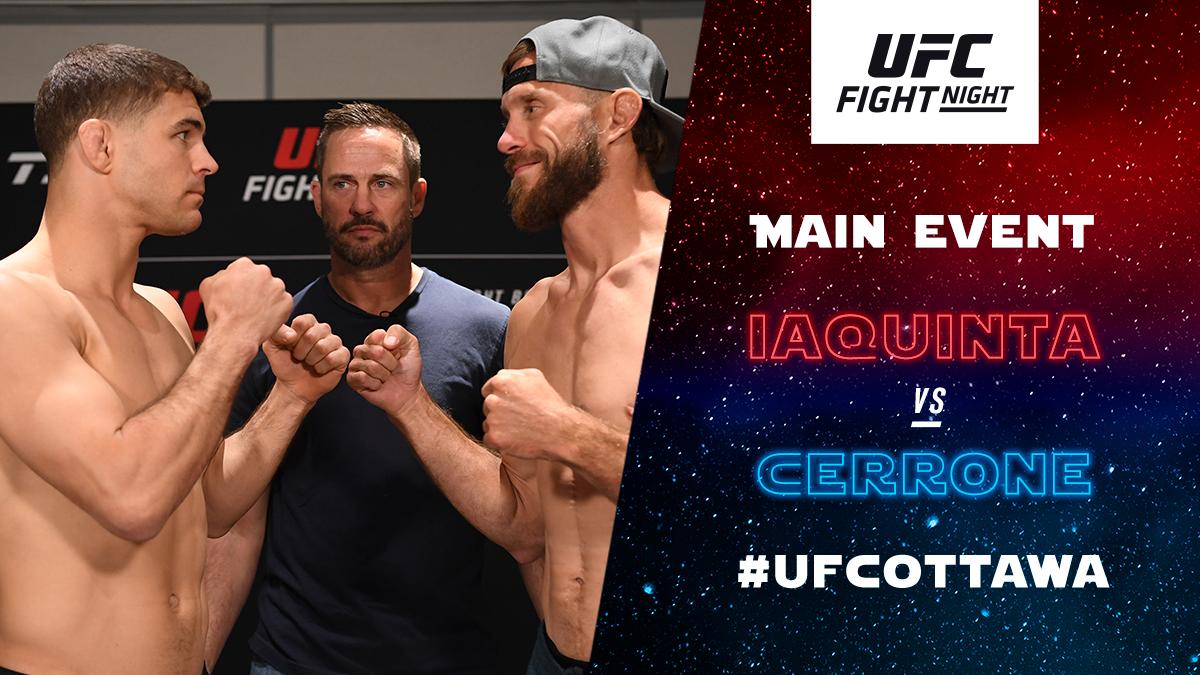 Just like an old wine, Donald Cerrone keeps getting better and better as he ages. At 36 years, Cerrone has created some remarkable record in the UFC. He's got 30+ fights inside the octagon and 23 wins- the highest in the UFC. Cerrone also has the most number of knock downs 20 to his credit. Tonight was no different as he dropped Al multiple times with his strikes. Al was tough enough to hang in there and had his moments but it was not enough to win the fight. With three straight wins, Cerrone might be closer to the title belt than ever.
They're trading early in round 1! #UFCOttawa pic.twitter.com/WuYqx2H5Vk

— UFC (@ufc) May 5, 2019
Iaquinta tags Cowboy with two HUGE right hands! #UFCOttawa pic.twitter.com/ZzjXI5fdws

— UFC (@ufc) May 5, 2019
Cowboy drops Al at the end of the third, but Iaquinta survives the round! #UFCOttawa pic.twitter.com/TsuUj3guxo

— UFC (@ufc) May 5, 2019
FRONT KICK TO THE FACE!@CowboyCerrone #UFCOttawa pic.twitter.com/DQBvUPDFo9

— UFC (@ufc) May 5, 2019
Another angle 😳#UFCOttawa @CowboyCerrone pic.twitter.com/Q7BvUEi9WV

— UFC (@ufc) May 5, 2019
OMG OMG OMG OMG OMG

What an ending to this fight!! #UFCOttawa pic.twitter.com/oGnisxe5mi

— UFC (@ufc) May 5, 2019
OMG OMG OMG OMG OMG

What an ending to this fight!! #UFCOttawa pic.twitter.com/oGnisxe5mi

— UFC (@ufc) May 5, 2019