Sodiq Yusuff defeated Sheymon Moraes via Unanimous Decision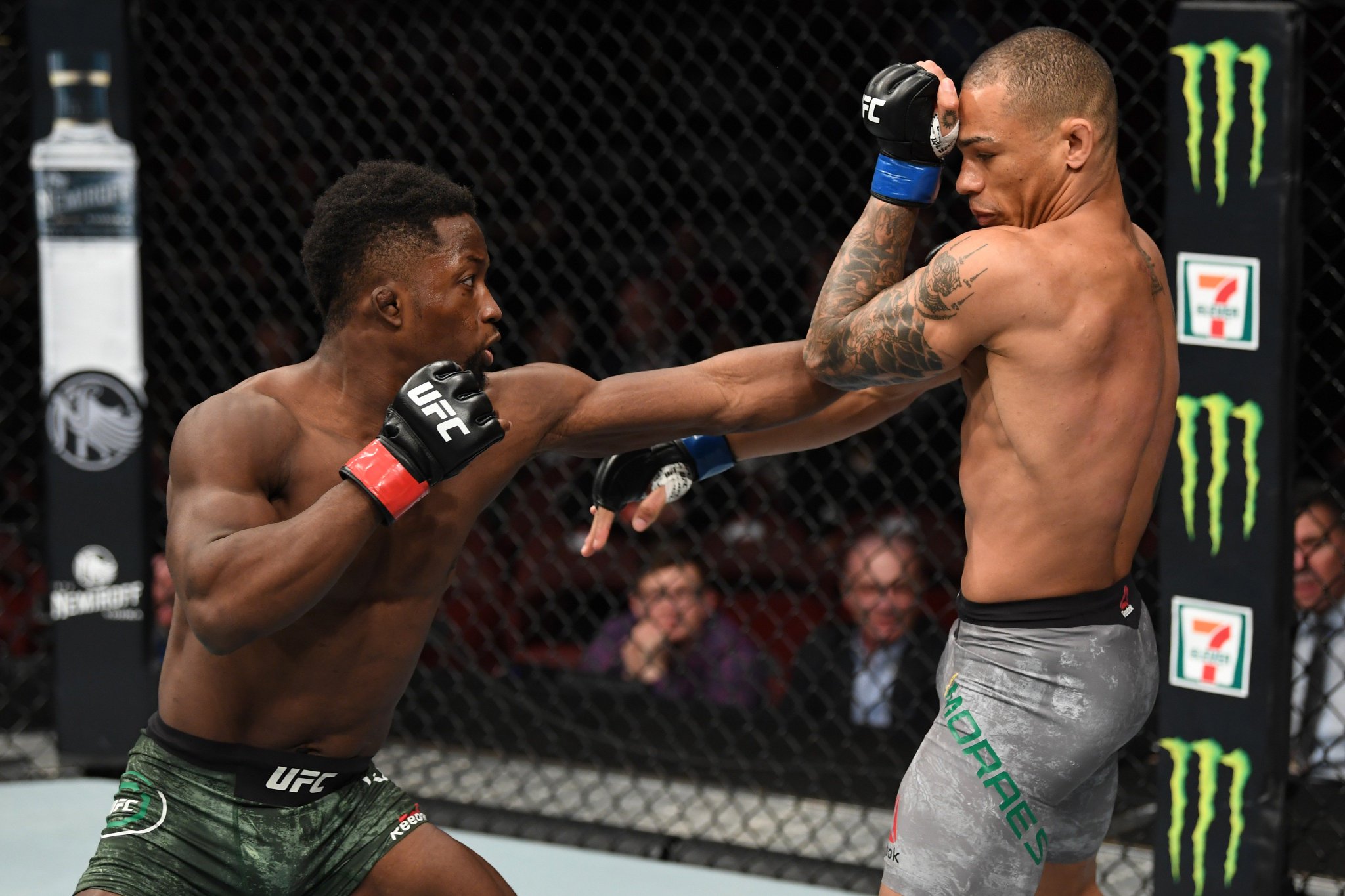 After appearing at Dana White's Tuesday Night Contender Series last year, Sodiq made his memorable UFC debut  with a knockout of Suman Mokhtarianin in round 1 to win his first major MMA fight. Since then Sodiq has been riding high and eager to make a splash in the featherweight division. He did it tonight with his brilliant performance against a much experienced Sheymon Moraes, a technical striker with proficiency in Muay Thai. After a brief measure up, Sodiq opened the fight with a heavy body shot and began to walk Moraes down with his strikes and kicks seizing the opening round. Moraes had a resurgence in the second round as he began to land more strikes at distance. The Brazilian continued to surprise Sodiq with his body shot and elbows to secure the second round. Sodiq scored a big knockdown in the third round that changed the pace of the fight. Sodiq had all the chances to TKO Moraes with his barrage of punches from the mount position but Moraes managed to survive. Sodiq now has two straight wins and Moraes gets his second UFC loss.
https://twitter.com/ufc/status/1112136799093026817
https://twitter.com/ufc/status/1112137221014863872
Paul Craig defeated Kennedy Nzechukwu via Submission in Round 3
Light heavyweight Paul Craig relied on the one thing that he is always known for – his submission game. After being briefly dominated for two rounds, Craig relied on his instincts, slapped a triangle choke and snatched victory from the jaws of defeat at 4:20 secs of the final round. New comer Kennedy had Craig in all sorts of trouble as he landed elbows in the opening round that cut him wide open. Kennedy time and again defended the take downs and submission attempts from Craig and secured two rounds in his favour. But it didn't come clean for the new comer, whose fence grabs and accidental eye poke caused him to get a point deducted. With the final half round remaining Craig went in for another take down but this time he went in for a triangle choke and wrapped it so tight Kennedy had to give in. With this win, Craig bounces back to the win column. He is 2-3 in his last five fights.
https://twitter.com/ufc/status/1112146050712649728
Michelle Waterson defeated Karolina Kowalkiewicz via Unanimous Decision
Michelle Waterson picked up her second biggest over the former title challenger Kowalkiewicz in a three round battle. Kowalkiewicz came out all guns blazing in the first round with her pressure and kept Waterson on defensive. The Jackson-Wink prodigy returned the favour following the next two rounds as she went toe-to-toe with Kowalkiewicz on the standup and on the ground. Waterson had Kowalkiewicz  in deep trouble as she locked an armbar but she ran out of time as the bell rang. Continuing with her high volume approach and forward pressure Waterson gave no room for Kowalkiewicz to implement her game. Waterson has now won three fights in a row, which could mean she has a good chance to fight for the title later this year. Kowalkiewicz dropped her second straight fight for the second time in her career and has some serious changes to make.
https://twitter.com/ufc/status/1112151240375328768
https://twitter.com/ufc/status/1112151972814049280
https://twitter.com/ufc/status/1112153708190552064
https://twitter.com/ufc/status/1112154025732919296
Josh Emmett defeated Michael Johnson via KO in Round 3
Josh Emmett was away from the Octagon for more than a year and he made his come back a memorable one with a classic knockout of the veteran Johnson. With less than a minute remaining in the final round and being out struck for two, Josh Emmett landed a highlight reel knockout that brought him back to the win column. Johnson relying on his hand speed got the most of Emmett in the first two rounds. Emmett struggled to take down Johnson and resorted to striking where he had little success. Seeing himself behind the judges scorecard, Emmett came back strong in the final round. Johnson continued with the same game plan and continued to out struck him, but an overhand right changed the game. Emmett is now back in the win column after a tough loss last year. Johnson dropped his second fight since his move to featherweight division.
https://twitter.com/ufc/status/1112162497534922752
https://twitter.com/ufc/status/1112163112478609408
Jack Hermansson defeated David Branch via Submission in Round 1
It was a walk in the park for Hermansson who submitted Branch with a Guillotine Choke in the co-main event and it took him just 49 seconds. Hermansson just blazed through Branch the moment the fight opened and got Branch with his punches. His beautiful foot sweep was the beginning to the end as Branch was caught in the trip and ended up giving his back, which Hermansson used to transition and secure an arm-in guillotine. The Swedish middleweight now has three fight win streak, while Branch dropped his second straight.
https://twitter.com/ufc/status/1112166423319601152
Justin Gaethje defeated Edson Barboza via KO in Round 1
Despite exchanging heavy leg kicks in the opening seconds of the round, it was only a matter of time for Justin to land one of his vicious right hand that could end the fight any instance. And it came at 2:30 secs of the first round. Justin's flurry of punches sent Barboza backward up against the cage but the Brazilian was quick enough to tie up Justin in a clinch and land a hard counter punch. Justin unfazed just kept moving forward and neither the leg kicks or the punches could keep him away. Barboza intelligently circled away but gave away his chin to the hard right hand.
https://twitter.com/ufc/status/1112171528106340352