Charles Oliveira defeated Jim Miller via Submission in Round 1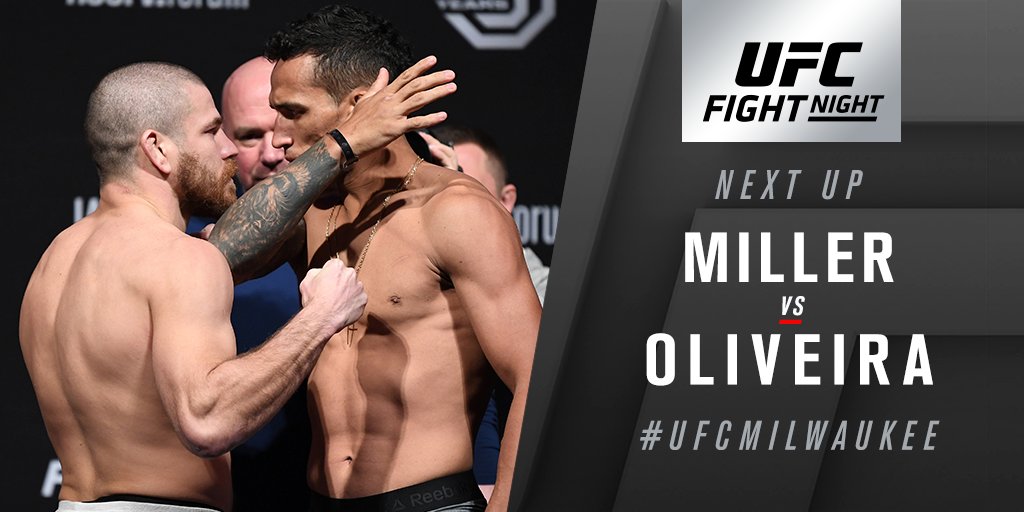 Oliveira known for his submission game went straight for it when he caught a lazy leg kick from Miller in the opening seconds of the first round. The moment he caught the leg, Oliveira immediately caught hold of Miller and slammed the veteran to the ground. Within a minute, he had sunk in his arms under Miller's chin and forced him to tap at 1: 15 secs of the first round. A big win for the Brazilian who is now on a three fight win streak.
Respect 🤝 #UFCMilwaukee pic.twitter.com/KpaWaLf3XC

— UFC (@ufc) December 16, 2018
Add another sub to the record! 🇧🇷 #UFCMilwaukee pic.twitter.com/atpfqTCe0g

— UFC (@ufc) December 16, 2018
Rob Font defeated Sergio Pettis via Unanimous Decision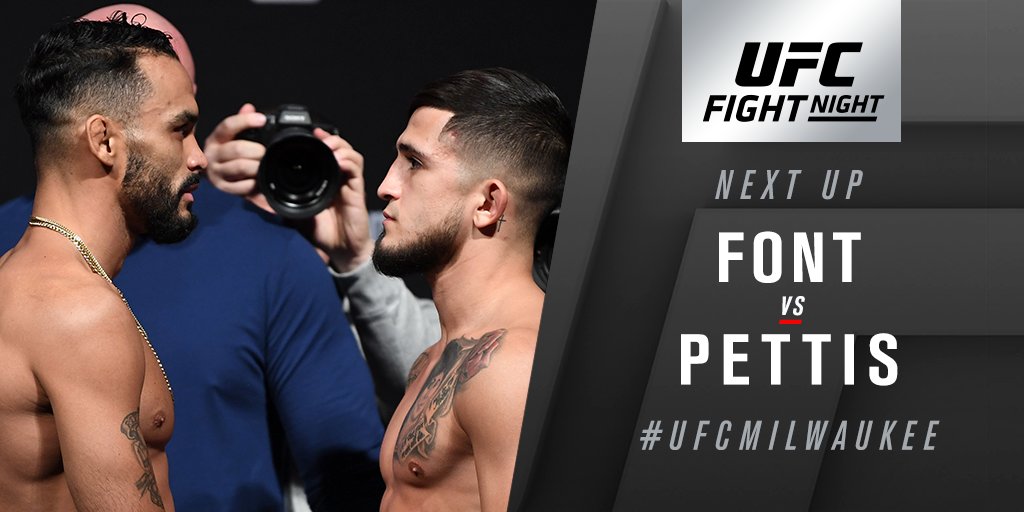 The move up to the bantamweight division seemed like the right thing to do for Pettis with UFC's 125-pound weight class' future put in question. But it was not an easy one, as he had to face a tough Rob Font who was ready to welcome him to his division. Fighting in Pettis' territory, Rob made effective use of his long jabs and controlled the fight. The Roufusport fighter had very little to offer, as he got tagged multiple times and taken down. Rob put on a beautiful display of striking effectively utilizing the jabs up until the final seconds of the fight as Pettis was way behind the scorecard. A dominant win for the Boston native who picked up his second win of 2018.
Spinning attack from Pettis!@SergioPettis #UFCMilwaukee pic.twitter.com/gTxVEeN9C0

— UFC (@ufc) December 16, 2018
Your winner tonight, @RobSFont! #UFCMilwaukee pic.twitter.com/aRYY5ZaFMR

— UFC (@ufc) December 16, 2018
Edson Barboza defeated Dan Hooker via KO in Round 3
Dan Hooker had nothing on Barboza except for the toughness he brought into the fight. Clearly the striking skills of #5 Barboza were way ahead of the #14 Hooker and it was evident from the numerous punches, kicks and bodyshots The Brazilian landed. Hooker had his hands low all the time and got battered with jabs and leg kicks. By the third round, Hooker was fighting on his instincts and the fight should have been stopped as he stood there taking shot after shot like a punching bag. Barboza lands a perfectly timed body shot that sends Hooker crumbling to the ground in fetal position. Barboza picks up his first win of 2018 after losing to Khabib and Kevin Lee earlier.
Stunned him!

MASSIVE shot from @EdsonBarbozaJR! #UFCMilwaukee pic.twitter.com/v8JxUL1Ydn

— UFC (@ufc) December 16, 2018
These leg kicks 😳 #UFCMilwaukee pic.twitter.com/p0ukZBOVgA

— UFC (@ufc) December 16, 2018
https://twitter.com/ImShannonTho/status/1074131727398907905
Al Iaquinta defeated Kevin Lee via Unanimous Decision
The lightweight rematch which was the final bout on the FOX network, turned out to be an all out technical war that was played out mostly on the feet. With a fast start Iaquinta picked up the first round with his slick striking. His spinning back fist landed perfectly on Lee and surprised everyone. Lee recouped and went to his wrestling roots as he body locked Iaquinta and landed elbows in the second and third rounds. But in the last rounds, Lee appeared to be fading away as he was unable to respond to Iaquinta's striking. His wrestling was neutralized in the fifth round and was completely dominated on the feet with Iaquinta's jabs. With this win, Iaquinta improved to 14-4-1 from his decision loss to UFC lightweight champion Khabib earlier this year.
Showing the strength.@MoTownPhenom #UFCMilwaukee pic.twitter.com/cOLGGK1wR8

— UFC (@ufc) December 16, 2018
WOW!@AlIaquinta turns IT ON to end the fifth! #UFCMilwaukee pic.twitter.com/26QRqdN8gU

— UFC (@ufc) December 16, 2018
RAGING!@AlIaquinta BATTLES in the 4th & 5th to grab the decision win! #UFCMilwaukee pic.twitter.com/hLf0yBHkOj

— UFC (@ufc) December 16, 2018