UFC women's Flyweight champion Valentina Shevchenko states that the two-division champ Amanda Nunes is not interested in a trilogy fight with her and is trying to avoid the fight. Valentina Shevchenko has reached the pinnacle of her flyweight division and beating up most of the top fighters in her division. Now with no more challengers left for her in the flyweight, she is on the hunt to find a new opponent that poses some threat to her. The only puzzle left for her to solve is Amanda Nunes. Nunes is the only one to defeat Valentina in the UFC and that too for two consecutive times.
In her last fight, Valentina fought the top contender Lauren Murphy at UFC 266. The fight was a dominant performance from Shevchenko and she didn't let her opponent get going at all. After dominating her for 3 rounds she finally finished her by strikes in the 4th round and defended her title for the 6th time. Now Valentina Shevchenko wants a tough challenge to fight so she has turned her attention to an old foe.
Valentina Shevchenko roots for a third fight with Amanda Nunes
Even though Valentina is considered the best flyweight in the world she still ranks below the greatness of Amanda Nunes. Amanda Nunes holds two close decision victories over Shevchenko but that is in the past and now both of the fighters have developed to a level that they are not getting a good competing in their division and are left with no option than to fight each other.
Speaking on the MMA HOUR Valentina said "I kind of feel that she's doesn't want too much this fight to happen. "Because inside of herself, she feels that she was gifted the victory from our second fight. Gifted by the judges. She feels that she was beaten by the smaller girl from the smaller weight class and she is a bigger girl. It's kind of like pressure on her from the inside.
"That's why she kind of like says 'I [beat] her twice,' whatever she's saying. But it's kind of like this camouflages what she's feeling for real and definitely if you was beaten by someone smaller than you by two [weight classes], it would affect you. That's why I feel she's kind of like 'I don't want that fight happening.'"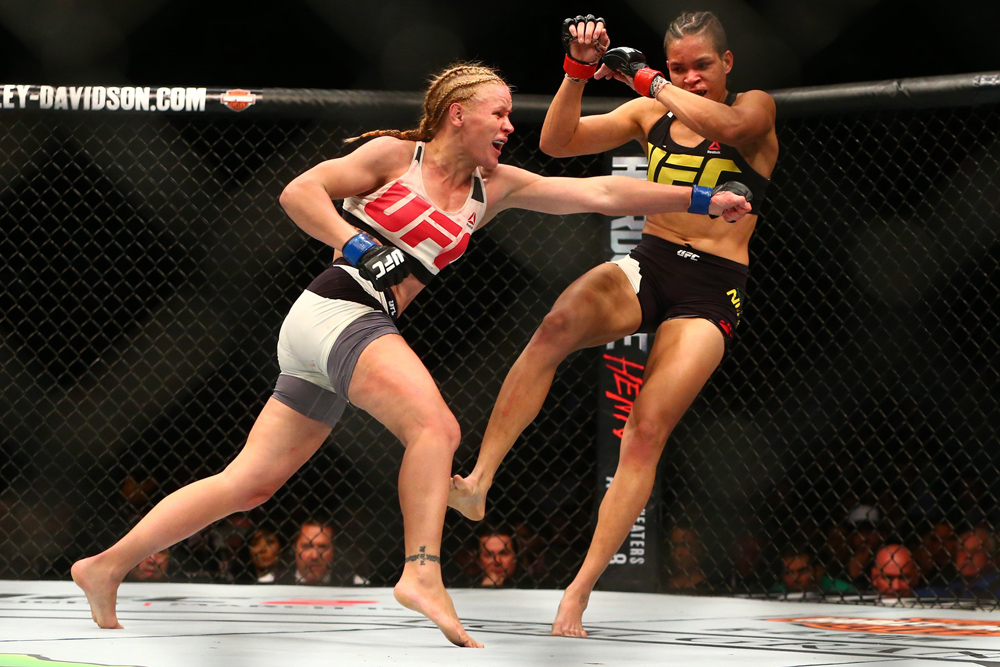 Valentina Shevchenko also stated that she feels Amanda Nunes is deliberately trying to avoid this fight at all costs. She said that Nunes knows she lost one of those fights with her.
"It kind of makes sense exactly this way because if you listen to her interviews all the time, she's kind of like why do I have to fight her? I beat her twice, I don't have nothing to do with that and it's kind of like when you start to defend yourself in this aggressive style," Shevchenko said.
"It means that inside of you, you have something saying oh no, you're guilty. Inside of her, it's saying that 'no, you lost that fight.'"
Shevchenko seemed very confident that if she ever fights Nunes she'll be able to avenge her losses.
"This is my goal. I know that when we will have a fight next time, it's going to be I will be ready to do anything," Shevchenko said. "Time passed, I'm a different fighter, she is a different fighter than the last time that we fought.
"In my mind, in my mindset, I don't have any 'maybe if …. I will try' — no, my mind is like only there. Only forward. No matter. I have to die [in] there but I have to be in there."
HIGHLIGHTS:
Valentina Shevchenko vs Amanda Nunes 3 fight a possibility
Valentina stated Nunes is avoiding the third fight
Valentina is confident that she will avenge her loss
Purchase the UFC merch here.
Click to Predict here.