UFC welterweight contender Colby Covington after his latest win over rival Tyron Woodley made some controversial comments over Woodley and the Black Lives Matter moment, but UFC president Dana White doesn't think he gave any racist statements.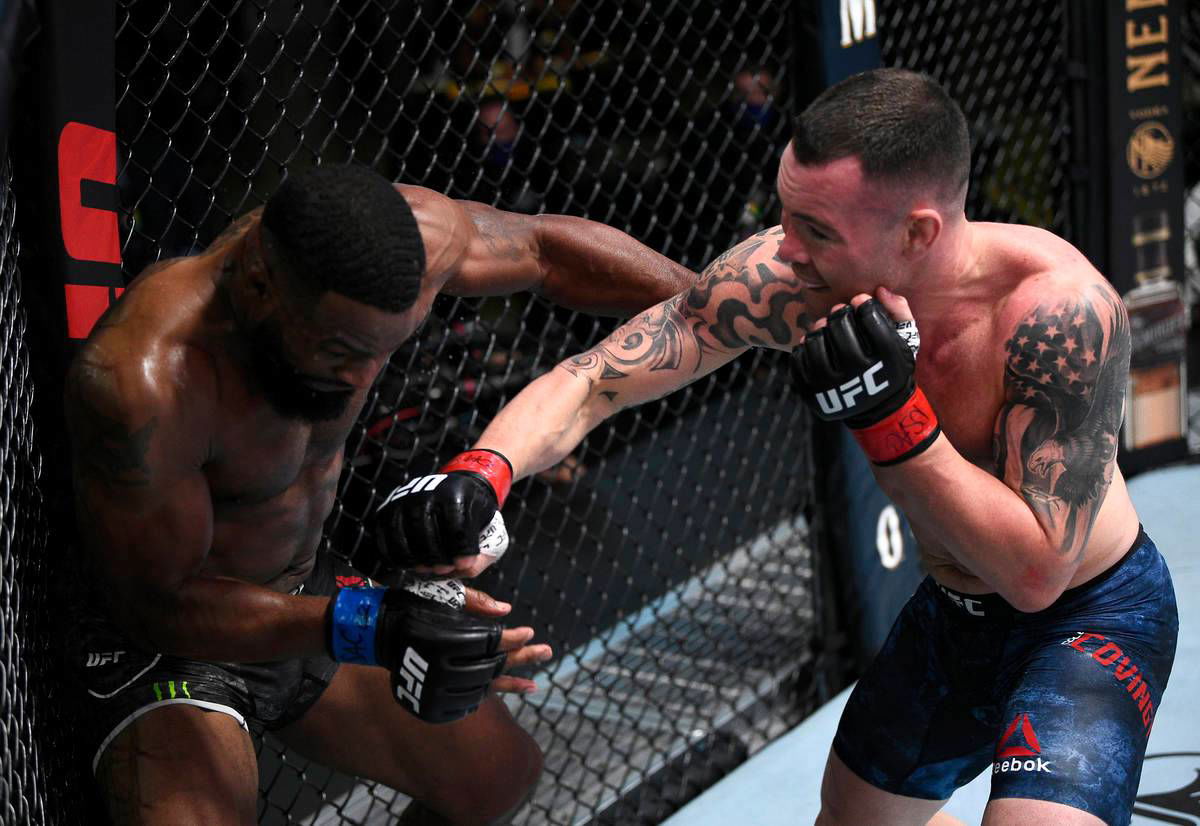 In the much-anticipated fight between former teammates and rivals, Covington went through Woodley and set the pace early by showcasing his wrestling and testing his former teammate's takedown defense. After taking the fight to the ground, Covington was able to showcase his superior grappling as he looked to employ a pressure-filled game plan in an attempt to outwork Woodley.
After finally getting the win in the 5th round Covington went on to the post-fight press conference and interviews in which he fired all kinds of fireworks and gave statements over BLM moments which created a wildfire in the MMA world with lots of criticism being made.
Covington had a heated exchange with current UFC champ Kamaru Usman on the ESPN post-fight show, and told the Nigerian-born fighter that he was getting "smoke signals" from his "tribe." Covington (16-2 MMA, 11-2 UFC) proceeded to the post-fight news conference, where he made some divisive statements about his rival Woodley and the Black Lives Matter movement. Since then, several Black UFC fighters, from Israel Adesanya to Leon Edwards to Sijara Eubanks and Hakeem Dawodu, have condemned "Chaos" for being racist.
In the post-fight, Covington made some more controversial statements.
"Black Lives Matter is a complete sham. It's a joke. They're taking people that are complete terrorists. These are bad people… [Tyron Woodley] is a communist. He's a Marxist. He hates America." – @ColbyCovMMA

Watch full video: https://t.co/byIP4pUx7M pic.twitter.com/F6ze1zGJZG

— MMAFighting.com (@MMAFighting) September 20, 2020
"The Black Lives Matter is a complete sham," Covington said post-fight. "It's a joke. They're taking these people that are complete terrorists. They're taking these people that that are criminals. These aren't people that are hardworking Americans, blue-collar Americans. These are bad people. They're criminals. "They shouldn't be attacking police," Covington added. "If you're breaking the law and you're threatening the cops with weapons, you deserve to get what you get. Law enforcement protects us all. If we don't have law enforcement, it'd be the wild wild west."
"[Woodley]'s a communist. He's a Marxist. He stands for criminals. He hates America, and that's why he got broke tonight."
Dana White on Covington controversial Statements
While those comments earned a response from several fighters on the UFC roster, UFC President Dana White still abides by his earlier policy, and that means he's not going to prevent his athletes from speaking their minds, even if it enrages and offends certain people.
White added his take on Covington's comments during the UFC 253 press conference on Thursday in Abu Dhabi.
"These guys all have their causes, things, they're own beliefs," he said. "We don't muzzle anybody here. We let everybody speak their mind. I don't know what he said that was racist. I don't know if I heard anything racist that he said."
When asked if he would denounce blatantly racist comments from any of his fighters, White mocked at the question and answered "of course" he would.
Colby Covington is among those fighters who always tend to make headlines, sometimes there fighting and sometimes talking. What do you guys think of Covington's comments?
Purchase the UFC merch here.
To bet on MMA event click here and to bet on other sports, click here.
ALSO READ:
Thiago Santos and Glover Teixeira booked for third time on November 7 'Fight Night'