Dana White stated that he's still willing to book Khabib Nurmagomedov vs Tony Ferguson for the sixth time but at the same time he's scared that it may again collapse.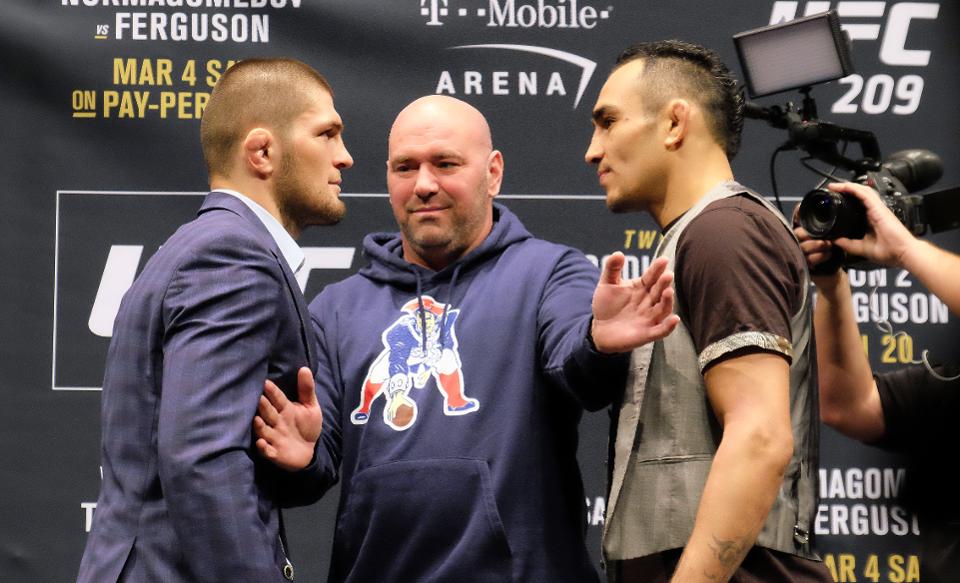 Khabib Nurmagomedov and Tony Ferguson have been booked to fight each other five times and the fight has fallen apart every single time. Many fans believe that this fight is cursed and won't ever take place. UFC president Dana White is open to the idea – as much as it scares him.
"If Khabib does beat (Justin) Gaethje, you get Tony Ferguson another fight, which we're working on right now," White recently told Sports Illustrated. "And hopefully that fight with Khabib happens because I know people want to see it."
The five previous bookings between UFC lightweight champion Nurmagomedov (28-0 MMA, 12-0 UFC) and Ferguson (25-4 MMA, 15-2 UFC) fell through for a variety of reasons – from a global pandemic to a weight cut gone awry to Ferguson tripping on a wire that led to major knee surgery.
Khabib Nurmagomedov and Tony Ferguson 'The Cursed fight'
The latest fallout for the fight between Khabib and Tony happened earlier this year when the world went sideways due to COVID-19 and Khabib had to go back to Russia. Ferguson instead went to fight and lost at the hands of Justin Gaethje, who then became the interim champ. As of now, Gaethje and Khabib will headline UFC 254 to determine the undisputed 155-pounds champ.
Khabib Nurmagomedov and Tony Ferguson were first scheduled to meet in the finale of Ultimate Fighter 22 in 2015, but the fight was scrapped after The Eagle suffered a rib injury while training. Tony Ferguson ended up fighting Edson Barboza, who he defeated via submission in the second round. The next time (April 2016) Tony Ferguson failed to receive medical clearance.
In 2017, fans were just 48 hours away from seeing the fight, but during the weight cuts, Khabib Nurmagomedov turned ill and was hospitalized, forcing Dana White to call off the fight on the doctor's recommendation.
The fourth removal came in April 2018 after Tony Ferguson tripped over a cord and tore a ligament in his knee while promoting the event. Tony Ferguson was replaced by then-reigning featherweight champion Max Holloway, who also dropped out as he couldn't make the weight. Khabib Nurmagomedov ended up fighting Al Iaquinta who he defeated via unanimous decision.
White joked that if he books the fight again, something even more catastrophic might take place – like an asteroid.
"I don't think I've ever seen a fight fall apart as many times as those two," White said. "It almost scares me to make the fight again. What's going to happen? An asteroid comes to earth? That's the level of bad this thing is."
Ferguson was briefly tied to a fight against Dustin Poirier on the same card. However, Poirier (26-6 MMA, 18-5 UFC) and the promotion could not come to terms and the booking never materialized. There are a lot of speculations made about who will be the next opponent of Ferguson. From Poirier, McGregor, Dan Hooker, and now the newest possible fight for Ferguson maybe against Michael Chandler. While Nurmagomedov is set to unify the 155-pound crown against interim champ Gaethje (22-2 MMA, 5-2 UFC) on Oct. 24 at UFC 254.
https://youtu.be/yDlECe9h7Ks
Purchase the UFC merch here.
To bet on MMA event click here and to bet on other sports, click here.
ALSO READ: