UFC featherweight fighters Zabit Magomedsharipov and Yair Rodriguez are being rescheduled to fight at UFC 254 for the fourth time.
Both these fighters have been scheduled to fight each other previously but the fight got canceled due to several pull-outs. This is the 4th time both of them are preparing to fight each other.
UFC has been trying to make this fight happen for years. They were scheduled once again to headline the 29th August card. However, Rodriguez was forced to withdrew due to a high ankle sprain. Magomedsharipov then went back to Russia after not getting a replacement opponent.
According to the Russian MMA reporter, the fight has been rebooked for UFC 254 on October 24. The UFC has been trying to make the fight happen since 2018 when it was first booked at UFC 228.
However, Yair had to pull out of the fight after suffering from a knee injury. The match was attempted again this year, and was supposed to take place in April, but got scrapped again due to the pandemic. All MMA fans are going to be delighted to see these to flashy fighter go at it.
Will Zabit become the NO.1 contender?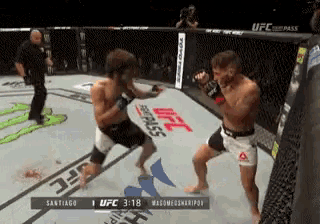 Zabit has never been lost a fight in the UFC and has a good list of fighters that he has defeated in his UFC career. Despite having three of his six wins via submission, he is known for his creative style of striking.
Zabit has a mixture of amazing standup especially his kickboxing backed in up by a great wrestling ability. His last win in UFC came against Calvin Kattar who since that loss has been on a tear. Zabit Magomedsharipov is mounting a very exciting 14-fight winning streak and has not lost since 2013.
Yair Rodriguez who is 13-2 in UFC has faced lots of ups and downs in his UFC career where he had to deal with a lot of adversity. Yair in his UFC career has defeated many amazing fighters such as  Dan Hooker, Andre Fili, Alex Caceres, veteran B.J. Penn.
He had to face his first defeat in UFC by the hands of Frankie Edgar. Yair got his breakthrough in UFC when he got the highlight real finish of Korean Zombie at 4min 59secs of the fifth round. Rodriguez faced Jeremy Stephens on September 21, 2019, in the main event at UFC on ESPN+ 17.
The bout ended in a "No Contest" just 15 seconds into the first round after Rodríguez accidentally poked Stephens in the left eye. Rodriguez faced Jeremy Stephens in a rematch on October 18, 2019, at UFC on ESPN 6. He won the fight via unanimous decision. That was the last fight he fought in UFC.
The fans will be still wishing that this fight could have been a five-round war but yet this will be an interesting fight to witness and the winner of this fight can be the next potential matchup for the current featherweight champion Alexander Volkanovski.
ALSO READ: