UFC Featherweight prospect Zabit Magomedsharipov has stated that he won't return to the UFC until he completely recovers and is ready to fight.
Zabit was recently taken down from the UFC featherweight division ranking due to inactivity which created rumors about his release. He fought his last fight in 2019 against Calvin Kattar which he won by decision. Since that fight, he has been scheduled to fight many opponents but none of those fights happened. He was scheduled to fight Yair Rodriguez on numerous occasions, but the fight kept getting scrapped for various reasons. A few weeks back some speculations stated that Zabit is considering retirement as he is not getting the opportunity to fight. "With a high degree of probability, Zabit will no longer fight," a source told TASS.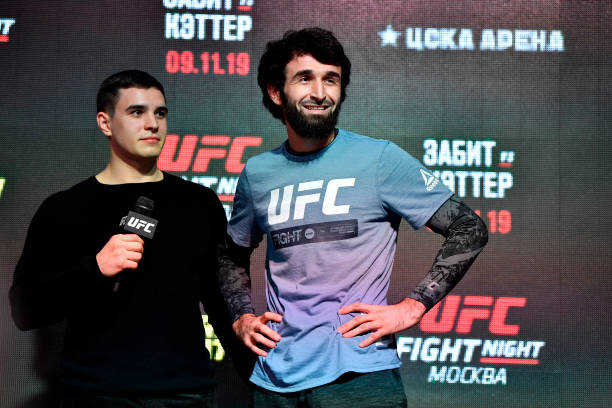 Following the report, Igor Lazorin of TASS revealed more details regarding Zabit's potential retirement.
"I've spoken to zabit's close people to see how things are going. they say zabit is most likely to end his career and not fight anymore/ long, simple, no special motivation, stoned tired of fighting- that's what they say. we are waiting for what zabit himself will say. And do not forget the option where zabit still can fight in the summer. I spoke will close people of zabit to understand how things are going. They say that Zabit is very likely to end his career and will not fight again. Long time without a fight, no motivation, zabit is tired of fighting – that's what they say. we are waiting for zabit himself to say."
But right after that, it was announced that he will fight soon and he is definitely not considering retirement. The only factor coming between his fighting career was his medical clearance.
Zabit Magomedsharipov will fight soon after  his health problems are resolved
Now more reports are out regarding Magomedsharipov's fighting future. According to his manager Rizvan Magomedov, his client is dealing with severe health issues regarding his immune system which needs to be resolved soon, or else he won't be able to fight anytime soon.
Info about Zabit Magomedsharipov (per @ILazorin) pic.twitter.com/L2dUIVdvNt

— Marcel Dorff 🇳🇱🇮🇩 (@BigMarcel24) May 30, 2021
"Zabit Magomedsharipov's manager Rizvan Magomedov confirmed what I reported earlier," TASS reporter Igor Lazorin wrote on social media. "Zabit has health problems, and more specifically, with the immune system. Magomedsharipov will not return to the Octagon until these problems are resolved. These problems prevent Zabit from fully preparing for fights."
"In the near future, Zabit must postpone surgery to resolve these problems. And then it will be clear whether he will be able to continue his career."
The entire MMA community wishes Zabit Magomedsharipov a speedy recovery.
Purchase the UFC merch here.
Click to Predict here.
Download the Fanatics Fantasy MMA app here.